17
Best Home Business Compensation Plan Got Better
I wrote not long ago that the Premier Cashback compensation plan was the best I had seen – and at the time, that was true.
The Best Compensation Plan Just Got Better!


In a planned upgrade, earlier this week, the site was shut down to allow for the introduction of enhanced cashback rewards, paying out members even better rewards and putting additional cashback earning points back into the system.
The rewards are generated when any existing point completes (which means it can no longer earn cashback) so that everyone retains a cashback reward potential from the system – even if they make no further purchases.
How Do Points Complete?
Before I describe the upgrades, here's a little recap on how points "complete" and generate cashback rewards. See the image above. Each little brick in the "wall" represents a point awarded for a product purchased.
Green points are still "Cooling", which means that products purchased are still within the 14 day money back guarantee period and may be returned.
Burgundy points have passed through the 14-day money-back guarantee period (known as "cooled points").
Gold points have received an interim payment (because points in 3 layers of the wall have cooled). When all the 16 purchases on the 4th layer above the working point at the base of the wall (joyh-1) have "cooled" a final payment will be generated, depending on the type of point / value of the original purchase.
When the "wall" is filled by cooled purchases, the working point turns black (completes) and no further payments will be received on that point. But the system perpetuates because the reward for a completed point includes new points back into the system that will generate further loyalty rewards.
Yes, I know it's complicated and it took me ages to understand it! But I've seen it actually working. The best way to understand it is to watch the demonstration in one of the company's webinar presentations from the comfort of your own home.
To register, click on this link, open a free, no obligation Premier Cashback account and you can watch a replay webinar or attend live and ask questions.
Why The Change?
The change has been made because of the last twelve months' progress at Premier Cashback.
Last summer a new retail partner (Ireland based Salustra health products) joined the Premier Cashback umbrella and their nutritional product range was introduced to the existing membership.
These products were enthusiastically received and client testimonials and repeat orders have flooded in, attracting even more members in countries far and wide. We now have clients even as far afield as China!
The flood of new product orders was a win-win for Salustra (generating massive demand for their products with no marketing costs) and for Premier Cashback (PCB), whose profit also comes from product sales.
This increase in business has enabled the company to change the compensation plan to pay better cashback rewards and support bonuses – AND to put more free cashback points into the system. More points in the system means more walls completing (see above); and completed walls mean more reward payouts to PCB members.
So What Are The Improvements?
Faster cashback reward payouts for members – because more points are going back into the system for the benefit of members (see above and tabs below).
Higher cashback and support bonus payments – because of my Ruby qualification the new plan has given me an immediate 22% pay-rise based on my potential cashback. For members at lower levels in my team (my sons, whose accounts I have checked) the potential cashback projections rose by approximately 9%, just because of this enhancement.
Unified currency – before the upgrade there was a confusing mixture of Sterling purchases for Salustra, but points paying out in Canadian dollars because the original retail partner traded in Canada. Now that the larger volume of purchases comes from Salustra (in Sterling) all cashback rewards are shown in Sterling. Explaining the business in one currency is a huge benefit for clearer presentation.
Any Complaints?
Well I'm certainly not complaining about my pay rise, and no-one in my team is either. Critics may say that the plan has been changed because some members felt they were not seeing rewards fast enough. Should the company be criticised for improving the plan to help such members? Surely not!
If members want to see faster rewards they can always roll up their sleeves and get to work. The company presentation is always very "up-front" with members that there is no guarantee of when cashback rewards will be received, because no-one can predict future sales. This is particularly true for passive members. Active members can take control of their payments by helping the company find new clients.
Premier Cashback members got a pay rise !
​
Premier Cashback Improved Payouts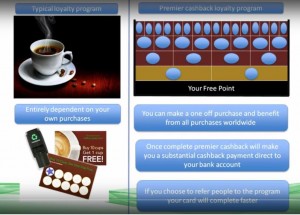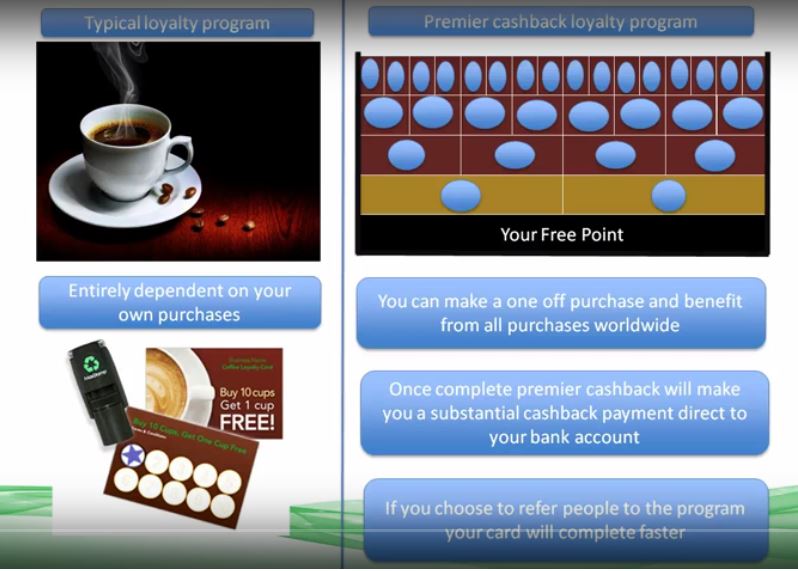 How do you earn with Premier Cashback?
For most members the process starts when they spend £50 plus P&P in the Salustra shop and receive a free Alpha cashback loyalty point.
It's a bit like the "stamp" I got on my loyalty card in the local garden centre when I bought a coffee there earlier this week. Except that points in the PCB program can come from any product purchase made by any member world-wide.
The tabs below summarise the improved cashback rewards generated on completion of the first 3 types of point within the plan. Click each tab to see the rewards for the different point types.
To learn more about the plan so that you can make an informed decision, watch a company presentation. Click here. After watching this you may still have questions – ask them in our Facebook support group (you can be added after you have opened your Premier Cashback account.) There's NO obligation and nothing to pay, unless you decide to make a purchase.
The New Cashback Rewards
The cashback rewards, for each class of point, are described in the tabs below. Click each tab for more details.
Update August 2016 – although the principle of the compensation plan remain the same the details have been enhanced even further to reflect the increasing sales of nutritional products, and to help members in the omega (art) plan.
Alpha Points

OMEGA POINTS

RUBY POINTS
Free Omega cashback loyalty points are awarded EITHER when a qualifying product purchase is made (e.g. limited edition art prints) OR when other points in the system complete - Alpha, Omega, Ruby etc.)
When each Omega point completes, you will receive 1 new free Omega point and (if you are qualified as "Ruby"), 1 free Ruby point back into the system, and these will qualify for more cashback when they, in turn, complete. If you're not "Ruby" the free point will go to the nearest qualified Ruby member in your support team.
Support bonuses are paid to members who share the business with others. Status bonuses are awarded to business builders depending on the level you have reached in the plan. For instance, because I have qualified as a Ruby member, in addition to support bonuses I can receive Status bonuses on the first two generations of my team. Sapphire qualified members will receive Status bonuses down a further two generations.
INCOME DISCLAIMER: Please do not imagine that high earnings are easily achieved. My team and I have worked hard to achieve our success. Passive members will earn cashback rewards in time, but no-one can predict when. Nobody at Premier Cashback receives money for getting someone to join us.
Where Does The Money Come From?
Please be very clear that the Premier Cashback loyalty payouts are only generated when the company (NOT the member) makes a certain number of sales, as explained above, of genuine products to genuine customers, and when those products have cleared the money-back guarantee period i.e. "cooled".
Customers only make purchases when they need extra supplies. There are NO compulsory auto-ships and no sales targets. We are all just customers, buying when we want to. Any rank attained is permanent.
For an example* of how the Salustra cashback rewards are generated, please see this table.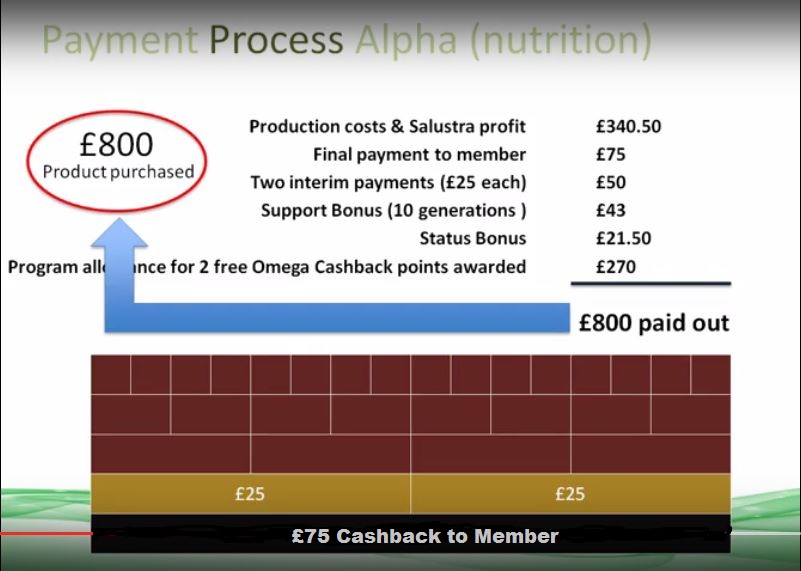 (*I am waiting for a new slide to show the revised calculations – but the principle is the same. Money is only paid out to members when it has been received for purchases.)
What Was Your Last Pay Rise?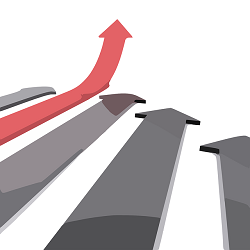 So, with another successful stage in the company development successfully behind us, the Premier Cashback has delivered on its promised improved compensation plan and I have had a very generous pay rise.
Of course members are NOT employed by Premier Cashback, and we may or may not get pay rises in future. So the best way to increase your payments is to help the company grow, by telling new people about the Salustra products. But that's completely optional.
For most of my working life I have been self-employed. But during the few short periods when I was in employment I never received a pay rise of even 9%, let alone 22%, so this is very welcome.
How about you and your employer, or compensation plan? When was the last time you had a rise of 22% – or even of 9%, like the members in my team.
Please share your thoughts in the comments below.