16
Building A Network Business
Today I'm in one of my "it's all getting too much for me" phases! In the midst of my life challenges below I'm working on building a network business. On top of that I am:
Getting ready for Christmas – yes in November – because my son and young family are coming to stay, very soon, and for a lovely long period of time
I'm all going to take them all to spend time with my Dad before Christmas – my sister will be with him over the holiday
My offline client wants a rush job done before Russ arrives to stay
AND I've started a new blog…
Not just any old blog (of course) it's a Team Site designed in a special way for building a network business, and I want it to be the best it can be, so I have bought a course, to save time by learning from an expert in the topic.
Why Have a Site For Building A Network Business?
Those of you who already have blogs may wonder why you would go to all the trouble of having a separate site for building a network business. Why not just promote it on your own blog?
For me, there are three answers:
I didn't want my blog readers to feel they were just getting information about my own MLM – Premier Cashback. Yes, it's MY long-term business now, but it's not everyone's "cup of tea". And even I want to sometimes write about other topics than Premier Cashback!
The main reason is that I want to be able to help my personal recruits get sign-ups by rotating their link to traffic that arrives at my Premier Cashback team site.
It will be a "safe place" that my team can send prospects to (using their own ID). No-one would want to send traffic to JoyHealey.com as it promotes other affiliate offers that may tempt their prospect away.
The Biggest Challenge Of Network Marketing
These are my experiences – yours may differ.
Whatever network marketing business you joined, have you found it hard to introduce others?
And if YOU have introduced others, have THEY found it hard to introduce others?
That's always been my biggest MLM challenge, and usually why I have left previous businesses. Because if no-one brings in new members, the business won't grow. In fact with MLMs other than Premier Cashback your team will shrink as distributors leave when "nothing happens" and they find they're not at least breaking even after a month or so.
Helping My Premier Cashback Team
Substitute "Your business name" for "Premier Cashback" as you read this section!
My aim is to help the people I introduce to my team, and give them some steps to follow, using the team site.

Although you can earn in Premier Cashback as a passive member, it will take much longer, and it's a shame to leave the very generous support bonuses on the table. If everyone introduced just one new customer, everyone's business would generate faster cashback as new customers make their purchases. There will be success stories to tell from people who have never had success before, and nothing breeds success like success.
To do this I am building a site that will help members get sign-ups.
While the site I am working on is aimed at building my network business (Premier Cashback) YOU can do exactly the same, for your own business, when you follow the same course that I am using.
By the way – seasoned bloggers – the package you will buy isn't just about using a WordPress blog – it includes a vital plugin that drives the whole affiliate link rotator.
How To Build Your Network Business
The crux of it is to focus on your team. Don't worry if you don't have a team yet – that's covered!
My site so far is on the right. At the time of this post (late November 2015) the site is in its infancy, with lots more work needed, so don't judge it yet please – I know of many areas (especially the header) that I need to improve. But it's a start. IMPORTANT – I haven't yet implemented the affiliate ID rotator, so that will appear to be not working.
I'm going to let the details of "how and why" this method of building a network business works be covered in detail in a video by Gavin Mountford – an excellent marketer specializing in MLM businesses.
So if you'd like to help inactive members in your business, a "Team Site" as described in Gavin's training might be just what you're looking for, so listen to this free "Team Site Traffic" training to see what it could do for your business.
Review of Team Site Traffic
As with all of Gavin's courses, this one is packed with information and content. So much so that I'm still working my way through it I'm afraid – and to some extent I'll have to let you look at the site I have built (BestHomeBusinessTeam.com/PremierCashback) to assess the results.
I hadn't meant to do that, but there was an indication that the promotion might be coming to a close and I'd already started this article!
So far I have found the course well structured and comprehensive, and have received prompt help from the support desk, and Gavin himself, when I needed it.
You get the feeling he actually knows his members and cares about their progress.
This is a relaunch of a 2014 course and the content has clearly evolved from feedback by members, to add extra value and fix things that members found challenging.
I like the fact that, to avoid market saturation, Gavin doesn't keep the course open all the time. In fact when I first found it, the promotion was closed, and I joined after being on a waiting list.
My only criticism is that Gavin may over-estimate the time we part-timers have available to build our businesses and it's hard to keep up with all the steps involved. However, I'm possibly on more than one of his lists. His teaching and output is amazing.
Overall there's an fantastic amount of value delivered compared to the price (at the time I bought it). Forgive me if it's more expensive by the time you buy (or even closed)
Bonus When You Buy Team Site Traffic From Me
On top of Gavin's extremely generous bonus package, I'd like to add my own bonus.
When you buy through my affiliate link HERE I will add an hour's free coaching / consultation to talk through any problems you're having producing your site, because I will probably have experienced them before you. So please let me know you bought through my link, and send me your JVZoo transaction ID.
Don't delay – when I bought the course just a few days ago there was a huge list of Team Site Traffic bonuses, but Gavin has emailed his affiliates saying the price might be going up, and the bonus list reducing, as the number of customers he'll be supporting goes up.
Without more ado, make sure you watch the video on my Team Site Traffic link, because even if you don't buy the course, it's excellent free training on building a network business.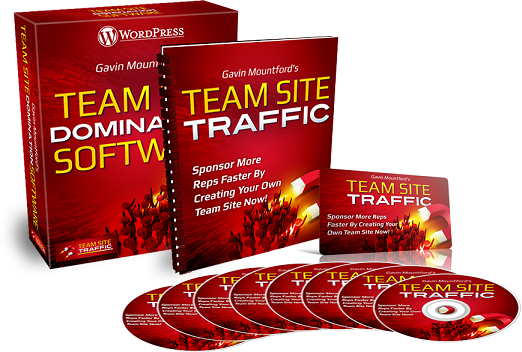 How Are You Building Your Networking Business?
Have you used this course?
Do you have a different team building strategy?
Please let me know in the comments below, and if you bought Gavin's course – even if it wasn't through my link – please include the link to your Team Site Traffic site so we can all get ideas from each other.