10
Customer Loyalty Rewards
Would you like to be rewarded for customer loyalty? I get regular customer loyalty rewards. Read how below.
But first, my little rant….
How NOT To Treat Loyal Customers
This week I had to buy my annual motor insurance again. I dread this each year because it takes up (probably) half a day of my time trying to hunt down the best deal and remember all the apparent traps set by insurance companies, but mainly because the renewal concept on which it is based is so stupid.
My instinct with my OWN customers is to reward my loyal and regular clients with my best attention, to KEEP them loyal.
But oh no, that must be very silly of me, because many of the "big" companies I spend money with have a different approach. Something along the lines of…. "To hell with loyal customers, we've 'hooked' them, let's just find some new suckers."
However, the home business I am promoting believes in rewarding loyal customers. To see how, scroll down to: Rewards For Loyal Premier Cashback Customers.
Time To Compare The Market!
As a potentially loyal customer, I gave the old company a chance to quote to retain my business, but "Company A" that was great throughout the year and welcomed me as a customer last year, now wants on renewal to charge me double the best comparable quote I found elsewhere. Yes, double! I wouldn't bother for a few quid more, but double is just taking the Mickey.
I'm no boy-racer, nor am I completely in my dotage (yet), and my usual annual mileage is below 5,000. The only change to my driving circumstances over the year has been that I've added yet another "conviction-free and claim-free" year of driving to my previous 25+ years.
Even Company A's telephone renewal support lady was embarrassed and apologetic. She must get the same complaint over and over again, because I can't imagine there are many people who don't yet know to shop around and visit the many online comparison sites. What a waste of everyone's time, processing switching documents instead of rubber stamping a renewal! (Don't get me started on banks and utility companies….)
Because I don't have money to burn, every year I visit my favorite comparison site CompareTheMarket.com and as expected I found a great deal and switched to "Company B" who is offering me a great welcome price this year, plus a Meerkat toy like Sergei (pictured in the fur above). Sadly I suspect that next year I'll have to do the same old hunt round.
Another Example Is Satellite TV
I was a happy and a pretty trouble-free customer with Sky for years; loyal you could say. Then my fairly ancient TV box broke down so I rang to ask for another. They would only supply me with a new one if I paid (from memory) £100. I was fairly outraged that they would treat a loyal customer like that so after a bit of argument I upped-sticks and moved to Virgin Media and have been delighted with them ever since.
Sky then proceeded to try and "win back my lost custom" by sending mail-shots for MONTHS – including, you guessed it, an offer of a free satellite box. Why couldn't they have just done that in the first place and rewarded a loyal customer who would probably have stayed with them for years more out of sheer inertia? Having moved away, with that bad memory, there is no way I would switch back to them from Virgin!
Why Are Customer Rewards Only For New Customers?
It's not even quite the end of the story with my arrival at Virgin. I love their service. In fact their cable Broadband has been the only reliable service I can make work in this suburb of London that is, bizarrely, "too far from the telephone exchange" for reliable Broadband. But it's so irritating that they keep delivering information about offers to NEW customers that aren't available to me, as a loyal customer? Well, of course I know the answer to that, and I suppose it makes sense, but why don't these big companies offer rewards for loyal customers.
Actually, I have to confess, I'm being a little unfair to Virgin, as they HAVE regularly upgraded my Broadband speeds over the years. (Unlike the ISA and saving companies that trap you with great interest rates and forget to mention it when they've dropped the rate to flumpence.)
So, hats off to VirginMedia and CompareTheMarket. Boo-hiss to Sky and insurance companies.
Rewards For Loyal Premier Cashback Customers
Well, I've had my little rant, I've got my cheap car insurance deal.
So what's the point of this article?
Well, the comparison between how loyal customers vs new customers are treated is very relevant to me at the moment because the business I am promoting is built around the familiar concepts of
Customer Loyalty
Cashback Rewards
Tell-a-friend
These values sit well with me, because they reflect the ethics I was brought up with in my parents' family business. I have carried forward into my own business life.
Premier Cashback Customer Loyalty Rewards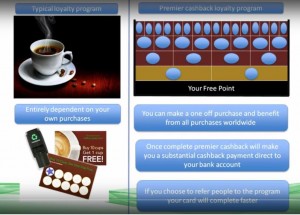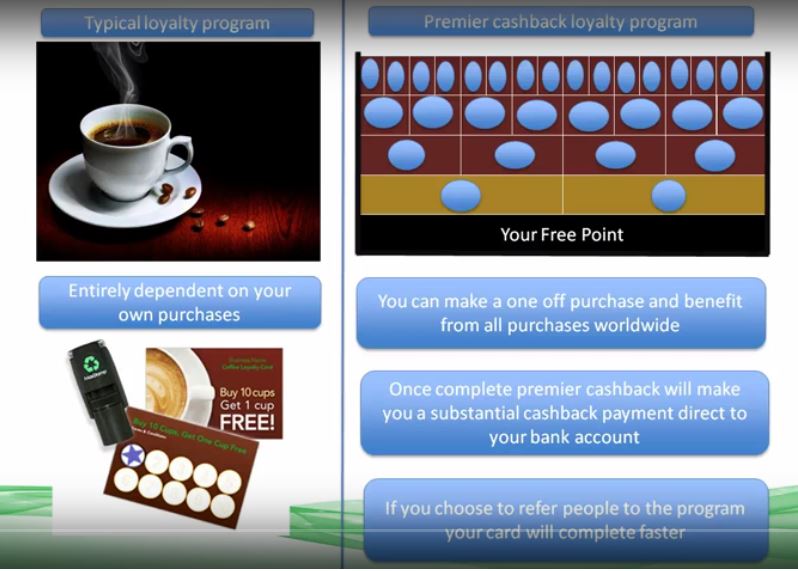 In short, Premier Cashback supplies top quality products to a loyal group of regular customers. If you choose to purchase health (or any other products) through the Premier Cashback umbrella the company rewards you with generous cash rewards based on:
Your own purchases of quality goods, when AND ONLY WHEN you want to buy them
Purchases of your friends (IF you recommend any – it's optional)
Purchases of other clients worldwide that you will probably never meet!
Learn More About Premier Cashback Rewards
A short article today – too much time wasted on the phone with motor insurance companies!
But if this article has sparked any interest in earning cashback rewards on your purchases, you can do so as a customer. There are no regular purchases required. Just buy when / if you want to.
Or you can get involved as a sideline income with no sales targets to reach.
A Part-time Or Full-time Business With Premier Cashback Rewards
Premier Cashback offers an excellent part-time or full-time business for anyone looking for an extra income. Because it has no sales targets, and ranks attained are never lost, it genuinely CAN fit round your existing commitments.
Premier Cashback is completely product based and all cashback rewards are funded entirely by product purchases.
For an overview view of "What Is Premier Cashback?" click HERE.
Click HERE to learn about the best cashback rewards plan I've found in home business.
For answers to your questions, request an invitation to a free Premier Cashback webinar.
Or watch a short video about Premier Cashback and open a free account (no obligation to make any purchase).