4
Disaster Recovery Plan
Regular readers may have noticed that I have been blogging a lot less frequently of late. What a trial this last few weeks has been! My disaster recovery plan has been tested to the limit, together with my patience.
The Disaster….
The unusual bad health that I mentioned last time struck when I was struggling to meet a time-critical deadline in my off-line business. My newly appointed assistant (yes, I finally got some help with my paid work!) quite understandably didn't want to come near me for fear of taking the bug back to her elderly parents, so I was left to struggle on alone. She was still "in-training" so taking her work home wasn't sensible this early in our association.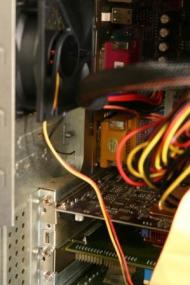 Meeting the client's deadline wouldn't have been impossible if my PC hadn't decided to fry itself.
The good news was that I was a very few weeks within the expiry date of a warranty for a free repair. The bad news was that it was a "Return to maker for at least a week" type of warranty. Unwilling to wait that long I paid for a new power supply (as that had blown) and an overnight repair.
More bad news; that didn't fix it so the choices were: send away or buy new.
If I hadn't had the warranty AND the time-critical job outstanding I might have taken the plunge to buy new, but I didn't have to time to install everything from scratch, so instead I sent the PC away and began working out how to get everything going to do the paid job on my laptop.
One of the complications that threw me badly was that I couldn't get any printer to install (even with lots of help from an online technical support forum), so I ended up installing the printers on a little notebook and emailing anything I wanted printing from the laptop to the notebook. You couldn't make it up.
The Recovery….
I have skirted over MANY technical issues that drove me to distraction, but at least I finally got a skeleton system going. The thing that really saved the day for me was that I had my client's data (and my own, obviously) backed up on a Cloud system so I could pull down what I needed from there to my laptop.
Before taking the plunge with a Cloud backup I had been taking backups onto a removable hard drive, which was better than nothing, but these were the main drawbacks I found:
It slowed my PC down while it was happening, and took quite a long time
The disk kept filling up so I couldn't guarantee to go back as far as I wanted to
In theory I should have taken two copies and kept one always off-site in the unlikely event of fire or burglary – but my memory is not good and I kept forgetting.
Finally I decided, about a year ago, that I had chanced my luck for too long and with the technology available for just a few dollars a month I MUST do it. Thanks goodness I did, because that was the only way I could recover any work to carry on with while my PC was away.
Does Your Cloud Backup Actually Work?
Choosing the system wasn't a piece of cake, and in fact I couldn't convince myself that the first system I used was actually backing up my whole system. I tried to restore a file that was supposed to have been backed up, but it wouldn't come back.
Technical support treated me like an idiot and wouldn't believe me even when I sent screen-shots showing why I felt I had problems. After a lot of hassle I got my money back by the simple method of tweeting every 30 minutes in their Twitter group (or whatever the term is) "I still can't restore my files, please give me the refund I have requested." That did the trick 🙂 I can't take credit for that tactic. I copied it from another unhappy customer in the same group. He recommended me to SpiderOak, a system that not only worked, but was easy to understand.
The point of the above digression is to remind you to TEST the restore procedure before you need it.
Cloud Backup System
All the fore-going blurb is a way to get round to saying thank goodness I had a cloud backup program (SpiderOak) and had done a sync of essential day to day files to my laptop. Files I use daily are copied onto the cloud and then synchronized with my laptop. This means that I can just take my laptop away with me and be confident that important files are already there. And of course it meant that when my PC fried, those vital files were already on my laptop.
In addition to this I was able to download my time-critical job from SpiderOak onto
my laptop and carry on with it, finally meeting the deadline. You can take a free trial of SpiderOak here. I use the paid service because it is backing-up a frightening THIRTY YEARS worth of bespoke software as well as all my current live client data.
Angela McCall, a blogging friend of mine, has found and is very happy with another Cloud backup system (Egnyte) which is a little less expensive if you want to explore them too. It sounds good. But having tested it in disaster mode, I wouldn't leave SpiderOak for the few dollars a year difference.
So after much stress, finally the PC came back with its guts replaced (power supply, main board and memory) and I was relieved to find that it fired up and Firefox even opened with all the tabs that were in use at the time of the crash. Probably even some of your blogs!
What is YOUR Disaster Recovery Plan?
Moral of the post – is YOUR disaster recovery plan in place? I will admit this experience actually uncovered a few holes in mine, which I'm plugging, but overall I survived. I'd love to hear your comments on the plans you have in place.
Just think about everything you do online and how you would do it without access to your normal PC.