7
eCommerce Stores Go From Strength To Strength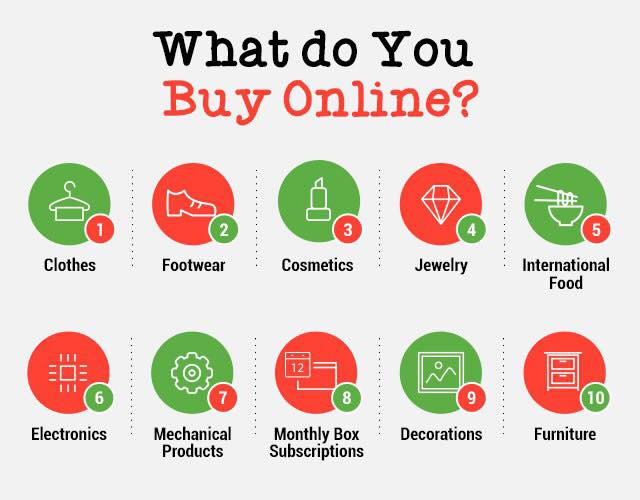 eCommerce stores have been the focus of my business for the past couple of years, because they are the way of the future.
Looking at the image on the left, I've bought almost all of those categories of goods online. Except clothes. I do like to try those on first, because I'm not one of those people who can just buy something off the peg and it looks great. 'Nuff said.
I suppose the first time I realised how "big" ecommerce was growing was when my son encouraged me to buy my entire set of lounge furniture online. Reluctant initially, but he just showed me the price comparison and I was hooked on the idea!
Coming from a family of retailers, it makes sense that my online business is in ecommerce. Although with a slightly heavy heart as I see small shops, such as the one I was brought up in, shutting down. Of course, the more forward looking of them are operating locally AND building their presence online too.
Global Shopping With eCommerce Stores
I have two eCommerce businesses focused on physical (as opposed to digital) products. Both give their customers cashback rewards, and the potential to share in company profits as turnovers grow.
The most recent one has a global shopping focus, with a huge range of products in the USA; and my team is building nicely. We're awaiting more UK stores, but I am happy to say that this month, for the first time, I placed my qualifying order on a UK store. The prices included postage, there was no "surprise at the door" (import duty) and the goods were with me in days. With a little more work on the user interface, and more stores to come, this will give a great shot in the arm for the business.
If you happen to know any UK retailers who would like to join our eCommerce platform, do get in touch. We have customers waiting to place their monthly qualifying orders!
Premier CashBack Revamp
Talking of revamps, the other one of my ecommerce businesses to have recently had a facelift is Premier CashBack (PCB), with the introduction of a vastly improved online shop. I have to admit that their previous attempt was – challenging for all but the most determined of customers!
For anyone looking to build a business, the marketing plan now also pays some commissions up-front, with larger cashback rewards to follow, based on their original model of "cash back" based on overall company sales.
So, having continued to benefit from their products for over a year now, I'm delighted to promote Premier Cashback as a business again.
Furthermore, they are upping their game with the video presentation below.
The health benefits of Salustra (their flagship product) are explained here (on their revamped eCommerce store).
Other Health Products From Premier Cashback
There's something for everyone – checkout these other products. Each link gives full information, a video, directions, ingredients list and recommended use.
So, for regular or casual purchasers, a much improved shopping experience, and a business platform to be proud of.
Passive Income From Premier Cashback?
If only!
When I originally started with PCB some people promoted it as a way to earn a passive income. In theory you can – but it will take years because you are relying on the efforts of other active members who are making product sales. So don't let anyone try to persuade you to join by saying you will earn a passive income!
You'll be lucky if you live long enough!
Instead, buckle down and make some commission from the product sales.
Health Products For Website Owners
The new Premier Cashback shop is ideal for any bloggers in the health niche to become an affiliate for Premier Cashback here, and promote the products on their blog. Minimum startup cost is £75 in products of your own, but after that there's no need to buy stock, just make sales / purchases when you want to – and you can even arrange delivery to your customers. Whether you are an active or a passive affiliate you will earn cashback rewards based on the company's global sales.
The growth of ecommerce stores is unfortunate for those who don't jump on the band-wagon, but the two ecommerce businesses I am involved in mean that anyone can have their own online store.
Learn more about Premier Cashback ecommerce stores here.
eCommerce Stores Can Earn You Cashback
So… I'm guessing you have favorite ecommerce stores where you go shopping online. If so…. are you getting cashback rewards from them? Maybe that's a yes.
BUT more importantly… are you getting cashback rewards based on people you don't even know shopping online. If not, we need to talk. Please contact me on Facebook. Don't just say "Hi" 🙂  Please let me know what you like to buy online and I'll show you how to shop, share and get paid.
Love to hear your comments below on how ecommerce stores are earning you global shopping rewards.