5
Global Shopping Rewards: Cryptocurrency Mining, Amazon, Other Enhancements
It's been a long time since I wrote about my main business, Global Shopping Rewards (GSR).
In fact, it's been a long time since you've heard from "ME" instead of from guest authors. That's for two very good reasons:
I am working on clearing my house so I can relocate to Norwich to be closer to my son and daughter-in-law. And believe me, 34+ years of clearing is more than a weekend job!
No real news on GSR in the UK. It's growing well in the USA, but I will admit to being disappointed with the number of UK shops that came on board. However I believe the company has a good heart, good intentions and most importantly, "listens" to members, so I hung on in there. After all, it only went to full launch in November 2017.
Meantime I took one of my little diversions and decided I should be learning about cryptocurrency – this was because I had a tip off about one of the GSR compensation plan enhancements that would be happening in 2018, and I wanted to be well prepared.
Global Shopping Rewards Enhancements
At the last GSR convention (January 2018) there were several announcements of major enhancements made since the launch in November 2017. Here are the highlights:
Cryptocurrency Mining With Global Shopping Rewards
Amazon Earnings Through Global Shopping Rewards
GSR Compensation Plan Tips In Favor Of Smaller Members
These are part of planned company growth and as a result of evaluating the first couple of months full trading.
Cryptocurrency Mining With Global Shopping Rewards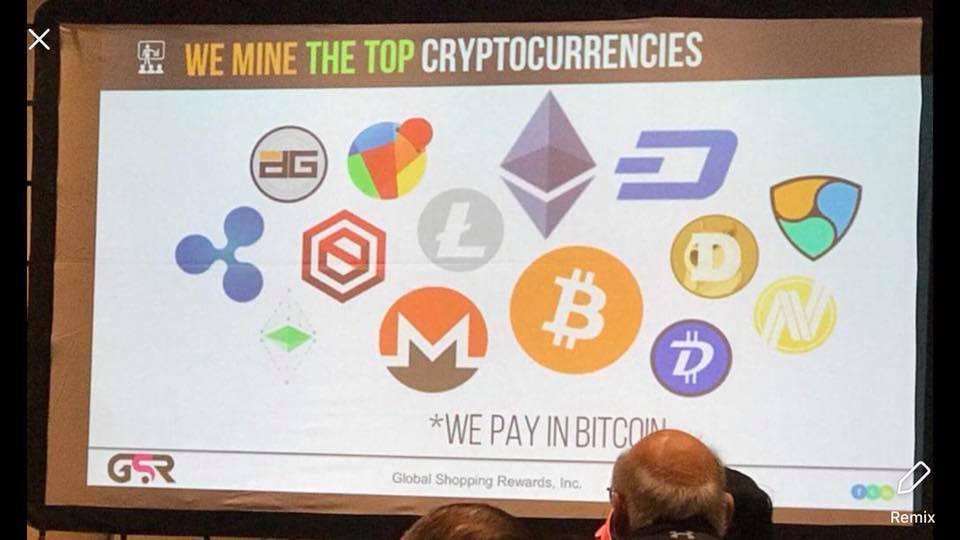 Cryptocurrency mining is being added partly to bring an extra stream of income for members in an exciting new field, and also to make the program more accessible to members in countries where there's a shortage of shops.
What is cryptocurrency mining?  (That definition talks about mining Bitcoin, but GSR will be mining other coins too.)
As I see it, this is a low risk way for the average person to get involved in a mining group to mine coins that MAY increase in value. Solo crypto-miners would face:
Huge technical challenges with set-up and maintenance
Need to keep updating to more and more powerful hardware
Enormous electricity bills / cooling / ventilation
High investment risk for possible low reward
The benefits of mining in the GSR cryptocurrency mining pool are
It's plug and play – hardware updates and all technical stuff done for you
Costs shared between the GSR mining pool
Tapping into the experience of the GSR founder members who have been successfully mining in their own right for 4 years
No need to worry about short-term changes in coin values as you might when "trading / investing".
Possible long-term value accumulation. Even if we mine a "low value" of coins today, they may increase in value over time. I wish I had bought or mined more Bitcoin a few years ago!
Spreading our risk, by mining more than one coin, in a way that a solo-miner would find hard to do
There are levels of mining contracts to suit all budgets, with no long-term commitment. Contracts range from $25 to $150 per month plus annual fee of $250 to cover hardware upgrades. Higher levels available, but I prefer to keep my risk low. All commission paying and qualifying items to help build our income.
Defined Risk In Cryptocurrency Bloodbath
At the time of writing (February 2018) the cryptocurrency market, and the markets in general are having a bloodbath. I haven't the knowledge to discuss this with any expertise – so I won't try! In a just one of the crypto groups I belong to, people are putting forward opposing theories and various strategies for coping with them.
Some are "buying the dip"
Some are just HODLing (HODL = Hold On for Dear Life… until there's a recovery)
Others are quitting the crypto market bruised, with a huge loss and vowing never to return.
Those in the group 3 are probably the ones who ignored all the warnings about "Never risk more than you can afford to lose completely".
The group 1s are (hopefully) the seasoned traders with the experience to read charts and (attempt to) "buy at the bottom".
I'm a group 2. I went into crypto having taken out my seed capital during the peak. I was lucky enough to turn my seed Bitcoin fraction back into cash when 1 Bitcoin was worth about $18,000 in December 2017. It will be interesting to come back in a few years and see if I celebrate or regret that decision!
I don't want to exit the market, but I'm certainly not one of those in our group who say "Putting in an extra $1000 today". Way to risky for a novice like me.
BUT – the GSR cryptocurrency mining pool will let me have a limited exposure to the markets (starting as low as $25 a month after a setup cost of $250) that I will just regard as a savings plan that has the benefit of being a qualifying and commissionable sale in my business. Better that than buying more cosmetics and supplements to join the stockpile 🙂
After the pilot it will be open to free VIP customers, as well as fee paying Brand Ambassadors (business builders).
Predicted Income From GSR Cryptocurrency Mining Pool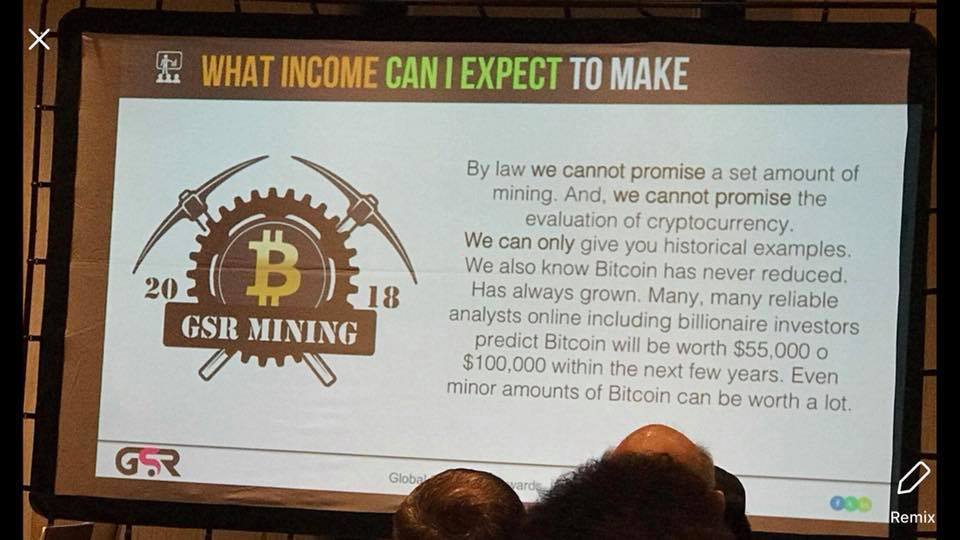 There are NO guaranteed levels of income. Anyone who promises returns of x% a day, or even x% a month is almost certainly lying to you. That relates to mining / investing / trading…. you name it!
At the moment GSR is running a pilot pool of cryptocurrency miners to gather more information before launching the program in March 2018.
All I can promise is that I am following this one closely and will report the results of the test when it's finished. I have looked at other mining programs, but didn't want to make the high investment levels that some of them suggested to make the income worthwhile. Others just looked downright dodgy 🙂
Amazon Earnings Through Global Shopping Rewards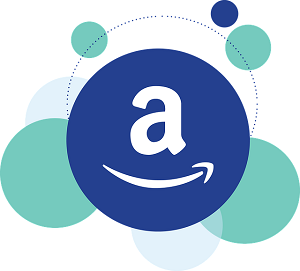 One of the most commonly requested additions to the GSR shops was Amazon. Even I shop there! But Amazon doesn't cater for sub-affiliate tracking so it wasn't an easy one to crack.
Happily a solution has been found with the addition of a new company income pool. Purchases by all participating Brand Ambassadors will be tracked to GSR and they will share 90% of total commissions with their Brand Ambassadors and GSR keep the remaining 10% as their company share for setting up and administering the new pool
Even better …. 85% of that 90% will be paid out equally to the "lower" ranked qualified Brand Ambassadors, so they get some cash in their pockets more quickly. The other 15% will be split evenly between the higher ranks. Their benefit is retaining a team of happy new members who are seeing quick cash returns on the spending of any BAs who participate in the company pool. (And why wouldn't you participate? Amazon don't let you shop on your own affiliate links!)
Again, this is being developed and tested in February with a planned launch in March 2018.
GSR Compensation Plan Tipped In Favor Of Smaller Members
As further evidence of helping smaller members, a change is being made to the compensation plan from March 2018 to pay on a straight 10 levels regardless of rank. This stops the situation that occurred with some BAs who introduced a small number of BAs whose legs grew rapidly – leaving the original introducer not qualified to earn commissions on a major part of their team.
Conclusion
Global Shopping Rewards continues to show its commitment to listen to members and implement novel ways of putting commission into the pockets of all members, not just the top earners.