14
Guaranteed Profit From Marketing Tools
Tools To Market Any Online Business
One of my quests over the past few months has been to find the tools I need to market Premier Cashback. More specifically, tools that my team need to market the business – or any business for that matter.
Over the past few years I've accumulated many of the tools I need – but newcomers to Internet Marketing who want to promote ANY business often founder from complete overwhelm at the skills they need to master.
So I've been looking for a way round that, to help people I bring into Premier Cashback get started, but without costing them an arm and a leg. After all the idea is to make money online, NOT spend money online.
Not in Premier Cashback? Whatever your business online, it's a fair bet that you and your recruits still need marketing tools and training.
Tools To Market YOUR Business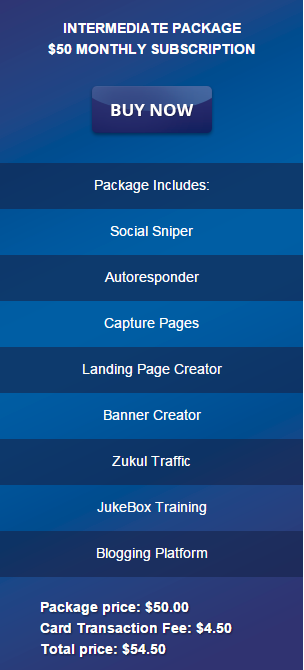 Whatever you're promoting, these tools can help you promote YOUR business.
Before I tell you more about the package I have selected to recommend to those in my team that want to learn online promotion, here's a quick list of what's available:
Landing Page Creator
Autoresponder
Blogging System
Banner Creator
Facebook Ninja Marketing Tool
Social Posting Tool for LinkedIn, Google +, Twitter, Pinterest, YouTube, Tumblr
The above are just some of the skills that someone marketing online has to learn, so no wonder people often quit overwhelmed.
This is addressed by the fact that my recommended system includes:
Modular Tutorial Training System to take you, or your new recruit, by the hand, step-by-step through the complexities of starting your own business from home.
Best of all – there is a guaranteed way to get these tools and training completely free, and even make a good monthly income – without having to do any recruiting yourself.
Which means that you can still devote all your time to your main business.
Already Have Many Of These?
Yes, so do I – especially my own blog and autoresponder, and I'll be honest and say I don't plan on switching away my blog or autoresponder from where they currently are. However, I do see that some of the others will replace social marketing tools I'm paying for elsewhere.
But don't think of your own needs – think of the needs of someone you bring in who is new to online marketing. Have you got the time and skills to teach them even the basics of what they need to know?
Probably not – I know I can't. But if you don't at least get them started the majority will get nowhere and drift off disillusioned.
So the usual scenario is to recommend that people join a "tools and training program" with a monthly cost, that generates an income and pays for itself.
I've never been a fan of this approach for two main reasons:
I don't want to foist a monthly cost onto people looking to me to help them make money online – it's completely against the Premier Cashback "one purchase qualifies you for life" ethos
There's a big danger that, desperate to cover that monthly cost, people start promoting the "tools and training" business, forget about promoting their main business, and leave both when neither one generates enough income.
Although the latter scenario isn't as disastrous in Premier Cashback, where one purchase gets you in the business for life, if you're promoting a conventional networking business your recruit's efforts are now split into two, or in the worst case, you've lost them from one or both businesses when the diluted effort means they don't make money with either and get fed up of paying a monthly fee.
So for those reasons I've always resisted recommending, what I'm just about to recommend to you! But stick with it please…..
Profit From Marketing Tools
The package described above costs $50 a month and there's an income program attached where three personal signups will cover your costs (bar a dollar or so, to be strictly correct).
I liked the package of tools and training on offer so much that I joined this program when it first came out about 18 months ago, but yes, I quit – for the following reasons:
I couldn't cover my monthly costs
The people I introduced couldn't cover the monthly cost, so they quit too
I already had most of the tools in other places so my main need for them was to help people I recruited – but re-read point 2!
Anything sounding familiar? To be strictly correct, I didn't completely quit, I downgraded to a one-off payment package (that's no longer on offer) so that I could retain access to a few of the tools, still promote them, and earn from the original compensation plan. This I did "in the background" and made a little commission, but no-one stayed beyond their first month – so I didn't pay much attention to it.
After all – my experience confirmed what I feared: asking people to pay for monthly training packages alongside the business they are already promoting can often be the straw that breaks the camel's back.
What Changed My Mind?
My original sponsor in the training program contacted me to tell me about a novel innovation from the company to solve this problem – because, guess what, I wasn't the only person to quit because I couldn't cover my monthly costs.
They introduced a "Guaranteed Sign Ups System" so that when you subscribe to the monthly tools and training package you also spend $49.95 to buy 3 guaranteed sign ups to the training package that will cover your monthly costs. Those 3 people will also buy their 3 to cover their costs and so on, building your business in theory to the limit of the compensation plan.
Saturation…..
…. I hear you cry. Well, perhaps eventually. But I don't believe it's going to happen within the foreseeable future, and there's no long term commitment to carry on paying the monthly fee if you decide you've learned everything and don't need the tools.
The company doesn't guarantee WHEN.you will get the signups, but so far people are getting them within a few weeks – and the company is only just starting to pay for advertising after an extensive period of testing. They plan to implement paid advertising in full when their test results are in and the first wave of signups starts to slow down.
At the moment they're tracking and testing campaigns rather than just throwing money blindly into advertising. In fact they have a team of professional marketers doing all the clever things that we SHOULD be doing in our own businesses to get the sign-ups ourselves. But frankly, if I can pay $49.95 for someone to do it FOR me, that's an extremely acceptable business expense in my opinion.
Update Dec 2015: because of extensive testing the company can deliver guaranteed sign-ups for about $2 each – so the profit from supplying them goes right back into financing more advertising.
Yet still the saturation question nagged at me a little, until the founder of the company addressed it head on in the video I've included below. (Feel free to ignore the first few over-excited bits and wait until you get to Jeremy Rush speaking.)
In a nutshell, as well as starting paid advertising, there some rather novel tweaks on the drawing board:
Plans to sell marketing tools to mainstream businesses that know nothing about the networking marketing business – and the revenue generated from these sales will fund more advertising campaigns to bring in sign-ups to the MLM business
Charity positions to help raise funds for good causes – no shortage of those
Giving away limited versions of the tools free-of-charge, then offering paid upgrades once people start using the tools
Sales of company products "one-off" to raise funds for more advertising.
It's all explained much more lucidly in the video below.
Everyone Working As One Team
The name of the company providing these tools is Zukul, and the way they are building the business is with their Guaranteed Signups System – the video on the sales page will tell you more.
Another interesting feature is that EVERYONE is promoting the same "team-wide" link, with their own ID having a place in a rotator. So newcomers will just join the next person on the rotator rather than the person who introduced them.
This means that people weak in marketing skills will be helped by the promotional efforts of the skilled marketers in the "family". Without this help such people may never see a profit from marketing tools.
I have already spoken to my direct upline Dave, known to me as a very hard-working distributor in other plans, who says that – thanks to Guaranteed Signups – he's now, for the first time in an MLM increased his profit from marketing tools to a three-figure a month income with the package. My original sponsor is on a five figure monthly income, but he's been working the business steadily since summer 2014.
By the way – these are NOT guru look-alike actors…. they are genuine guys I've known online for several years. We've worked together in other programs and they have never had this success before.
What's Required Of Members?
You pay the one-off $49.95 for the 3 guaranteed signups and the monthly cost of the tools and training package is $50 – which will be covered by the signups – when you get them.
After paying this, strictly speaking you could then do nothing. However members are asked to do 2% of the marketing work typically needed to promote an online business, by making at least one social media post per day to a suitable group or page.
The rest is done for us by professionals and more experienced members.
They even produce a daily image for us to share to keep the content fresh. The image on the left is just one of the daily images. I share the new daily image in at least one group or on one of my pages.
What's The Risk?
Well, of course the risk is that you don't get all three sign-ups, because there's no guaranteed time-scale. But "no sign-ups" is the same risk you'd have had joining any other paid tools and training package with an income opportunity.
Yes – but I paid $49.95 for these 3 signups…. If you had spent that small amount of money on a paid advertising campaign, it would have been amazing to have got 3 paid sign-ups to cover your monthly cost. I would feel that even one or two paid sign-ups would be a great conversion rate. Just look at that $49.95 as investing in a paid advertising campaign. It will probably have better results than any you could do personally because these are professionals making bulk ad buys and doing what they find easy (and what I find very difficult).
A slightly different risk is that you lose heart and stop paying your monthly fee having paid for your 3 guaranteed signups – in which case you will lose your place and they will go directly to your upline.
Risk is a part of self-employment, and if a $49.95 advertising campaign is too big a risk for anyone, perhaps they're not suited to being an entrepreneur.
Managing Risk
Some people have gone crazy buying lots of guaranteed signups and spending more money than I would be comfortable spending, and certainly more than I would suggest anyone else spends.
My approach has been to spend the minimum, as described above, and after that when my monthly costs are covered I will withdraw my "seed" money, then reinvest a proportion of my profits.
I could view the fact that other people are buying lots of packages as an annoyance and that they are "taking up turns" ahead of me in the rotator – OR I could view it that these people are financing the company's advertising campaign, and some of the people they have paid for will appear in my funnel (down-line). See what happened to me….
What Results Have I Had?
I wrote the draft of this post about 3 weeks ago when I first paid for my signups, and I was warned not to expect them straight away because some people are buying several batches of signups. (You earn more on directly recruited members – which is what the Guaranteed SignUps are classed as.)
So, I haven't yet receive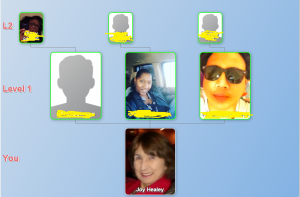 d the three personal signups – BUT what has happened is something I hadn't expected.
Even without my personal members I have earned money because the business operates on  a 3-wide matrix and I have had 6 people spilling over from those "above me" in the matrix who have filled their first level. (See results from 3 weeks of doing nothing – names yellowed out for privacy.)
In all the years of businesses promising "over-spill" this is the first one to have delivered earnings from 6 people, and that's in just 3 weeks. My earnings don't yet cover my monthly fee, but it will reduce what I have to pay in a week's time.
Needless to say I'm very excited about the future of this system, because it:
Gives the tools and training needed to promote any online business
Helps me train people I recruit into Premier Cashback
Will build me me a second, monthly, income in addition to my main business
How Jeremy Rush Sees The Future
Below is one of our weekly webinars, and I hope you'll appreciate Jeremy's honesty and work ethic. When I was struggling to understand one of the tools – before all the videos that are now in place – Jeremy, the founder of Zukul – personally got on Skype with me and fixed what was causing me grief. The guy cares about his distributors.
How I Will be Using Zukul
I will recommend my Premier Cashback team to start using these tools and training to learn how to build their business, and I will suggest they buy the Guaranteed signups to cover their monthly costs. They won't sign up under me – in fact to benefit from the rotator we have to agree to promote the rotator link only, not our personal links.
Even if just one or two of my Premier Cashback team learn better Internet marketing skills from these tools, the whole Premier Cashback team will benefit, and if these distributors make a profit from marketing tools to help them on their way – so much the better.
Promoting Something Else?
Whatever your business, these tools can help you promote it, and the done-for-you marketing campaign will build you an income online. with the GuaranteedSignupsSystem.com