Learning Forex Trading In 2019
The New Year is a time of change and resolutions – mine being Learning Forex Trading.
Regular readers will know I have been largely absent from the online market because of my move from London (UK) to the fine city of Norwich. And I couldn't be happier to live here.
However, having settled in nicely it's time to take stock of my online activities, which have been left rather in the background. Although they're all still solid businesses (FutureNet is 6 years old), it's always good to look at something new to add to my existing portfolio.
For some time I have been interested in "ForEx" – but been too nervous to get started. If it's new to you, learn about the Foreign Exchange Market here.
New Business Learning Forex Trading
WOAH – I hear you say. Forex Trading is risky and hard to learn. And you are right. See the warning below:

I know only too well that it's hard because my very smart son, the one with the "Investment, Finance and Risk" degree has been studying it and practicing with a demo account for months and still hasn't made a "paper profit" yet.
So when a good friend told me about a new Forex information service being added to an existing, established home-based business portfolio I was keen to learn more, but still not sure it was for me because of the difficulty and risk.
Then my friend explained that the way I would be participating is by utilising a trading software platform which uses the information being used by a team of experienced traders, rather than making my own trades (although I could if I wanted to). So I wanted to know more.
What I found was truly amazing and better than I had expected – however,  the company is very serious about its compliance, and what I can and can't say, so I invite you to watch the company video about their ForEx business.
Their results are impressive – you'll be able to see them when you watch the video by clicking on my ForEx Information affiliate link here, or the image below.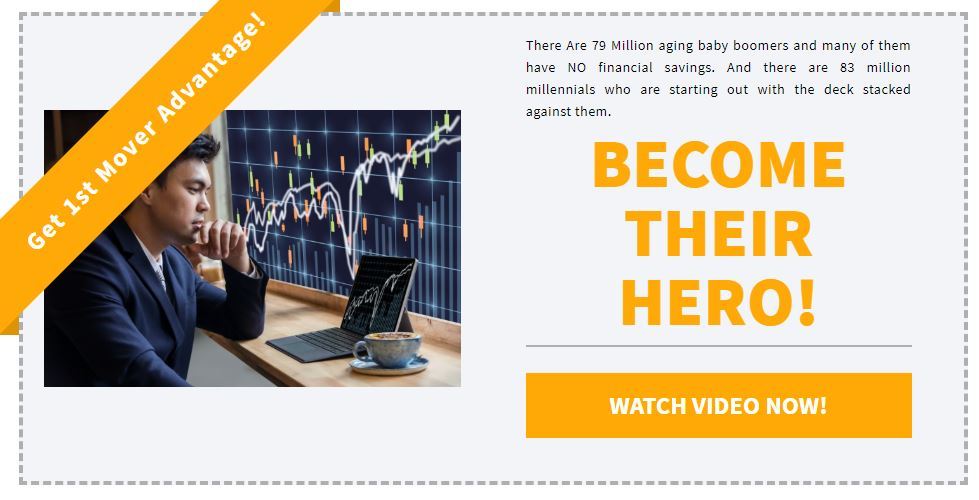 Need More Money? It's Not Too Late
As you'll see from the image above, there is an increasing number of baby-boomers (like me) looking for an extra income stream to supplement poor pension provisions. But this isn't confined just to baby-boomers, it's also for the young who feel they don't have enough income to save for a pension – even though their employers are contributing (that applies to the UK).
Although there is an opportunity to build an income from team-building with this business, and a variety of other products, what appeals to me – and to many I know – is that team-building is optional.
The results I have seen have been so good I'm not allowed to show them other than via the company website, so please check that out here.
But you DON'T have to dive in right away with an investment pot – you can just set up a demo account to watch the results first.
Incidentally – if you're lucky enough to be reading this in 2018, there's a very special "launch" offer that closes at midnight on December 31st.
Launch Or Established Business?
My experiences of "new launches" have not been good, so let me clarify that phrase "launch".
This "launch" is adding a new income stream to an established business opportunity that already offers other products, services and training. This new service is Forex information from a team of experienced traders. The business infrastructure is already in place with additional income streams – including the "business builder / marketing system" that is, in its own right, a commissionable product.
Safety Factors For The Forex Information Service
So how is the risk of learning Forex trading reduced by using this service?
The trading team is completely separate from the business marketing team. They are expert traders in their own right, and the business team are the marketing experts.
You will NOT give your investment pot to the MLM business owners, or even to the trading team.
You have control of your own funds at all times in a completely separate broker account of your choice.
Full instructions and training are included, and you will be part of a Facebook team to help you along the way.
Trade with a demo account until you are happy with the team's advice.
The service provided is by monthly subscription, so if you are unhappy with the service, cancel. No long term contracts. The trading team only earn from your participation if you continue your subscription, so it's in their best interests to keep you happy.
And So Into 2019….
I rather pushed the boat out on furniture etc for my lovely new house in 2018, but I'm all set up here now.
So it's time to roll my sleeves up again for some extra online income and this is a business promoting a product (Copy Forex Trading) that is valuable in its own right, rather than the pills and potions etc that you could buy at your local supermarket at a much lower price than via the business.
It's too late for me to plough money into a pension fund, but not too late to look at a new skill – Forex Trading. I recommend you to take a look here (affiliate link) too.