20
Promoting Premier Cashback Offline
Promoting Premier Cashback
Now that Premier Cashback's new retail partner, Salustra, has successfully launched, it's time to concentrate on promoting the overall concept.
Of course promotion is completely optional, and I could just be a customer and wait for the cashback rewards to come, but I'm treating this as a part-time business, so that they will come faster!
Most of my visitors are familiar with online promotion methods, so today I want to concentrate on a way to reach a different audience.
Promoting Premier Cashback Offline
I come from a conventional small business background so I will confess that if someone had come up to me and started talking about generous cashback returns, I would have thought they were some nutter and run a mile.
However, what actually happened was that I was taken to a meeting in a smart hotel in London, where a couple of presenters (both distributors / customers of the company) explained exactly where the cash back rewards would come from, and where they had been coming from for 7 years (actual product sales!).
At this presentation I was totally convinced of the legitimacy and long-term viability of Premier Cashback by seeing one particular slide, and talking to other small business people quietly making a sideline residual income to build up their pensions. (Something I've been very bad at doing.) Some are even running it as their full-time business.
No! It wasn't one of those dreadful Rah-rah motivational meetings where you have to jump up and jiggle about or hug someone new every quarter of an hour. Memories of those were enough to put me off networking meetings for many a year.
This was a quiet and professional presentation. Every question from the floor was answered and we could see an attractive display of genuine products being bought and sold, only when people wanted them. (No scary sales targets or auto-ships!)
There are several meetings round the country each week, and this is how the business has been built successfully over the last seven years. Let me know if you'd like to attend one and I'll let you know what's available and when/where.
So while posting messages in Facebook groups may be working for some people, I have to confess that, personally, I've found it a bit of a waste of time. (Also if another person approaches me with offers of life-time love from across the sea on our first message…. I will cry!)  I digress…
I still hope that some of the online contacts I know as "proper people" from blogging may become interested in Premier Cashback, but it's a long-term business and there's no rush.
If anyone is interested in Premier Cashback and the Elite Online Training group that's been put together exclusively for our team, Best Opportunity.
Best OpportunityGiven that I'm not finding the type of contacts I'd hoped to find while marketing on Facebook and Twitter, I need to look further afield. (Disclaimer here: I have yet to start paid marketing online, but I wanted to get all my materials in place first. The Elite training resources made available just a few days ago, exclusively to our team, means I'm within days of being able to do that.)
Local Networking Groups
Despite all the online marketing resources available, I can't get rid of the nagging thought that Premier Cashback has been successfully marketed to small business people at local meetings for seven years – so that formula already works. If it's not broken, don't fix it!
So, equipped with GetResponse (free trial here), and smart new landing pages from the Premier Cashback Elite resources I'm looking to build a contact list from offline local business people.
Why Local Business Groups?
They're not totally skint, as are some of the people I have found on-line. Premier Cashback requires a one-off purchase of £50 + P&P to get started.
They are already in business so understand they may need to invest in resources, such as an auto-responder and the Elite landing page package if they want to promote the business.
If they're already running a successful business they will probably already be using these (or similar) tools, so there's nothing extra to purchase.
They probably already have their own list of customers / contacts to approach with the cashback reward concept.
They are at the group to build their businesses, so they may also be open to a sideline business.
They understand that building any business takes time, and there's no "get rich quick" plan.
If you don't have a blog, or much in the way of online business promoting skills, local business groups are ideal – all you need are some business cards – see below.
Other members often include networkers from other MLMs that you'll recognize, and who might be interested in a second, part-time, string to their bow.
Basically, I see joining local business groups as a way to make contact with people ready-trained in "business", as opposed to looking for "bright shiny objects".
The Best Local Business Groups
So the next stage was to determine which groups to spend my time at.
Regular visitors may remember that I tried a few local groups a while ago, with mixed results, but that was as a website-designer / blogger!
As an aside, I have to confess that if any-one thinks network marketing is saturated, they should try being a website designer! I found that really tough, and although I picked up a little bit of business, the competition was fierce from very tech-savvy teams I couldn't hope to compete with.
It was obvious that to find any benefit from local business groups, it had to be with something novel, and something completely different from the existing members.
Then my local business group visits were curtailed by family problems, and the death of my Mum, so I was finding it tough enough to cope with my existing  business, without looking for more, and I stopped attending the groups.
Now I'm back in a position to take more time to grow my business, and I have a business that's different from any-one else in the group, so it's time to re-start visiting local business groups.
As someone who works alone at home, it's also very refreshing to get out and meet other people who understand about the pressures of being self-employed.
I won't go into which groups didn't survive my cull of groups, but I will promote the one that I have found the best value. No affiliation, just information 🙂
Links 4 Growth runs regular meetings of local business people for coffee, breakfast, lunch or an evening drink. So that gives you plenty of choice of meeting format to suit all budgets and life-styles. The meetings are friendly and small enough to be non-intimidating, but large enough that you meet plenty of new people. There's also an online forum, and one meeting attendee I was chatting with yesterday said that most of his full order book came from contacts via his profile on the forum. Highly recommended.

The second group I'm going to mention, I'm taking a bit of a flyer on – because I haven't actually been to any meetings yet, but it was recommended to me, just yesterday, by a member of Links 4 Growth and meets on a different day from L4G, so I can attend both.
Look at 4Networking to find your nearest group. There are four within five miles of me, and I hope you'll find one near you. Although it's a little more expensive than L4G, you can attend any 3 meetings to try it out before you have to make a commitment. After that you're free to attend any meeting in the group, and as many as you want – so it's up to you to maximise the value of your subscription. One very interesting feature is that every meeting you attend includes three 1-to-1 presentations, to get your business message across.
These are UK groups, but I'm sure if overseas readers Google "local business groups" they'll find a wide selection.
How To Promote At Local Networking Groups
The traditional method is by exchanging cards, maybe giving a one minute "elevator pitch", and then following up. For this, the landing page tools in the Premier Cashback Global Elite team are a must-have.
I'm currently producing a business card in conjunction with a lady recommended to me at L4G. It's "good form", but not compulsory, to trade within the group.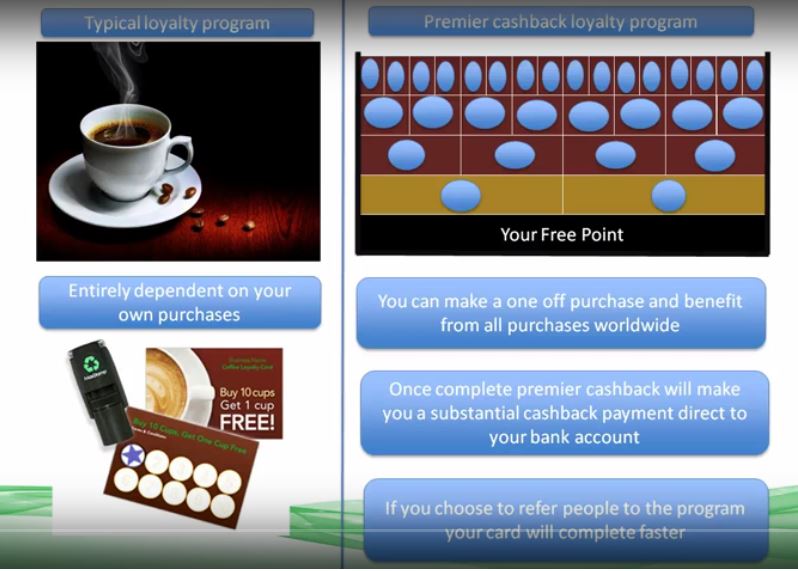 This is the "back-side" of my card – taken, with permission, from a slide in Kevin Wilkes' excellent video. I've not quite finalized the wording for the front side, but the idea is that you show people the back of the card, to explain the concept quickly, then give them the card and encourage them to register on your auto-responder for free information.
If any existing Premier Cashback Global Team members would like a price for cards like this but with their own details on the front, do get in touch. I'm sure that the larger the order we can place, the better price we'll get. I don't want to make a penny from any card orders – I just want everyone in the team to get a few cards out there to increase membership of Premier Cashback.
Thanks to several members of the Elite group who have contributed ideas that have crystallized and inspired me to try this approach.
Have You Tried Any Local Business Groups?
So – over to you, to share your experiences of promoting online vs promoting offline.
Have you tried any local business networking groups?
If so, what have been your experiences?
Have my thoughts on why these might be good places to promote Premier Cashback inspired you to give it a try?
What will stop you from attending the free meetings at 4Networking?
I'd love to hear your comments below this blog.