8
Make A Purchase At Premier Cashback
If you're ready to make a purchase, just skip to the section below headed: Opening Your Accounts At Premier Cashback
Otherwise read on to learn more about Premier Cashback!
What Is Premier Cashback?
It is a business based round the concept of a shopping club, where members are rewarded with cashback on purchases they make in Premier Cashback shops.
The importance for me is that it's a networking business that solves all the problems I've previously found in MLM. Click HERE to see how Premier Cashback solves the problems of network marketing.
Whereas with other MLM businesses, I (and my team) have often quit due to time pressures, cost of auto-ship etc. None of the usual problems affect Premier Cashback because a one-off purchase qualifies you to earn and the team builds around you if you're too busy with other commitments.
Learn More About Premier Cashback Business
You can subscribe to my "list" for more information on Premier Cashback by clicking here.
Alternatively, I am a member of a secret Facebook group where you can watch videos, attend webinars and ask as many questions as you like, all with no cost obligation.
Register for a free Premier Cashback account here (this is where you manage your loyalty cashback points – and view those of other members). Then to learn more about the program send me a friend request on Facebook at Facebook.com/joy.healey and a message asking to join my team's group. Don't just join any old group – our group is working together to help each other! I look forward to hearing from you.
Premier Cashback Update August 2015
Due to group activity I very quickly received a $CA250 interim cashback reward, which repays my initial purchase. Getting my next ($CA1100) payout, will take a little longer as my team expands. (Update – I achieved that in March 2016.)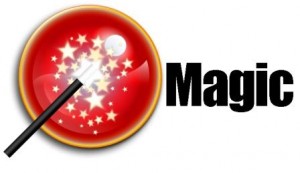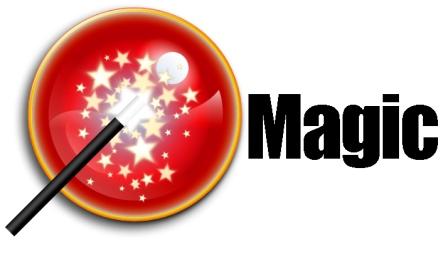 The good news is that many of the points that will qualify my for the cashback rewards have come not just from my own efforts, but from a team effort.
I can't build Premier Cashback full time, so being able to spend what time I have available and still see my team build, is just magic to me. Well, of course it's not literally magic – it's good old-fashioned team-work!
However when some customers / affiliates I introduced wanted to make a purchase at Premier Cashback I realized that something a few people have found challenging is the sign-up process
I have emailed these instructions out often enough that I prefer to add them below.
Opening Your Accounts At Premier Cashback
You will need at least TWO out of THREE accounts.
Premier Cashback – overall management of loyalty points (compulsory)
Chartfords Gallery – buy limited edition prints (optional, prices in Canadian Dollars)
Salustra – buy health products (optional, prices in UK pounds)
Because the retail partners are in different locations with different currencies, the common currency of "Premier Cashback points" links them together.
Let's look at each in turn…..
Create A Premier Cashback Account
You need a mandatory account at Premier Cashback, that manages your account overall so that you can look at points in the system, your genealogy and your cashback wallet etc.
To register for your free Premier Cashback account, click here.
You will see a button to "Sign Up Now", and when you press this you will be shown the "Create New Account" screen – below:
Choose yourself an affiliate membername (between 3 and 16 alphanumeric characters) e.g. FredSmith.
This is your link between Premier Cashback and the partner shops. Make a note of this. It will be needed when you place shop orders.
When these fields are completed satisfactorily you will see the message below:
Success Your activation email has been sent to the email address supplied. Your new account ID is  aanaaaaan (for example).  You can use your account ID and password to log in here or to the gallery: ChartfordsGallery.com   N.B. Please keep a record of your password for future use.
You will use the alpha-numeric account ID to login to Premier Cashback, but the "Affiliate name" (which I am referring to as "nickname") if you need to link purchases you make in the shops to your Premier Cashback reward points account.
Login To Premier Cashback
Click here to login to Premier Cashback (the overall points management account) with the alphanumeric Account ID (assigned by the system) and the password you chose. You can now browse through the features available to manage your account.
Take a little while to familiarize yourself with your Premier Cashback account, then decide which product you want to purchase.
Buying From A Premier Cashback Shop
So…. you now have a membership at Premier Cashback that earns you points at partner shops. At the time of writing (August 2015) there are two shops, with more to come.
When you decide which of the partner shops you want to buy from, you need a purchasing account at your selected shop(s).
Chartfords Gallery – Limited Edition Prints
… and / or…
Salustra – Health Products
For your first purchase you may find it easier to login to your Premier Cashback account with the alphanumeric account ID generated and the password you chose. If you experience any challenges with the site please feel free to contact head office:
https://www.PremierCashback.com/contact/
Then to choose your shop, scroll to the bottom (under the yellow boxes) and click on your shop: Chartfords Gallery or Salustra.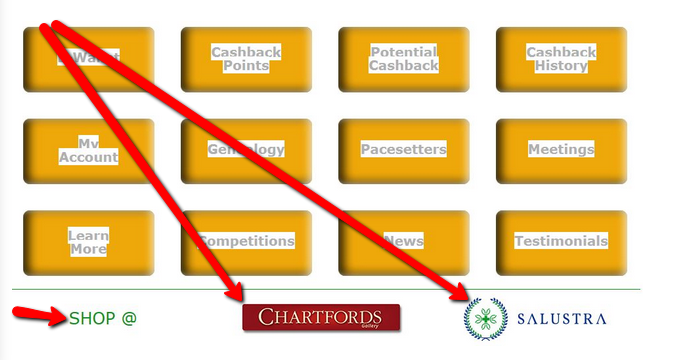 If you just want to buy Salustra Health products, skip to that particular section below.
When You Shop @ Chartfords Gallery…
…that takes you to the site http://www.chartfordsgallery.com and click on the login text at the top left hand corner (above the brown banner). This displays the screen below.
Now you need to create a new account for that shop if you didn't already.
OR if you HAVE a Gallery account, you can login to Chartfords Gallery) using same Account ID (mix of alphanumeric characters) that was assigned to you by Premier Cashback.
Then click on "Limited Editions" or "Original Artwork" to browse the art on offer.
If you can't decide which picture to choose and want to get started quickly, you will find Art Gift Vouchers are at the top right within the Chartfords Gallery, or you can use the other buttons to browse the gallery to choose your art.
When you are ready to complete your purchase you will be asked to "Enter Recipient Member" and will need to enter YOUR chosen Affiliate name (nickname) as the affiliate to assign it to (normally you!)
This will be checked, so make sure the button against it goes Green to show it's OK.
For your first purchase, you will have to enter your address – FOR THAT SHOP. This will be saved for future purchases, and you may also enter four more delivery addresses for gifts etc.
Then you will choose your payment method. In the UK, for my bank, I found "card" more economical than bank wire despite the small surcharge; but that may vary according to country. (Sterling transactions coming soon.)
The "point" assigned to your purchase may not appear immediately on your "Premier Cashback wall", but you will received an email to confirm your purchase. You can see your point by logging into Premier Cashback and pressing the yellow button "Cashback Points".  You can "View" your own point, AND look at the point of any other affiliate in the system (for instance your up-line or your team) by entering their nickname in the drop-down box.
This means the process is totally transparent to all everyone, and no-one can make false claims about their rewards.
When You Shop @ SALUSTRA…
…when purchasing Salustra health products you will click across from "[email protected]" above and use the login text on the top bar at the left to arrive directly at the screen below.
NOTE – the first time you see this screen you will NOT have a Salustra account, so you need to click "Don't have an account" at the right. This will open you an account with Premier Cashback's retail partner Salustra.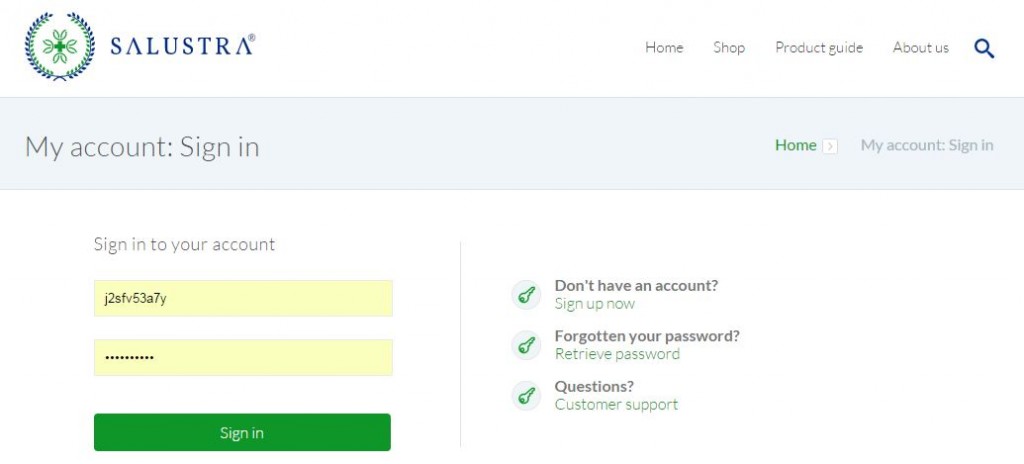 When you login to Salustra subsequently you will use the alpha-numeric affiliate ID that was generated for you by Premier Cashback. If you do NOT already have a Premier Cashback account, refer to the section above: "Create A Premier Cashback Account"
Once logged into your account you can browse the products from the Shop link on the top right of the Salustra screen.
As with Chartfords Gallery, on checking out, you may need to enter an Affiliate name (nickname) to be sure the points are correctly assigned.
You will receive an email confirming your purchase and the Affiliate name (nickname) to which the points will be assigned in Premier Cashback.
Conclusion
I will confess that I found the sign-up process a little daunting initially, but once you have your three accounts…
Premier Cashback
Chartfords Gallery
Salustra
…set up, and when you have made your initial purchases, you'll find subsequent purchases from the Premier Cashback shops so much easier.
Any questions please contact the person who gave you this training. They are your direct help contact. If you can't get help from your direct sponsor, contact me on Facebook. Alternatively if you're in our private Facebook group we have great team support and that's often the best way to get a quick answer. We all help each other.
You can read all my articles about Premier Cashback here.