18
Premier Cashback – Promoting With A Web App
Update on Promoting Premier Cashback Offline
I recently wrote about my ideas for promoting Premier Cashback offline, at local business groups. These plans are progressing, but very slowly.
It's all slightly stalled at the moment as producing the business cards I wanted is taking far longer than I imagined it could possibly take. I must have selected the busiest graphic designer in the whole of NW London – which is great for her, but not for me.
In fairness, the lady concerned probably thinks I've been a dreadfully fussy customer because I didn't accept the first layout she came up with. But the addition of spelling mistakes and omissions from the supplied text have all conspired for an unexpectedly longer process than I'd imagined possible.
Shame really, it's just another example of what normally happens when I try to out-source a task to someone who should "do it better" than me, to free my time for something else. I usually end up wishing I'd done it myself to save the delays and irritation of chasing.
But happily, there are exceptions…..
Promoting Premier Cashback Online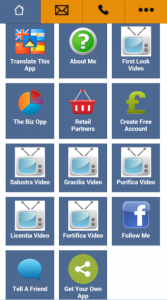 I have made better progress preparing for my online promotions, due to the addition of a new web app totally devoted to my Premier Cashback business. On the right you can see what it looks like. Pretty smart in my opinion. Produced by Roy Hale it is designed for mobile phones but also has a nice tablet/laptop view.
It is great for prospects anywhere (Premier Cashback is a worldwide business) as it translates into over 40 different languages at the click of a button.
Unlike the experience with the business cards, buying a site from Roy has been a totally stress-free experience and I'm thrilled with the result.
Could I have produced a "DIY" version? Considering how long it took me to get this blog set up, I very much doubt it. My new web app has been one of a very few success stories of out-sourcing a task to someone else.
Do have a look: it's at JoyHealey.net – but for best effect, look at it on your phone and you'll see it's perfectly optimized for mobile viewing, so people can easily send me a message asking for more information.
Roy is doing a special offer on sites like these for other Premier Cashback members, or he will produce one designed for any other business you might be promoting. To learn more, go to JoyHealey.net and use the "Get Your Own App" button to contact him.
Web Site Or Web App?
So…. I have this blog and I have the Premier Cashback company websites – why would I want to be promoting with a web app too?
I make no claim to be technical, as regular visitors will know, so for those who wonder what's the difference between a website and a web app – click here!
That was the "technical explanation", so I'm indebted to my good online friend Edward for the non-technical explanation he added for me – check out his comment below.
And while you're on his comment, do check out his blog Far Side Of 55 – it's one of my favorite sites online
Having clarified the difference between a website and a web app, what do I feel are the advantages to ME of promoting with a web app, and what might the advantages be to you – should you decide to buy one for your own business? Because web apps are certainly not just confined to bix-opps.
Of course a major reason is that Google likes web apps 🙂
Another important point is that not everyone has the time or inclination to set up their own blog. Regular bloggers will know it can be a time-consuming task. But to improve your chances of marketing anything online it's vital to have a web presence that is NOT the same as the company's standard site, and – most important of all – a way to capture your visitor's contact details, instead of just handing them on a plate to the company's head office.
This blog was never intended to be totally devoted to Premier Cashback – it's meant to be a place where I can discuss the pros and cons of Internet Marketing with my visitors, most of whom are like-minded entrepreneurs. For instance last week's post turned into quite a discussion that helped me formulate my plans going forward.
On my blog distributors currently promoting their own, different businesses can read about my experiences of the tools I'm using and decide if those tools and systems might help in their own business. I consider it as pooling experiences.
As readers follow my journey they may ponder whether to dip their toe in the market-place by purchasing a single product, even if they're not ready to make Premier Cashback their main business.
So the "debating style" of my blog means that it is completely unsuitable for a part of the audience I really want to attract to Premier Cashback. That is product-consumers who buy the Salustra products for their health benefits, and for whom the cash-back is incidental. After all, when I bought my "well-known brand" coffee last Monday and tendered my loyalty card, I didn't buy the coffee because I was itching to get a free one in "n" months time – I bought it because I had half an hour to kill in a station and I wanted a coffee and somewhere to sit quietly!
So it's to attract health product users that I'm adding this web app (and the QR code that comes with it) onto the ill-fated business cards (one day…. surely).
Then at meetings or "on the run" I can show people Premier Cashback on my mobile and get them quickly added to whichever "list" seems most appropriate. (I've set up a few different lists using GetResponse.)
Another big benefit that cheered me up, and saved me time, was that when Salustra released new products these got automatically added (by Roy!) to my web app. (To be strictly accurate, as of 31st October, they're not on sale for another two or three weeks.)
Other Progress With Online Marketing
Within our Premier Cashback private Facebook support group Paul Lester has added no end of benefits to those subscribing to his very low cost "Elite" marketing program:
Professionally designed banners for Salustra and the income opportunity.
Sample emails for your auto-responder.
More training videos – including how to set up your first WordPress blog. Paul

explained very clearly, in about 1/2hr of videos, what it took me HOURS, and many false starts, to figure out by myself when I set up my first blog.

Access to low cost hosting.
A package for making superb

landing pages (skeletons provided by Paul).

This week

I got a bit more adventurous and created one with A/B variations AND it let me check and adjust the appearance of the page on a mobile, which wouldn't have been good otherwise. It integrates really well with GetResponse … and presume Aweber and all the other biggies are just as easy. It's much better than the tool I was using previously!
Although marketing Premier Cashback is optional, anyone who wants to control how fast they receive their cashback should be taking advantage of Paul's Elite marketing tools at just $10 a month. After all, we have no monthly product cost, so why not divert a small fraction of the typical product cost to a marketing cost?
Online Marketing Training Courses
I've also spent some time reviewing courses on Internet Marketing, from low cost to "deluxe". My review process has taken longer than I expected, and is still on-going, so I'll report back on my findings another time.
In Conclusion
A big thank-you to Roy for cheering up an otherwise frustrating week by setting up my web app. I'll be pleased to hear your feedback in the comments below. Do you already have a web app? Do you think you'll be promoting with a web app in the near future? Can you think of any advantages – or disadvantages – I missed?