14
Premier Cashback Ruby Qualification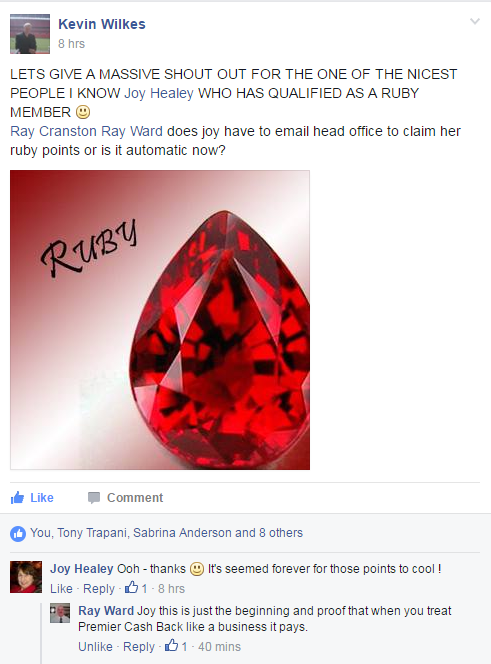 A self-indulgent post today to celebrate my Premier Cashback Ruby Qualification! I must confess that when I joined Premier Cashback last summer I didn't anticipate this… the Ruby qualification seemed an unattainable goal.
Premier Cashback Promotions
"Ruby" is the first step on the "career ladder" with Premier Cashback – and, unlike many other compensation plans, once you attain a rank you are never demoted.
This really is the best compensation plan for a part-timer like me because it removes all of the usual pressure that there is with "part-time" businesses.
No sales targets to reach – no auto-ships, ALL I have to do now is support my team and collect the support bonuses when they make purchases 🙂
The Premier Cashback rewards, like any ethical and genuine online business, are only earned when free points gained with purchased products have passed through a 14-day money-back guarantee period. Internally we refer to this as points having "cooled" – they turn from green on the purchases "wall" to burgundy.

Points go "gold" when interim payments are made, and black when they "complete" – i.e. 16 purchases made on the 4th level of the wall. That's 30 in total in your section of the "wall" and these can be purchases made by your team – or other members world-wide that you have no connection to. Most of the purchases on my "wall" above are NOT from my personal team.
In the (previous) image of my "wall" shown above, my (joyh) point has now turned black as it was Completed by russh's green point turning burgundy as it cleared the 14-day money back return period. So all the 16 sales on the 4th level have been made; I have received my cashback, and my number 2 point has become my "working" point because my "Completed" point 1 cannot generate any more rewards for me. My "loyalty card" is complete.
Russh's purchase clearing purchase generated an interim cashback reward for whispa and her point turned gold. She has only introduced one passive customer (her daughter).
I'd been anxiously waiting for the massive surge of purchases from the USA members in my team that I wrote about recently to "cool", become confirmed purchases and complete other people's cards – generating cashback for them.
When the purchases became confirmed, this was sufficient to confirm my Ruby qualification, and it was announced in our private Facebook support group.
It's great news even to cross-line affiliates, because everyone in the cashback program is helped along by all product purchases worldwide.
How To Reach Premier Cashback Ruby Qualification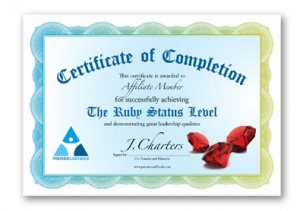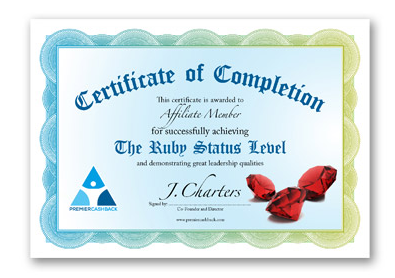 Climbing the career ladder at Premier Cashback is completely optional. Those who are just interested in purchasing products will probably have no interest in this section.
However, I make no apology for the fact that I joined Premier Cashback because I wanted to develop a retirement income from a part-time business to supplement poor pension provisions when I eventually stop work.
For people like me, Premier Cashback gives incentives to build their business, and the first step on the career ladder is known as "Ruby Status".
Premier Cashback is a particularly "part-time friendly" business, because once you've attained a rank you keep it, and its benefits, for life. No need to keep re-qualifying each month!
There are two ways to qualify at Ruby status level. You either need
40 personal Omega points (acquired over as long as it takes you)
or
10 personal Omega points and 3 personally introduced members each with 10 Omega points (the route I chose)
Update August 2016: The compensation plan has been enhanced and there are more products now. Update here.
My Premier Cashback Earnings To Date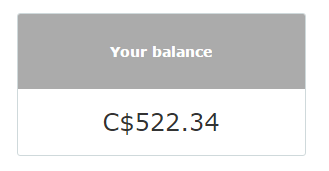 As at 1st April 2016 I have CA$522 waiting to be withdrawn… but that doesn't reflect the $1,250 that I used to repurchase extra products, nor the CA$100 I withdrew a couple of days ago – to test the withdrawal system. It worked, and the money was in my Sterling bank account really fast.
So I earned just over CA$1,850 to date.
This might not sound a lot as I joined Premier Cashback last summer.
But take into account that I more or less stopped working on Premier Cashback after October, because I was into a busy period in my off-line business AND I had to sort out technical problems on my blog.
While I reverted temporarily to being a passive member, the world-wide team and my personal team kept working on every-one's behalf,  so my commissions and support bonuses accumulated.
(Please note: these are not typical earnings. Your earnings will vary according to the effort you put into your Premier Cashback business. I have a large and very hard working team so this income reflects that! Passive members will earn cashback, but no-one can say how long it will take.)
My potential earnings  (based on purchases out of the 14-day cooling period) are much higher, but I can't forecast when these will come in, because it relies on the points purchased being "completed" by future sales – as described in earlier posts. (All cashback rewards are funded by actual products sold world-wide.)
However, the company has never missed a pay day in eight years, and as their profits increase from these new sales, why would they risk any future business by stopping?
What I will also say, though, is that every day my "Actual Cashback" is creeping upwards as more and more points complete.
Sales Month On Month?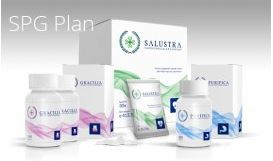 Because the Salustra health products are consumable, some members will repurchase them when their first packet has finished… and my potential earnings from Premier Cashback will continue to rise, as these potential purchases become actual purchases.
No – that won't be a monthly earnings figure (if only) because it includes potential cashback on the Omega (art) products too. As a higher priced product they pay out much higher cashback rewards than the nutrition products. But it also doesn't yet reflect the earnings from my enhanced Ruby qualification which will give me higher support bonuses on a part of my team.
There are also more products in the pipe-line and some of the 8,000 customers now in the company will almost certainly want to purchase them. That will benefit everyone, even those who don't buy any new category of product.
The future is looking very bright with Premier Cashback.
Premier Cashback Review
From the above enthusiastic comments you'll no doubt gather that I'm over the moon about Premier Cashback.
I have seen for myself that the cashback payments come into my e-wallet, as described, and I can then transfer them into my own bank account with no trouble whatsoever.
Would this be the same if I were a passive member? Yes and no!
The process would be the same, but the timing would be different. Instead of waiting passively for other people to do the work on my behalf, I was an active member (as much as my part-time business allowed) and found other customers, plus ONE marketer (Tony). Active marketing speeds up the cashback process on my section of the wall, as it would speed up purchases in any business.
If you are a completely passive member you will earn cashback rewards, but no-one can predict when the purchases that fund them will be made.
Can YOU Earn With Premier Cashback?
Remember, this is just a part-time income for me, and I do it alongside my freelance offline business.
I also "got lucky / smart" and brought a good Facebook marketer (Tony T) into my team. He found the USA team.
If you have more time than I have, and / or if you can equal Tony's social media marketing skills – you can do the same, or even more; and we have great tools within our Facebook group to help you.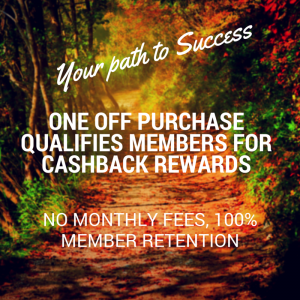 Premier Cashback has grown mostly in the UK until now, although we have the capability of shipping anywhere that customs restrictions will allow.
After the last month's expansion there are maybe 3,000 active customers in the USA – that's only a tiny proportion of the potential USA customers.
There are still whole countries virtually untapped and just waiting for a leader to build the next massive team.
I am also very keen to find health practitioners to share the benefits of these products with their clients.
If YOU can assemble a group of interested parties, one of the Diamond (highest ranking) members in the business has offered to do a Skype presentation specifically for your group. Please contact me.
Or click here to request further Premier Cashback information.
Don't just take my word for it… register for a free account here, then I will add you to the Facebook support group and you can ask other members what they feel about Premier Cashback. No obligation to take it any further.