9
What News Of Premier Cashback One Year On?
Premier Cashback Update August 2016
Someone asked me the other day "What happened to Premier Cashback that you used to promote?"
Well, lots actually.
As it's been a long time since my last Premier Cashback update, I thought it was time to put that right, because while I haven't written about it here, that's almost been because so much has happened that I couldn't keep up with it.
Premier Cashback Is Not A Get Rich Quick Scheme
Definitely not. Do NOT believe any
one who tries to tell you that you can "get rich" without effort – whatever the business.
Any who mistakenly thought it was have moved on.
More accurately they are passive members now, and hopefully when they get cashback from their earlier purchases they'll be back for more.
Being a passive member is a completely valid option in Premier Cashback. Just don't expect a quick return because you're relying on other people to make the sales to generate your cashback.
No-one can forecast future sales (which is how the cashback is generated) so you buy the products, receive them and wait for cashback.
If you want to generate an income quickly, be prepared to put in some work. This is now easier than it ever was, with more products, new promotional materials, plus meetings and webinars.
The only place Success comes before Work is in the dictionary.
Click To Tweet
If you'd like a "foot in the door", buy one product (minimum £75 plus P&P worldwide).
For reasons that will become clear when you watch the webinar, you'll probably get cashback faster if you buy two £50 products – so you collect one odd and one even point.
Open a free Premier Cashback account here and get in touch if you need more help making your purchase.
Be very aware, for passive cashback, it could be a long wait. But I don't know of any other nutritional product that gives such a generous cashback reward – however long I have to wait.
You will get your product(s) within days.
Promoting Premier Cashback On My Blog
Premier Cashback is still very much part of my long-term income strategy – just not very visible on my blog.
Regular readers have seen enough about it that they know where to come for more information if they need it.
From a blogging point of view I now have plenty of material "out there" so that newcomers can find me.
One of the things I always liked best about Premier Cashback was that, if you're busy with other things, you can take your foot off the pedal, use the products, and then come back to promoting when you have more time. Here's what happened.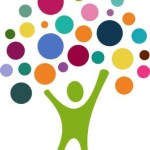 My offline business got very busy
Some family came to stay for an extended period
I enjoyed a long-awaited holiday (or two)
So that's exactly what I did…. allowed my Premier Cashback business to run itself! One of the reasons I chose it as part of my long-term income strategy.
So what's been happening with Premier Cashback?
Premier Cashback Results
In recent months the biggest growth has been in the nutritional products that were launched in the summer of 2015. You can monitor anyone's results by asking to see the progress of any member worldwide.
Several people in my team, but not sponsored by me, have had Alpha points "complete", generating a £100 cashback on a purchase of £50. I have also had points complete, and so have others in my team generating cashback and further points into the system.
This unlikely-sounding event is completely feasible.
Here's how.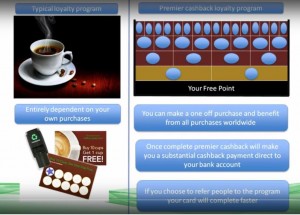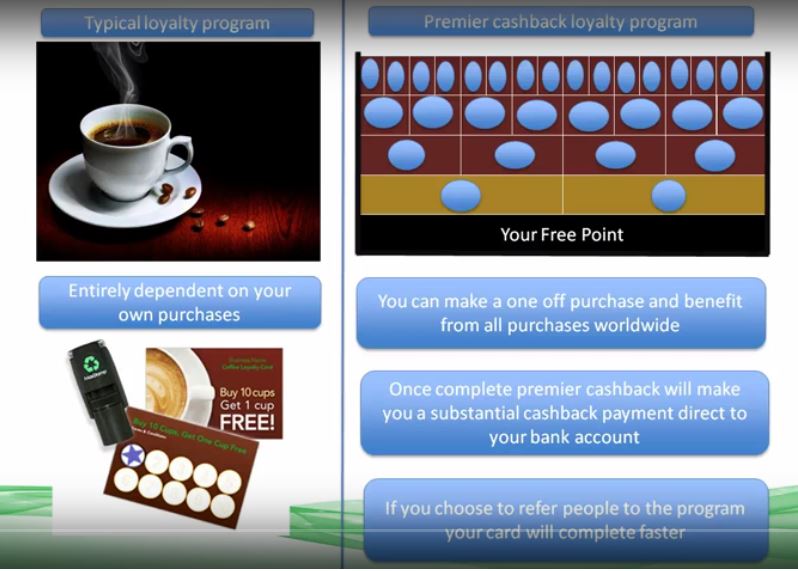 Sales are made worldwide.
Profits from £800 worth of product purchased by customers "down the line" pay cashback to earlier customers.
All cashback is completely funded by profits from actual sales of physical products.
Just the other day someone I sponsored received his "completed" payment – i.e. a total cashback £100 – even though he hasn't introduced a single person. The fourth layer of his business was filled with purchases by other people, generating the profit to pay out his cashback.
Yes, I know….. the Premier Cashback compensation plan is "hard to get to grips with"  – see below!
Nutrition Products Sold In the Last 6 Months
Since the nutrition products launched last summer over £500,000 worth of products have been sold to those of our 8,000 members who chose to purchase them. Can you imagine launching a new product to market and within about 6 months so many sales have been made? That's the power of our club structure.
Remember – there are NO compulsory auto-ships. You only buy what and when you want to buy.
How I Am Selling Premier Cashback Products
Being honest here, I got fed up of being looked at like some kind of idiot when I tried to explain the cashback model at local business meetings in a 2 minute pitch slot. So I took a different approach: leading with the Salustra products.
Here's my site where people can buy Salustra products.
I either buy the products with my own account, or open a free account for a client. I email to ask which they prefer and then invite them to watch the webinar that explains it better than I can in a two minute slot.
The products are shipped to the client who has paid me by PayPal.
Job done – wait for cashback.
New Premier Cashback Products
There are new art products, but the focus of the company has been in the nutrition market-place which has seen the biggest growth.
Better promotional material has been added, focusing on the benefits of the health products. Amazingly some of it contributes towards potential cashback earnings. I never knew a company that did that before!

Two new "virility" products have been added to the range: Potentia for men and Opulentia for women. More info here.
More products are being launched after the summer.
The Sanctia water system is available for pre-order, so we can all take our supplements in top quality water.  Going to have to write about that another time – it was only announced on the webinar tonight. And I discovered it is SO much more than the cheap water filters you buy elsewhere.
For health practitioners who want to build a serious business with Salustra, a BPRO testing machine was introduced. The purchase includes training in its usage. This checks cardiovascular health, so that distributors can objectively recommend Salustra to potential clients, bringing in another income stream. The initial stock flew off the shelf in just one day.
Sanctia water system available for pre-order via Premier Cashback
Click To Tweet
Objective Testing For Salustra
Call me old-fashioned, but I like objective tests.
So I am in close communication with one of the ladies who bought a BPRO machine with a view to working (loosely) together. Any clients I send to her, she will earn the "test fee" and I will benefit from the sales of any products sold as a result of the test.
Having left her job to focus full-time on BPRO testing and Salustra products she is currently undergoing her training. Please contact me if anyone would like a BPRO test in London.
This is a proven business model, because another distributor in Ireland already has a packed clinic where he is running tests and supplying products. You can also contact me to learn how to get a BPRO test in Ireland.
My Testimonial After Using Salustra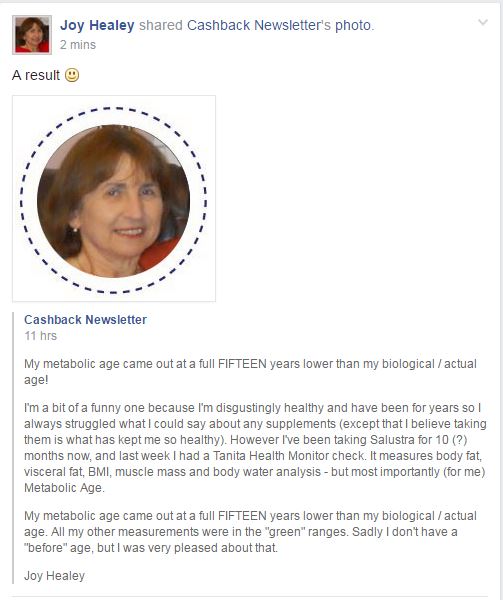 With almost a year of people using the products, there's been enough time to collect product testimonials and as a long-term user I was invited to contribute.
In case you can't read it, the bottom line is that I took a Tanita Health Monitor check (it measures body fat, visceral fat, BMI, muscle mass and body water levels).
The Tanita monitor assessed my metabolic age at a full FIFTEEN years lower than my biological / actual age.
Wow 🙂
Remember I said I liked objective assessments? Well this test was nothing to do with Premier Cashback or Salustra.
It was done for me by a distributor of another well-respected health supplement company.
No doubt they were hoping to sell me some supplements – and all credit to them for using an objective test.
But what it showed me was that the products I'm already using (Salustra and a few over-the-counter ones) are working very well.
My health testimonial after using Salustra for 10 months.
Click To Tweet
Premier Cashback Compensation Plan Changes
While I have been fairly idle offline, Premier Cashback head office certainly has not!
The compensation plan has had several improvements to reflect the success of the nutritional programs:
Since I joined a year ago, the pay-plan has been revised to pay out higher cashback, status and support bonuses
When an Alpha (nutrition) point completes, it pays cashback and generates another two Omega points that will eventually earn cashback. This helps passive and active members.
These enhancements are funded by a higher basic cost for the art products, but the biggest growth has been in the nutritional products market-place. So the company is rewarding distributors generating those sales, while not forgetting those in the art (Omega) marketplace.
Although the principle of the compensation plan is unchanged, there are several improvements. The best way to find out about the new Premier Cashback compensation plan is to open a free (no obligation) account and watch one of the webinars where you can get your questions answered live.
You can also join our Facebook support group to "meet" leaders in the business. If you have a big group, let me know details and I'll arrange a call direct with one of the top income earners.
Invitation To A Premier Cashback Webinar
The webinar invites you to register for a free, no obligation, account so you can look round the site and see everyone's progress. (No credit card required.)
Open a free account first, below, then I will invite you to our Facebook group to have a look at the information in there.
Step 1: Open A Free Account Here
Step 2: Register Here For Webinar
Your questions can be answered live on the webinar or, if you watched a recording, ask away in the group. We all work as a team and help one another.
Meet Premier Cashback leaders at 8pm UK time each Sunday evening. Check your own time zone when you register. If that's not a good time for you, replays are posted in the Facebook support group.
Hope to see you at the next Premier Cashback webinar.
How Has Your Business Grown In The Last Year?
Sorry not to have updated you for a while, but I didn't want to keep ramming every Premier Cashback update down everyone's throat.
In any case, I've been taking advantage of the "passive" option  to become passive in Premier Cashback because that was one of the great attractions to me as a part-time business.
However, please note that claims that you will make a passive income as a Premier Cashback member are extremely optimistic! In theory you CAN – in practice, you'll wait a VERY long time. So don't join expecting to!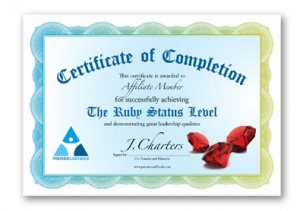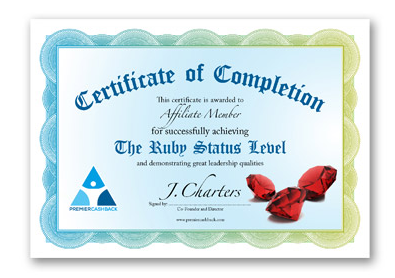 Earlier in the year, working hard while I had more time I attained the rank of Ruby.
Another great feature of the plan is that I will never be demoted from that rank.
Your time is limited, so is mine. This blog is about long-term income strategies, to provide a retirement income, that can run alongside other commitments. Premier Cashback is the most advanced of my long-term income strategies.
Enough about me – over to YOU.
Please feel free to share in the comments below how business has been going for you over the last few months and what your long-term online income strategy is.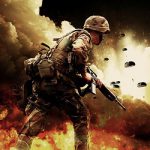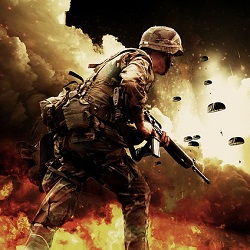 Commenting Problems
Apologies but commenting is not working well at the moment here – I'm battling with it.
When you compose your comment, please save it as text and if it won't "take" first time, just send it to me via the contact page, with your URL and contact details and I'll post it for you. Sigh.
Thanks to all the loyal readers who have warned me about this.