20
Premier Cashback News and My Results Update March 2016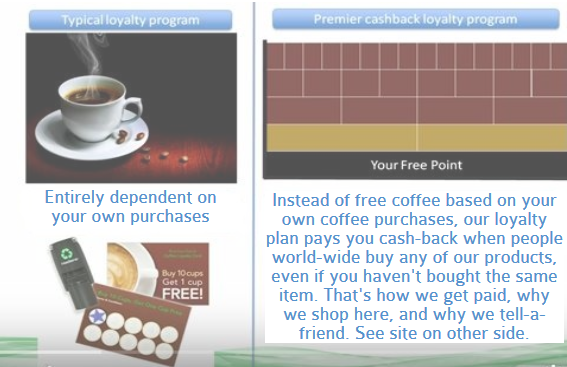 Regular readers may wonder about the lack of recent Premier Cashback news, after my burst of activity in the late summer of 2015.
Well here it is – better late than never.
For new readers, Premier Cashback is a product-based business I am building part-time, and it's based on the familiar concepts:
Loyalty points for customers
Cashback rewards
Rewards for tell-a-friend
More on "What Is Premier Cashback?" here.
All cashback rewards are paid out of revenue from product purchases made, with no requirement to have auto-ships. There is only ONE compulsory purchase – your first – and that qualifies you fully for cashback rewards (in time!) even if you never buy another product.
So – what Premier Cashback news and results have I got after the last few months?
Results In My Premier Cashback Business
My recent lack of Premier Cashback news has been due to a combination of me being overwhelmed with work in my offline business and also the terrible problems, only recently resolved, that I have had with WordPress Security issues.
This meant I had to put Premier Cashback on hold until I got back on an even keel.
Because Premier Cashback has no sales targets or auto-ship requirements, this hasn't mattered.
The global team – not just my personal team – has carried on building the business round me. Although I've been watching my progress, I had to stay passive while I concentrated on my day-to-day business and blog repairs!
After this "active then passive" spell, I want to share my results to date.
But first, I'll tell you what part I played in my own results:
I introduced 8 customers, only 1 of whom actively promoted Premier Cashback, the rest stayed passive
I bought Salustra health products when I needed them – not because there was a compulsory auto-ship.  No more of those for me, thank-you!
I bought a couple of limited edition art prints, the second one was purchased from earnings on sales that followed the first
Each purchase of health products gave me an "Alpha" loyalty point. Each limited edition art purchase gave me an "Omega" loyalty point. Alpha and Omega points are given away depending on the price of product you purchase from any Premier Cashback retail partner. We have more products coming on board later in the year, to add to the current six.
Each point purchased by any customer worldwide (whether in your personal team or not) occupies a "brick" in someone's "wall" and a completed "wall" means that 30 products have been sold, funding a cashback reward. See below!
My Cashback Rewards In Premier Cashback Alpha Plan
Here's the status of my best performing "Alpha" point (from purchasing a health supplement costing £50 plus P&P).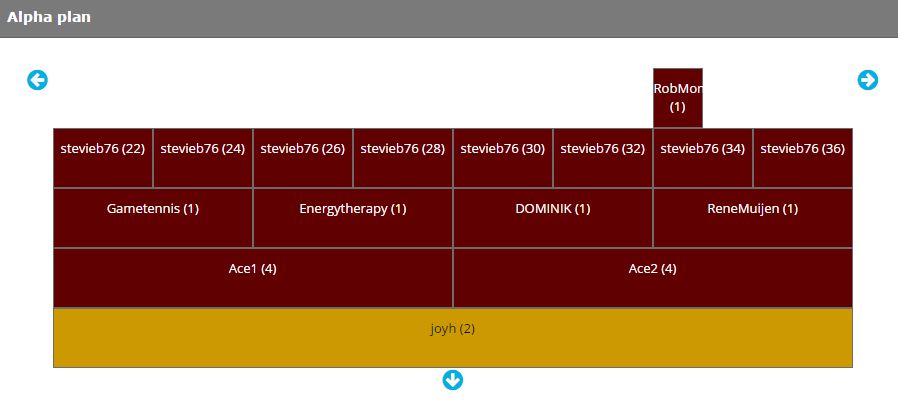 Interpreting my "Alpha" status…. the fact that my second £50 purchase of Salustra (joyh (2)) is shown in gold in my "wall" means that I have received an interim cashback payment of £25 funded by the 14 bricks / purchases that followed "above me" in the wall.
I don't know any of these people. They came to me from the "passive" part of the program and were brought into my business by the global team working for passive members in Premier Cashback.
When (in time) the final 16 bricks of the wall are filled with 16 purchases (15 more) from customers world-wide, I will receive a final cashback reward of £75.
My Cashback Rewards In Premier Cashback Omega Plan
Here is the status of my best performing "Omega" point (limited edition art purchase costing approximately £135 plus P&P). It's approximate pricing due to exchange rate fluctuations.

Explaining my "Omega" status: point joyh(1) at the bottom came from my original purchase of art-work. This turned "gold" when the bricks on levels 1 to 3 were filled by 14 purchases made by other members. The gold joyh(1) brick in the Omega plan triggered a $250 cashback reward for me.
Looking at the "top" level of bricks in my "wall", there have been 16 further purchases made that accrued to me. One of them is "green" – meaning it's still in the 14-day "cooling" = "money back guarantee" period. When it has "cooled" it will turn brown like all the others, and then my whole wall will be filled with a total of 30 "cooled" purchases, which will trigger me a cashback reward of $1100.
This final cooled point will also turn whispa(1)'s brick gold, generating her a cashback reward of $250. Although whispa has been using the health products, she hasn't been actively promoting the business – so imagine how thrilled she's going to be when I ring her up and tell her she's got an interim payment of $250 sitting in her e-wallet that she can either withdraw or use to buy more products.
Because members are enjoying the benefits of the health products, repeat orders are coming into the system generating more sales and cashback rewards.
As mentioned before, of these 30 sales, I was responsible for introducing just 8 other customers – and eagle-eyed readers who know the "family-tree" will spot that two of these 8 are my sons "russh" and "matth". Those beyond "my" 8 have accrued to me from purchases made by other members of our group.
"Whispa" isn't the only one of my personal introductions who has had calls or messages from me saying they have interim or completed cashback rewards waiting in their e-wallets, despite making no personal introductions.
NOT Magic: Premier Cashback Rewards Come From Product Sales
At first glance, those looking into Premier Cashback could imagine this is some "scheme" destined in time to be unable to pay the cashback rewards.
Not so. The image below shows exactly how £800 of nutrition purchases is used to pay out production costs, final and interim member cashback rewards, support and status bonuses for active members – and even fund two free omega cashback points (2 x £135 = £270) that will go on to generate more cashback rewards.
Every penny of the £800 paid out when a "wall" is completed comes from 16x£50=£800 optional purchases made by members.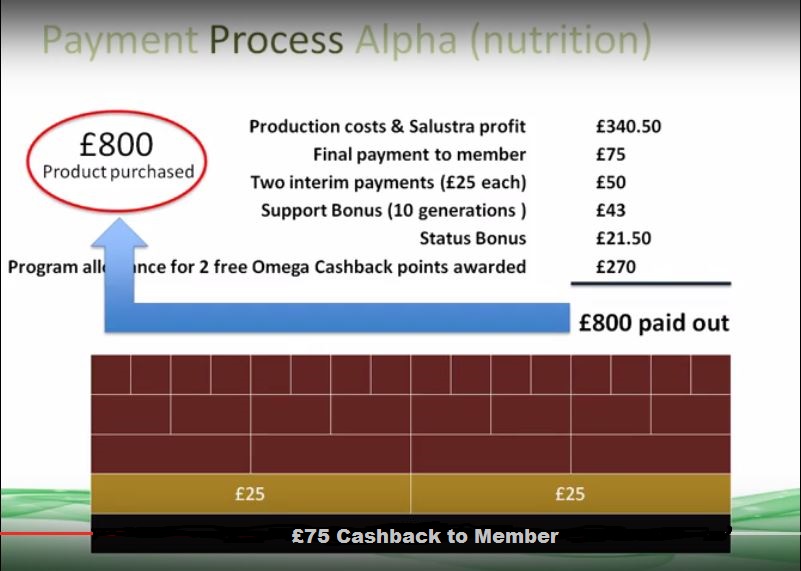 There is a similar breakdown of how the Omega cashback rewards are also generated from optional purchases. I shared that in an earlier, more detailed post describing Premier Cashback.
Beyond the cashback rewards for both active and passive members, active members are paid support bonuses. These are recognition for helping support anyone they introduce and finding customers who contribute to the purchases that generate the eventual cashback rewards paid to both active and passive members.
Note: Although passive members will earn cashback rewards eventually, NO time-scale can be predicted because they are relying on other people to build their business. Four of my passive customers received at least some cashback within 6 months, which is probably faster than customers in other teams because I'm part of a very active group.
Customers who want to be completely passive are very welcome to join my group, but should not expect to "get rich quick" doing nothing!
It doesn't work like that in life, or in Premier Cashback.
More Premier Cashback News
In addition to updating readers on my own results, I am very excited about a big change due within the company at the end of April.
The currency confusion will end – all prices will be shown in GB pounds sterling, and you can withdraw cashback rewards in GBP, US $ or Euros to minimise bank charges for the majority of our customers.
There will be a change of art products to a slightly more expensive range, and the price increase will be used to fund even better cashback rewards and support bonuses.
Limited Window Of Opportunity
There is a limited window of opportunity to purchase at the current lower price yet potentially benefit from the enhanced cashback rewards when sufficient sales have been generated.
Remember, a one-off purchase into the Alpha or Omega plan is all that's required. (Strong hint: an Omega purchase has the highest potential cashback reward.)
Until late April 2016 an Omega plan purchase of art will cost you $250 (Canadian) and / or £50 (minimum) for a Salustra health product – both need you to add P&P to your country on top – P&P will be advised before you confirm your order.
What to do next if this has interested you…..
Watch a short Premier Cashback overview video here then register for a free, no obligation, look round inside the back-office. Please note the "referring member" is NOT me – it's a member of my team whose business I am helping to build.
Watch the video below for a more comprehensive overview.
Learn how to make your one qualifying Premier Cashback purchase – click here.
Over the next few months decide whether you want to be active or passive.
Over To You
This is what's happened for me in 8 months. Despite a burst of activity at the beginning, for a lot of the time since then I've been passive because I was busy with my offline business.
If you decide to join us, your results will vary, and will depend on the time and effort you choose to put into the business. Do not make any purchase with money you need in the short term! That would be crazy.
Like real-life, if you don't open the shop doors, don't complain when you have no customers!
However, Premier Cashback is kinder than real life, because in time they will reward you with cashback generated by other people's purchases. The active members will work for you …. but we make no guarantee on timescales.
Does your coffee shop, or business, reward you if you only make one purchase and no sales?
If so, please let us know in the comments below.