23
Premier Cashback USA Team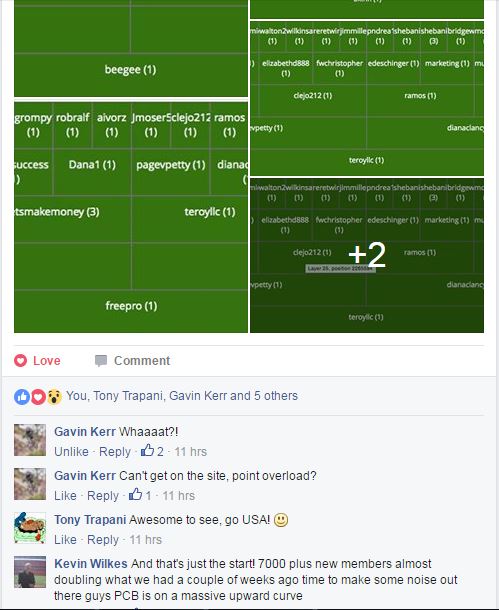 I had other plans for March ….. until I saw the Premier Cashback USA Team – in my downline!  WOW.
Honestly, I didn't mean to write more about my Premier Cashback results so soon, however something just amazing has happened. I've been bursting to share it for a few weeks now – but my upline said it was best to keep quiet until we were really sure.
On the left is the newly released news, as Ray from my upline broke it in our Facebook group.
Every green "brick in the wall" represents a product newly purchased from Premier Cashback over the last couple of weeks – mostly from a new team in the USA.
So many I can't get them all on a single screen – but you get the gist of it.
There has been a massive influx of orders from the USA team.
Here's how the story unfolded for me.
Sunday 1am A Month Ago
Regular visitors know I'm a night owl, working more on USA time than UK time. So is one of my team, Tony.
In the wee small hours I got a message from Tony that someone he'd been in contact with on Facebook wanted to order from the USA, but couldn't find the country on our UK site. I knew we'd shipped to the USA, so I contacted Ray in my upline and asked if he knew what had happened to it.
Ray, being much longer in the business than I have been, very kindly offered to chat on Skype with our USA friend and I didn't really think much more about it – even when Ray rang me the next day to say that because this guy had quite a team Ray, Ray's upline and the company owner Jack would handle the contact for us from now on – obviously still with Tony as the introducer, and me as Tony's upline.
A week of my usual chaotic life went by and I forgot all about the encounter. Being so busy in these months of the year I'd gone "passive" in Premier Cashback, to concentrate on my offline business.
Welcoming The Premier Cashback USA Team
A week later Ray, from my upline, rang me and told me to sit down quietly in front of my computer, go to my genealogy and open up my team under Tony – by clicking on his name. So I clicked, and clicked and clicked and….. well you get the picture.
There was the perfect 3 introduce 3 who all introduce 3 etc, etc. Just like you see in the hypey hotel meetings…. but I've NEVER seen it in real life before….. and all of a sudden it's in my team. Whew. Again Ray advised caution because no-one had actually placed any orders at this point.
Of course I contacted Tony and gave him the same "Sit down in front of the computer and click, click, click…. seemingly to infinity" and he was as blown away as I was.
He stopped counting when there were over 1,000 in his team.
During the following week we kept looking for team orders, but nothing was coming in – the dream seemed to be fading. Then….
UK Mothering Sunday
I was waiting for Matt to arrive when Ray rang me again and told me that SEVEN THOUSAND new people had joined within my team – led by the guy Tony had introduced – and what's best of all, they had started placing orders.
Bear in mind that the size of the company before this was about 8,000 members – and in about ten days it grew by 7,000 members because of the Premier Cashback USA team. Almost doubling the size of the company.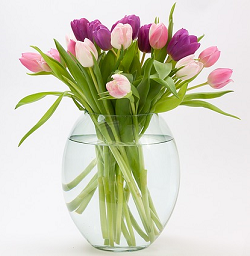 I was still stuttering and stammering when Matt arrived on the drive bearing flowers for Mothering Sunday. I was practically incoherent as I tried to explain what had happened.
He calmed me down and we had a lovely day, although I did make the mistake of trying to explain the Premier Cashback compensation plan to him – without the video!
He had promised to fix my shower for me while he was here, and I think he felt he didn't have time to spare for a 20 minute video. By the time I'd finished, he had to admit the video would have been quicker!
Since Then
At that time the actual number of orders placed was still in the low tens, but as Tony and I have been checking over the days, the purchases have just been growing and growing – with very little hint to anyone else how quickly the Premier Cashback USA team had expanded. Actually everyone can see everyone else's progress, so if they had been watching the volume of sales…. it was there to see!
Then finally Ray released the pictures you can see above and the group lit up.
Other group members are delighted too, knowing that – because of the way the cashback rewards are allocated – everyone, including passive members will (in time) see cashback rewards from the extra purchases.
How Passive Members in Premier Cashback Benefit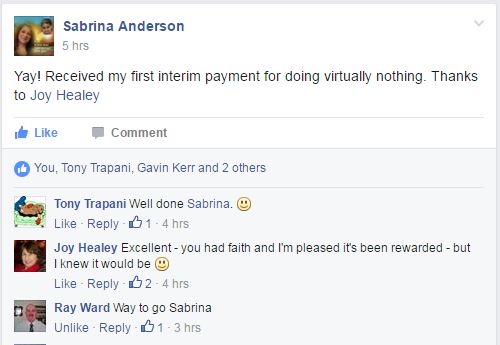 We only benefit when products are purchased – but Tony's success has already started a massive wave of USA orders.
This month those orders generate "number 1 points" that fall in the active part of the business – Tony's and my team.
When the USA team places their second orders, that gives the purchasers "number 2 points", and those will be distributed across the passive part of the company helping to move passive customers nearer to their cashback rewards.
It Was Happening Even Pre-USA
Remember – this company has been successfully trading and paying out Cashback for eight years.
So even without this influx of USA orders, passive members in my team have had "interim" payments, generated from purchases by other club members.
Another long-time friend, Sabrina, joined Premier Cashback with me last summer. She wanted to be a passive member as she has another business. I'm delighted to say that a couple of days ago she received her first CA$250 interim payment, and last Monday I received my first CA$1100 payment.
Neither of those were related to the USA orders, which only just started coming in. Sabrina isn't the only one. Tom has – and my two sons are in the business, and both of them have received payments. (I told Matt the other day, but Russ doesn't know yet – they both need to pay Mum back first before they see any rewards themselves!)
Tony Remains Modest
Tony – the real star of the story remains modest and says it was a team effort, Well, certainly all credit to those in my upline who responded promptly to my request for help, recognised the potential of the Premier Cashback USA team to the business and made sure that Tony (and I) retained the business.
My only part was that I'd known Tony for years in other businesses, and seen his Facebook skills, so I knew I wanted him in my team. Just shows that this "Know, Like and Trust" stuff works.
Now he's recovering from the magnitude of what he's done, and recognised the power of Premier Cashback, he's working flat out on the business and we're chatting together on Facebook like excited kids as this journey continues.
Just The Start Of Worldwide Expansion
Yes it really is the beginning…. this is only month one with the USA team on board. Subsequent months' orders will help the whole membership. And there are way more than 7,000 potential Premier Cashback customers in the USA.
Can you help me find them?
If you'd like to become a part of the Premier Cashback family, either as a customer or as someone who can introduce more customers – register a free account click here so that you can learn more. Then I'll invite you into our closed Facebook group where there are plenty of videos and you can ask other members what they think about the concept.
I'm particularly keen to find people with experience / customers in the natural health products industry as I'd love to be able to pass on any health related enquiries.
Money In, Money Out, Products Sold
Before closing I want to stress that this isn't some magic scheme where "money" is printed.
All cashback rewards are generated by customer purchases, according to the following strict formula: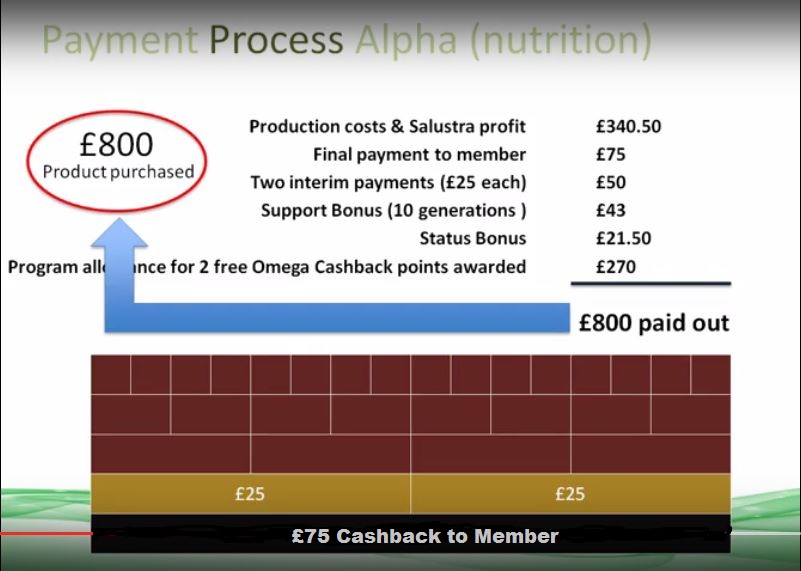 Over To You
I do hope you'll forgive me for writing so soon about Premier Cashback – I really did have other plans – but this has just dominated my month. After the lows of my technical issues, this has been a real high.
If you know anyone who would like passive (or active) cashback rewards with a home business in the natural health products industry, please share this with them and ask them to Contact Me.