10
Review of Copy and Profit Blueprint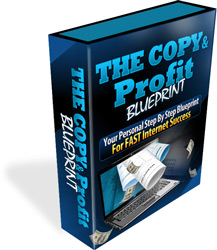 This article presents a review of Copy and Profit Blueprint, a course I bought from Neil Stafford, owner of The Internet Marketing Review. Neil has been producing quality information marketing products for over 12 years now, in the Internet Marketing niche, and also in many other diverse and interesting niches. He practices what he teaches!
NB I bought this course from Neil BEFORE I started my coaching with him. The quality of this course was one of the reasons I continued on to the coaching program with him.
What reminded me to do this review is my experience using the course that I wrote about a few days ago, when I had to make some quick changes to one of my online businesses.
Who Is "Copy and Profit Blueprint" Aimed At?
This is a comprehensive course that will benefit anyone who wants to produce and sell information products online.
It is advertised as "Beginner Friendly" and it is definitely detailed enough that complete beginners will be able to get their own product online right from scratch.
However anyone who already has a product online will also benefit, because I defy anyone to read this mammoth work and not pick up extra ideas and tips. If you're in this latter category I bet you'll find yourself wishing you had this course when you started out. I know I did.
But the good news is that the course includes plenty of things you can do to improve the profitability of any existing business – so you're sure to pick up many new ideas. Of course there's nothing to stop you following the advice in the course to create and market as many new information products as you like to complement an earlier offering. In fact this is a very sound strategy if you really want to sky-rocket your earnings.
What Will You Learn?
The course contains 3 blueprints:
How to create your own information product to sell – 95 pages
How to build a list of eager beaver subscribers to buy your products – 94 pages
How to drive traffic to your site to get subscribers and sales – 98 pages
PLUS eight additional "Quick Profit Bonuses".
Rather than me tap my fingers to the bone on the keyboard, the easiest way for you to find out the contents of the blueprints and bonuses is just to flip over to the Copy and Profit Blueprint website where you'll immediately see in-depth descriptions of what you will learn.
Don't imagine that these are light-weight courses! Each module could stand alone as a course in its own right. In fact Blueprint One was originally sold "standalone" for £97. It has now been updated and is "just" the first of the three blueprints.
Initial Impressions and Presentation

The course is attractively laid out and presented well. There are instructions for navigating your way through the dashboard, with a welcome video from Neil.
It's produced as pdfs that you can download and save for future reference. Neil suggests that you print the course (and in fact this is what I did – because I like to make margin notes, use highlighter and put sticky tabs on pages), but make sure you have a good supply of paper and a big ring binder to put it in!
When I say 90-odd pages per blueprint, this isn't one of those courses where huge fonts and double spacing are used. (Do those authors think their customers are stupid?) It is genuinely packed with content in a sensible and readable typeface.
How To Use The Course
According to the "Bing" online dictionary, a blueprint is "a plan of action or a guide to doing something". Note the inclusion of "action" and "doing". You will benefit most from this course if you actually work through it and implement the steps as you go, rather than just reading it – which could leave you over-whelmed by the sheer volume of information.
Let's just look at blueprint 1 (product creation). Using just ONE of the methods suggested I brain-stormed ideas for a new information product and in a couple of hours I had come up with an outline of 20 bullet points. Then the next afternoon I fleshed them out, ready to produce the product.
The initial work – idea generation – is done and, having created the product (which you can sub-contract out) you're ready to move onto the important phase of finding prospects and turning them into customers. All of which is covered in great detail.
What Could Have Been Better?
After my first "read" I wanted to return to check some points of interest, but was disappointed to find there was no index. There is so much content packed into each module that it's difficult to keep track of everything. Not to be defeated I grabbed a pen and paper and made my own by quickly leafing through the course again. If I'd had my wits about me I would have typed my index into a Word or Excel document for easier reference!
What Support Is There?
If you have problems downloading your product, lost passwords or similar, Neil's company has a well staffed help desk and I've always had prompt replies to any queries I've raised.
However if you're hoping to ask questions about your product developmentand get feedback from Neil or one of his team, this isn't included. That's a deliberate policy to keep the price down and accessible to as wide an audience as possible.
If you think you would benefit from a place to ask questions and get a wide range of topics, the perfect complement for the Copy and Profit Blueprint is The Internet Marketing Review Support Group where you will get interaction with other members on the safe as you are, and the personal attention that CAPB doesn't provide.
Don't like it at all? You have 45 days to evaluate it and if you feel Neil hasn't delivered on his promises to you, just email to ask for a refund.
Value For Money?
Even if you're only looking at the volume of information presented, this is a winner.
If you look further and try to put a value to any single one of the many ideas, tips and tricks that you'll learn….. well, any one of them could generate you hundreds of extra sales. Multiply that by the number of different approaches you'll learn, and you'll quickly see that it's impossible to quantify the value that this course could add to your business over the next months and years.
Make no mistake – while Penguins and Pandas come and go, and social networks change their rules with alarming frequency – the basics of presenting information, attracting prospects, and sales psychology are ever-green.
The information in this course will be as valuable in years to come as it is today.
Click here, or the banner below to check out the wealth of information that's available to you for one affordable price.
This is a highly addictive course – you'll refer to it again and again, and pick up something new every time!