4
Review of WP Stealth Note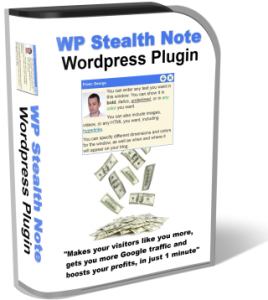 If you've seen the little box that pops up at the bottom right hand corner of my blog, this is produced by a plugin called WP Stealthnote produced by George Katsoudas, and today I'd like to do a review of WP Stealth Note.
George has been marketing online for 9 years, creating high-quality WordPress plugins that create happy customers – including me – who buy from him again and again. I'm also an affiliate for George's products because the ones I've bought have been easy to configure and he gives good support.
You'll gather it's a favorable review, because it's a plugin I actually paid for (just a few dollars) and use. You may have spotted it when you arrived at this page. That said, let me tell you a little about the plugin and why I like it.
Who Is The Plugin For?
In short it's aimed at people whose blog visitors leave without buying anything, or taking any action. These are people who have no connection with their readers.
It's also aimed at WordPress users who want to add extra features to their blog without irritating their readers and without being a technical genius.
The number of different ways to use the plugin are only limited by your imagination. For instance:
Invitation to subscribe to your list – a kind of dormant pop-up
Directing people to a particular page of your blog
Or to your Facebook page
Requesting an action – such as a comment or a Tweet
Offer readers a free download
Ask them to fill in a reader survey
Tell them a little bit more about yourself, or a funny anecdote
Suggest a product that's related to your post
WP Stealth Note As A Listbuilder
Yes, I know everyone wants to build their list, so do I, but there's nothing I find more annoying than when a massive great pop-up arrives full-on in front of my eyes, within seconds of arriving at a site, and before I've started to assess whether I want this content arriving into my inbox.
There are no second chances for this type of pop-up. I just close it automatically, and it's probably gone then. I would never have one of these pop-ups on my pages.
However, I spotted these little corner pop-ups on someone else's site a few months ago and found them very inoffensive. They don't interfere with my reading, so I can just leave it there until I've finished, or close it down so that it hovers at the bottom of the page ready to be opened up again if necessary,
What WP Stealth Note Does
All being well, you have already seen the plugin in action at the bottom right of this blog, you can also watch a demo video here.
However, here's a list of features
It shows a message window on your blog. You can include in it text, images, videos, HTML, optin forms etc…
You can customize the colors, dimensions and placement of the window
You can choose when to show this message for your blog visitors
You can rotate up to three messages
You can do this for every single post or page on your blog
Is it Value For Money?
For just a few dollars I have added functionality to my blog that I had no idea how to create. I paid far more money for a pop-up plugin that wasn't half as easy to customize as WP Stealth Note. In my opinion, this is one of the best investments you'll make in your blog.
What Others Say About WP Stealth Note
"Another great plugin that will add your own personal touch to any post or page on your site"
"Simply and easily swap out your message so that your visitors are up to date with your latest news or offers"
"Adding links or opt-in forms are a snap"
"…a good fit as a part of the IM movement toward the social aspect (personalization and familiarity)."
"I have seen other plugins of this type, but none as attractive and easy as yours."
"I'm using it on all my WordPress sites and I highly recommend it to anyone. It's a must have."
PS When I bought my copy, after my purchase, there was an OTO (one-time offer) that is very different than any other you have seen before. Basically, you will get to *choose* one of George's other WordPress plugins (any one you want) for a really special price. Can't promise how long that will stay there, so hurry!