10
Simply Naturals: An Honest Management Company
You wouldn't think that a failed advertising campaign would give me cause for pleasure would you? Here's what happened.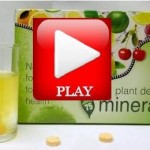 Some of you know that, as a strand of my Hair Mineral Analysis business, I sell Simply Naturals Sizzling Minerals. They're great products and the customers who buy them from me come back month after month, so it's a business I have great hopes for. (Currently as of July 2013 it's UK-based, but will be world-wide in the future.)
Bearing in mind my happy experiences to date, when head office offered distributors a chance to participate in a customer-finding exercise, I was pleased to join in.
However, after three weeks I was feeling very disappointed with response, having only had one lead. More money down the drain? Has anyone EVER made money from a paid advertising campaign? I guess someone must have, but it's never been me!
Imagine my delight when I got an email from head office saying that they were so disappointed with response rates themselves that they would be absorbing the cost into their general marketing budget and RETURNING MY MONEY!  How decent is that? Have you ever had any-one send your money back after a failed advertising campaign. (Probably someone will have, but it's never happened to me before.)
I am so pleased to be associated with Simply Naturals an honest Management company. You can learn more about their Sizzling Minerals flagship product here. Their honesty literally made my day today.
Business Cards
I've been threatening to do it for months….. what? Get new business cards for my Hair Mineral Analysis service. So then I just kept bumping into "business card" stuff day after day (including Angela, of course!) – finally culminating in someone offering to display my cards on their front desk. But I was so embarrassed by the old-fashioned and cheap look of them that I felt a re-design was in order. Here are two I've produced myself….
This is possible card 1: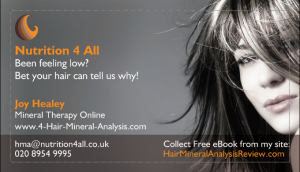 and its reverse…..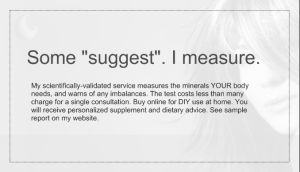 And here's possible card 2: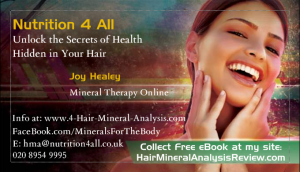 and its reverse…..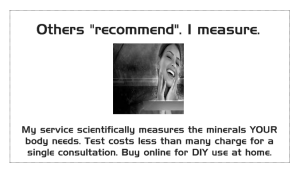 Which do you think looks best? (Slight changes may be made to the wording, and there are others voting too!)
Apologies to Vistaprint for temporarily borrowing their business card images. I WILL be placing an order once I've thought about it!
(As an aside, if you the marketers among you are wondering where Simply Naturals fits into this, they are a follow on product AFTER the test.)
Please comment and let me know which card you prefer. Thanks.