28
Sizes Of Social Media Images
I needed a quick post this week, having had a few days staying with my Dad in Bridlington. Great to have a few days (mostly) away from the keyboard – but always lots to do when I come back.
Following on from last week's post about promoting my business with a web app, one of the next areas I must pay attention to, is sorting out my social media strategy, which is currently haphazard to say the least.
I have been looking at various social media tools and training courses that I'll report back on shortly, but the one thing common to them all is the need for correctly sized images for each particular social media platform, so I am indebted to Roy Hale for providing the image below as a useful aide-memoir. (Correct at the time of writing: 1st November 2015.)
Sizes Of Social Media Images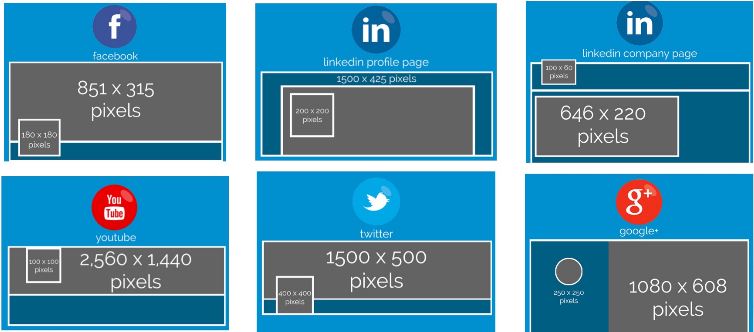 The image above is a little small to read, having had to be compressed for the width of my blog, but to download a larger version of the social image sizes reminder, click here.
And here they are written out in full (sizes in pixels):
Facebook Page -851 x 315 and 180 x 180
LinkedIn Profile – 1500 x 425 and 200 x 200
LinkedIn Company Page – 646 x 220 and 100 x 60
YouTube – 2560 x 1440 and 100 x 100
Twitter – 1500 x 500 and 400 x 400
Google Plus – 1080 x 608 and 250 x 250
Size of social media images reminder here:
Click To Tweet
I'm pretty BAD at image manipulation. Despite all the free tools available out there, beyond the absolute basics, I seem to have a mental "image manipulation block". So I was really lucky that Roy was able to turn the original PDF information he sent me into an image – and on a Sunday afternoon too. Thanks again Roy.
My Facebook Business Pages
Can I ask a favor please, to give my Facebook fanpages a boost?
If you haven't already done so, I'd love to get a "Like" and maybe even a comment or so from you on Facebook – see my page below.
And if your interest is more on the health product side, rather than the business, here's my other fanpage:
I am happy to return the favor, so just message me with your required page on Facebook.
Conclusion
Sorry it's a short post this week, but hopefully a useful one to those people (like me) still planning their social media strategy.
I just felt that my Dad's needs were greater than my readers' this week, and what's the point of being self-employed if you can't take time out for your 93-year old Dad every so often?