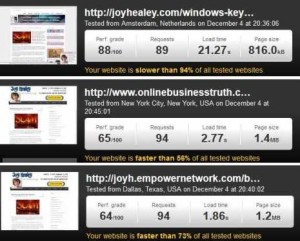 If you're a regular reader of my blog, do you remember the agonies I went through about 6 months ago because this blog was SOO slow to load?
Remember that I spent ages trying to speed it up?
Notice something when you come back here 5 months later?
Despite all that stress and time spent on technical challenges and speeding up my blog, and despite the helpful suggestions people gave me, IT IS STILL ROTTEN WELL SLOW.
My blogging business is part-time alongside my "day-business" and I got to the stage where I was just spending the time available to me in fighting technical challenges instead of blogging about my health topics etc.
It was so dispiriting because no matter what I did improvements were minimal and even after spending time and money (on a premium theme) I reached the stage where I was too embarrassed to give out my URLs.
Yes, I expect there are more things I could try, perhaps going right down to the bare bones of my WordPress blog, but to be honest I had just HAD it.
So what did I do? I stopped blogging here other than occasionally, and almost completely stopped at my Hair Analysis site. After all, those sales weren't coming from the blog, they were coming from my static website.
Then a colleague I've known for a few years told me about the blogging system he's using in his property business.
So I signed up for it (Empower Network) as a way to continue with my blogging, more simply; and that's why I haven't been blogging here much, because however much I genuinely like WordPress, it wasn't giving me the simplicity and speed I wanted.
How I Have Been Speeding Up My Blog
Having been blogging with Empower for three months now, I decided it was time to check out this speed aspect that had caused me so much grief. To do this I made two very similar posts – one on my Empower blog and one here – about a scam phone call I fielded the other day.
Here they are, my posts about: Windows Key and R Scam Warning
Then I used tools.pingdom.com to check out the load speed of the three links.
I've displayed the results as an image above. To keep things here as fast as possible I've left the image small. If you want to read the stats, there's a larger image on my Empower blog post just briefly explaining how I use that platform to speed up my blog.
Now that I can blog without worrying about technical issues I'm back to blogging daily (almost) and have been concentrating on getting plenty of content on the blog.
Is the Empower blogging platform better than WordPress?
Measured in features and flexibility, it's probably NOT better…. if you're good with WordPress (which I was most certainly not). However, I have much more experience in WordPress, so there could be features in Empower I still haven't exploited.
At my present level of knowledge of both platforms WordPress has more features. Initially I was devastated to find I couldn't add plug-ins to my Empower blogs. But I got over it and found I can live without them – and at least people no longer tell me to deactivate all my WP plugins to debug crashes!
Empower blogs are faster and simple to get going, and KEEP going with, for someone non-technical and new to Internet Marketing.
Because of the switch I'm back to blogging about what I WANT to write about, instead of fighting technical challenges for hour after hour.
Oh – and I have seen some of my "similar" test posts ranking far better on the Empower site than on WordPress.
If your blog is slow and you'd like to learn more about Empower's platform, here's a link.
Have I made money with Empower yet?
Well I've made more sales from it than I have made from JoyHealey.com (which wasn't much of a hurdle to beat) despite having put a LOT more time into JoyHealey.com.
Have I made a LOT of money? No – because since I joined I've been away on two holidays and I've been inundated with paid work from my regular business plus some family "challenges" – nice ones, like my son's wedding and looking after his dog over the honeymoon period!
Tomorrow my parents arrive for more family wedding parties and Christmas, so I'll be spending time enjoying myself, just making quick blog posts.
Have OTHER PEOPLE made money with Empower? Most certainly, and some of them were complete newbies too. They are now helping train me (and my team) to do what they did.
Have people lost money? Yes – just as they (and I) have with other businesses. They had the same opportunity to earn money as the people who ran with it.
Will I make money in the future? Yes, I will, because once Christmas leaves some spare time in the day I'm completely changing my previous strategy, and following the Empower training – which isn't just marketing training, it's mindset training too.
If you're interested in the (optional) affiliate program, click here.