12
What Happens Now: Brexit And YOU
What Happens After Brexit?
That's the question on everyone's lips – What happens now that England has voted to leave the European Union?
The observant among you might notice I said England, because, when split by region, Scotland and Northern Ireland wanted to "Remain". Wales voted for "Leave" by a small margin.
You can see a regional analysis of the EU Referendum results here if you'd like to.
True to my "Blogging After Dark" tag, I was listening to the results come in until about 4am, when I had to try and sleep as I had an appointment early in the morning.
What struck me most was a commentator who said "People are ANGRY". At that time the campaign was running neck and neck.
But the 2016 EU Referendum result:
48.1% (16,141,241) Remain votes
vs
51.9% (

17,410,742)

 

Leave votes
showed that many of the people in the UK are dissatisfied with the status-quo.
72.2% of those eligible voted (which is high for the UK)
There's Only One Thing Certain
So 17.4m disgruntled Brits were angry enough to get off their bottoms and make their point of view known via their democratic vote. No more sitting down just complaining.
Today has changed history and things will never be the same again.
Whether that will be for good or for ill, I don't know, and from the frantic rantings of both sides of the campaign I have a horrid feeling no-one else knows for sure either.
But what I do know is that there will be CHANGE. Seems it's the only thing in life that's inevitable.
Probably 4 to 7 years of uncertainty and chaos before "things" settle down – hopefully for the better.
And everyone must be prepared for it.
What Does Brexit Mean For You?
I truly hope it will all turn out well, but don't overlook the fact that there is opportunity in this result – wherever you are in the world and whatever your political opinion.
People here are quoting one of my favorite sayings:
That which does not kill us makes us stronger: Friedrich Nietzsche. Let it be so after #Brexit!
Click To Tweet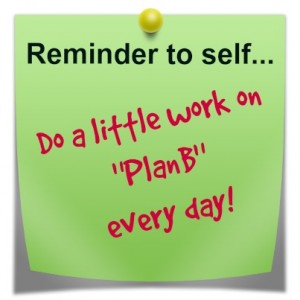 It's highly likely that many people in the UK will have more reason than ever before to feel they need a Plan B (sadly some of them are going to need a Plan A).
Who is going to help them with that?
Me? – Happy to help. Here I am!
You? – If you decide to make it happen
Someone else? – If we don't, someone else will
(Not in the UK? Then target the UK! I can show you how.)
Get Ready For The Post-Referendum Goldrush
Even those who "got the result they wanted" – a "Leave" vote – are feeling a tiny bit scared for the future.
Some will just grumble away, as usual, and do nothing, even though they are hurting.
The far-sighted, small minority, will be receptive to adding a Plan B into their lives. Like you and I have done.
But good intentions and dreams aren't enough. Action is needed, or nothing changes.
So make sure you are building your own business. That way you're in the best possible position to offer these worried people an alternative, and to help them feel more secure with a part-time income.
Over the next few months those marketers who are quick on their feet and have the knowledge will cash-in.
Will you be among them? Only you can decide that.
Is It Ethical?
What – is it ethical to offer a helping hand to someone in need of it? Well I think it is.
I care about my readers – and about people everywhere who are hurting and worried about their future.
If I can offer them an alternative, surely it would be unethical not to. What they choose to do with it is up to them.
I will never suggest anyone uses their rent or food money to start a business, hoping for a "quick fix". Earning money online is NOT a quick fix. It takes work and effort. But for those willing to put that in, the rewards are there for the taking.
So by sacrificing the cost of a family take-away each month, you can start an online business to plan for an uncertain future.
The business and products I offer are top quality, with a low start-up cost, and they include a career plan. Next week I'm going on a webinar to hear about even more options being added to the portfolio.
I just hope all other marketers will act honorably and offer quality products, rather than a mass of "Get rich quick" schemes. (Those usually end up with people losing money.)
What Happens Now?
I know what I'm doing. I have Premier Cashback and I'm learning how to market it online. That particular business may NOT be your chosen path, and that's fine.
I can show you other options.
The Internet Marketing skills I'm learning are applicable to ANY online business, and the training package includes products you can sell to anyone who wants to start any online business.
So don't hang about trying to develop your own $7.95 eBook and think you'll save a few dollars by learning Internet Marketing the hard way (DIY). You could be struggling until it's all over (for good or ill).
I am following some very affordable Internet Marketing training, and if you want to get an online business started (or boosted) in time for the post-referendum panic, you need the help of my mentors and online Facebook communities.
Click here to watch a free video to learn more.
Over To You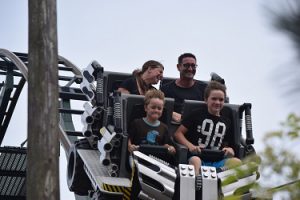 Something tells me that in the UK we're in for a roller-coaster ride, and I'm hanging on in there, excited for all the opportunities and challenges ahead.
What happens next, in your life, is up to you.
What happens next in the UK is up to individuals here, in the country of my birth, that I love.
They / We have shown resourcefulness and courage for centuries and I know we can do it again.
Will you be part of the roller-coaster ride we're in for? Or will you let the post-Referendum Gold-rush pass you by?
Please share below.