7
About Me
Blogging After Dark !
Are you trying to start an online business part-time? If so, I can really relate to your challenges – because I run my online business alongside a busy off-line business.
My name is Joy Healey and you can read more about me as a person, and how I got into Internet Marketing, further down.
My online business goal is to provide a supplementary income for my retirement, to maintain the very comfortable lifestyle I have now.
If work from my offline clients is "all done and dusted" I can spend more time developing my online business – but when my offline clients send me work I have to put them first. Because they pay me very well 🙂
So you'll find me Blogging After Dark…. when most sane people are asleep, watching TV, or enjoying a social life.
I guess my blog kept alive my childhood dreams of being a writer.
Joy Healey – Author
From my earliest years I have always enjoyed writing, and once had ambitions to become an author. Of course that was firmly stamped out of me with warnings about how hard it would be. And I guess in "the bad old days" it was probably the right advice.
Here are some of my early experiences….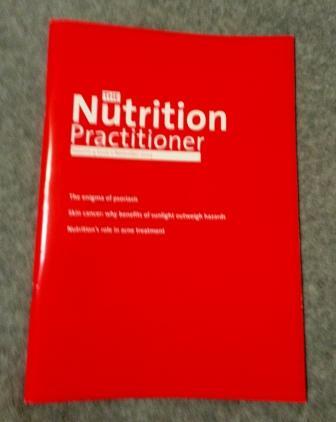 In junior school I won the "Cadbury Essay Prize" and received a stack of Cadbury's chocolate bars almost as tall as I was. Wish I had a photo, but that was in the days when a roll of film was a luxury item and not likely to be on hand for an unexpected prize winner.
My first fiction stories were published when I was just 12 years old! A friend of my Dad's was a publisher and needed some content written for children's books he was publishing. So for the enormous sum of £25, I hammered out 6 stories on Mum's typewriter.
In secondary school I won another prize for essay writing – "Journey Through The Night". This was a true life journey which went badly wrong at Doncaster Station. It wouldn't be scary now, but when you're 14, it's a different story.
More mundanely I wrote software documentation for several packages that probably no longer exist!
In more recent years I was sub-editor and contributor to "The Nutrition Practitioner" – a peer reviewed journal for nutritionists.
Joy Healey – "Part-time Business" Consultant
I am a firm believer that whatever business you start, behind it should be a blog. You can read more about my reasons for this in my book that explains how building a blog can build a business.
Starting an online business in your spare time CAN be done. It's harder, but on the other hand you may already have the security of an income, so can divert some of that into paid resources / training to work smart rather than hard.
Follow my progress, on this blog, and I'll tell you what has and hasn't worked for me, so you can avoid my mistakes.
How I Will Help You
My main aim is to prevent newcomers to online business from making the mistakes I made getting online.
If you will let me, I can save you:
Time
Money
Frustration
Stress
Claim A Free Consultation
I have made more than my fair share of mistakes online; YOU needn't! For subscribers who request free information on the Internet Marketing topic that most interests you, I offer a free consultation / coaching call on your chosen topic:
When taking any business online let me help you avoid the hurdles that tripped me up.

I offer a 30 minute free consultation to get to know your needs.

Learn more and contact me here.
Any business can benefit from a well-maintained blog – we'll talk about the best way for YOU to have one. As a starter, check out my Book on Building a Blog 
OR – if you really don't want a blog
Are you maintaining a list of the email addresses of your customers and prospects so that you can promote your products even if they don't buy from you on the first site visit? If not – I can help with this: Learn about email Marketing Services. Hint: it's easier to make a repeat sale to a happy existing client than to find a new one.
Whatever your industry, the skills I have learned in a life-time of self-employment and years of online business are transferable. So take advantage of my online experiences and training. If I don't know to do something – I have trusted colleagues to turn to for solutions and will be happy to point you in their direction.
What We Will Discuss
First we need to establish what type of online business you want to run. I have particular expertise in two areas:
Affiliate Marketing
Network Marketing
Blogging and list building are vital parts of both of these business models.
I have years of experience online – some of it good and some of it bad, so I want to pass some of that info on in a free half hour consultation with YOU.
While both of these are great models when done ethically, many people – including me, in the past, have had challenges.
Why am I offering a free consultation? Because I hate to see what can be a life-changing industries tarnished, because so many fail. Anything I can do to help reduce failure rates of online businesses will help the whole industry's reputation.
Choose Your Online Strategy
From bitter experience I know what makes a program good and if Network Marketing is NOT for you (I am no longer actively promoting MLM – so you won't get any pitches from me), we can discuss the Affiliate Marketing option. Best learn the pitfalls of both up front, before before wasting time and money going down a route where you could fail.
Follow the instructions and contact me here to request your free consultation.
Boost your online business with a free consultation here
Click To Tweet
Affiliate Marketing
This has been my preferred route for earning an extra income online since I produced my own product and realized exactly how much time and effort is involved – over and over again!
I much prefer to promote a professionally produced product where the main (and technical) work has been done for me, leaving me to concentrate on the promotion – which I would have to do for my own product in any case!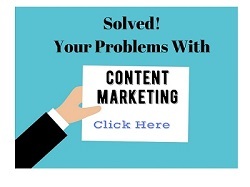 Affiliate marketing is largely related to digital products (eBooks and training courses). If you prefer the idea of a physical product, Network Marketing may be the choice for you.
Whichever you prefer, it's important to be realistic and choose the right business for your time and finance available.
My chosen affiliate program supplies content marketing for my blog and social media accounts. Learn about my Content Marketing Solution here.
Internet Marketing College
Whether you choose blogging and content marketing, affiliate marketing or network marketing, you will need to learn many Internet Marketing skills.
Rather than try to teach yourself, I really recommend that you invest in yourself and take some professionally produced training from a reputable organization.
Check out the range of courses available from the Internet Marketing College.
Network Marketing – Choosing A Company
It's not for everybody, but Network Marketing has been a model that's produced me the good returns over time – mainly because my online business is part-time, and I'm not good with technical stuff, so I like a "Done For You" business.
I have joined a few Network Marketing (MLM) companies. In some I have been very successful, but – being honest – I failed with the majority of them. This wasn't because the products were bad, it was, quite simply that they didn't fit into the time and / or budget I had available. Nor did MLM match my personality 🙁
Furthermore, many people I introduced had the same problem, so any team I built evaporated as soon as they found that the company wasn't the "hoped for" fast route to riches.
I had given up on the idea of success with an MLM business – which was a shame, because in its purest form, network marketing is a superb, low-risk way to start a home business, part-time or full-time.
Then I was introduced to a business that solved all the problems I'd found before and – most importantly of all – (a) no monthly auto-ships (b) recruiting is completely optional, so it fits perfectly alongside my other family and business commitments.
I'm NOT actively promoting it because I'm no sales person, but if you have any interest, click the link to learn how to open an asset based business (affiliate link) that can grow from a small base, and with the option to learn a new skill.
Below is a little about "me", the person behind (or in front of!) the business.
My Story Started A Long Time Ago…
My business story, that is!  It's too long a story to tell in full, but here are the main milestones:
I have been self-employed in the Information Technology industry for over 30 years now, as director of a software development company which, to this day, supports clients with bespoke software.
My very first software client is still a happy customer, and that business runs along well without too much intervention – leaving me to pursue other interests, one of which was complementary therapy, and – in particular – migraine.
I got so fascinated by all the different ways to prevent and treat migraine that I wrote an eBook on the subject – and decided to sell it online – like you do, before you realize "It's not as easy as that!"
Several Headaches Later……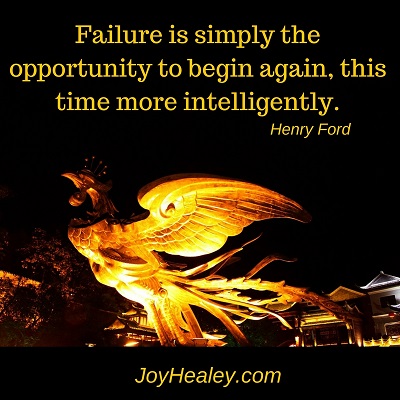 To cut a VERY long story short, selling my complementary health eBook online wasn't the "walk in the park" I imagined it would be, even with all my years in the computer industry! But I did it, because I'm such a glutton for punishment.
After this experience I decided to concentrate on affiliate marketing, because – to be completely honest – even when I'd "put my all" into producing the eBook, there were better ones available!
If I had realized the importance of investing in training, I would have got started online faster than "teaching myself".
During my "fight to get online" I made so many mistakes I still can't believe I didn't just "give up". But I'm far too stubborn for that… and I learned such a lot.
I'm still learning, because the best Internet Marketers agree that, as in life, if you stop learning, you slip backwards.
Of course it's easier for me now, because over the years I have built up a network of trusted colleagues that I can turn to for help.
Over the years I am proud to have been featured on these other blogs.
Joy Healey The Offline Person!
That was "Joy Healey the business-person", now I'd like to introduce you to "the real Joy Healey".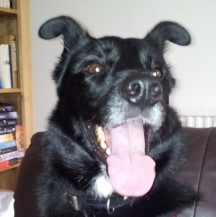 In 2018 I moved from the suburbs of London to the beautiful city of Norwich, UK and have two sons, two grand-daughters and three grand-dogs Bailey (shown on on the left), Bella and Dog-Dog.
My elder son, Russ, is the computing genius who helps my business by rescuing me when technology gets the better of me – all too often! He has an IT degree and worked for 7 years as a network support engineer for a major international company until redundancy struck. He is now pursuing his own business, and supporting mine!
My younger son, Matt, has a successful property business. He keeps my house comfortable, looking just the way I want it – and in good repair.
I'm blessed that they both have lovely ladies who let me share in their lives.
I also have two beautiful grand-daughters (right)
In my personal life I'm a confirmed workaholic, but very undomesticated round the house.
I enjoy good food, good wine and….. CHOCOLATE!
In my state of semi-retirement, I'm a member of the Norwich University of the Third Age described as "for people no longer in full time employment". We have courses in Arts, Music, Current Events, Psychology, Languages, Yoga, Maths and even Computing for Beginners. Russ sometimes threatens to enrol me for that one!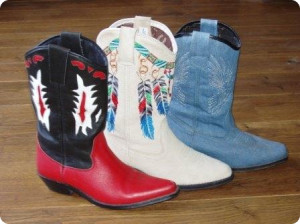 My other hobbies are Line-dancing, which is great fun. Our brand of line-dancing isn't "yee-hah" with thumbs in belts. We go for a "sparkly" style which is much more fun. I enjoy getting dressed up in my glitz and it's exercise for my body and mind
I love reading – crime fiction mostly
So there's a whirl-wind tour of my life and "out-of-working-hours" interests to date. No wonder I hardly ever get to bed before 2am. You can usually find me "Blogging After Dark".
Before you go, remember to contact me and suggest convenient times for your free half hour consultation. Talk soon!