24
Challenging Times Online
Sue Worthington's Fanpage Challenge
I've resisted all the "blog daily" challenges, because I don't want to overwhelm myself, or my readers with a blog post every day, but I have joined Sue's challenge to increase my Facebook community.
I actually have two pages: http://facebook.com/JoyHealeyOnline and http://facebook.com/MineralsForTheBody.
For the challenge I'll be focusing on the latter, which is my main business. This blog and the JoyHealeyOnline Facebook page are mainly for me charting my progress (and getting tons of help and support from other bloggers who have much more experience than I do.)
One aim of the challenge is to get more Likes for our pages, but – far more than that – to increase the engagement of our readers. Facebook isn't my strong point, so I won't say too much yet, other than to record my starting point.
I registered with 87 Likes for my Minerals page and 59 for my JoyHealeyOnline one. That was a week ago.
We had a week build-up when we could (hopefully!) "Like" each others' pages and get to know each other and learn what market-places we are all in. Also more people had to be found to join the challenge.
Today (15th April 2013) is the start of the Challenge proper. So far I have 90 for the JoyHealeyOnline page which is an encouraging increase. However, that's not going to be the page I focus on for the challenge, so I have registered my "starting point" for the Minerals site with today's count of: 125. I'll report here on my progress next week.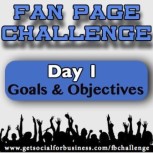 Would you like to have almost 300 people help promote your page?
If you'd like to join us (free), it's not too late! Click here for Fanpage Challenge.
However, it's not just about "Taking" the Likes. There has to be plenty of "Giving" too. The long-term purpose is to learn by doing (with a daily learning task). Correctly implemented this will expand our reach, find interested readers, and hopefully find other business people in similar niche markets to work with. Our "leader" Sue Worthington has worked really hard to put this together, and I'm very excited about it. Watch this space.
Naturally, I couldn't take the easy route and just register could I? On Sunday, with just hours to go before the challenge started I decided to rename my Facebook page! Do I have an on-line death wish? Sometimes wonder…..
I'd been feeling for a while now that I hadn't properly conveyed what my blog and page are really about. If you know that you're looking for my service, you'll "get it" straight away. But if you've never heard of it (and most people haven't) you probably wouldn't. So – I took the plunge and renamed it.
Happily, as with the previous Facebook pages merge, Facebook did a great job and everything seems to have survived. I had several social media links to change (and probably missed a few), and I'm still watching Post Planner, but fingers crossed! Hope I got the name right this time, because you can only change the name once.
More Challenging Times Online
It hasn't been a completely clappy-happy week for me! Oh no, no, no!
Worst panic of all was the day several of my blogs went down, warning me that I had a "php problem". (What is PHP?)  I'd been tweaking my Minerals blog, so could understand that (maybe…) but it affected blogs I'd not touched that day. The only common feature was the hosting company, so I emailed them for help and it turned out they'd implemented a security patch that knocked out php, and with it all their WordPress blogs.
With hindsight, they were probably protecting us against the recent attack you've probably heard about. You can read here: how to protect your WordPress site.
The good news is that my sites came back fine, but the BAD news – that I only discovered later – is that I have lost some comment links. I'm guessing that what happened is that some people ran Andy Bailey's new CommentLuv Link Cleaner while my site was down.
I know comment links have gone from some sites where I had made comments – disappointing, but just bad timing. Not sure what could be done about it.
Even More Challenging Times Online
With one of those crazy quirks of fate, on the same day that the php crisis was happening I received a message from Google to warn me that I wasn't letting their spiders visit my site. I forget the exact message, but that was the essence of it.
And THIS site was hosted elsewhere, so it wasn't the security patch problem. Happily the support people stepped in and informed me that I needed a file called "robots.txt" in the root directory and it wasn't there. Goodness knows where it had gone, but support put it back for me and then I had to copy it to other blogs where it was also missing. How? Was it ever there? Who knows?
But anyway, thanks to Hostica, Hostgator and DaVinci support for getting me through more challenging times online.
Catch you next week – and if you're on Sue's Facebook challenge, good luck and I hope to connect with you there during the week, or on my page: Facebook.com/MineralsForTheBody