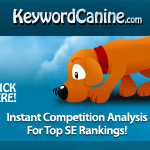 Funnily enough choosing topics to write about for this, my personal blog, has been easier than for my business blogs. While I've been enjoying jabbering away on here about my experiences getting my business online, my actual business has been rather languishing.
Which rather defeats the object of it all. Truth is, I've been struggling to come up with something new to write about in my business, so it's been easier and more fun to write for this site. Oops!
Today I decided to splash out and treat myself to version 2 of Keyword Canine (affiliate link) a tool that I was very tempted by last year when it was first released. It's by Jon Leger, for whom I have a great deal of respect, having bought some of his other products and found them helpful and well-supported.
Well, no guesses for what Keyword Canine does as its prime job, but in fact it was some of the other modules that sold me first! Here's a video for you to watch:
Learn more – or BUY NOW – Keyword Canine.
Choosing topics to write about
So how has my first day been? I used the Niches tool to search for topics that should be easy to rank for and within minutes I found an interesting and relevant keyword. I was able to dig deeper into it (one click) and find several longer tailed keywords to give me extra topic ideas. So within minutes I had found some articles to write about that should hopefully be easy to rank for.
Yes, I know I could look at all this manually, but it's time-consuming and I don't think I would have hit on this topic as something to write about. Well – I haven't before today, so I'm pleased.
Now some of the "niches" uncovered are, err…. ???? Well let's just say I won't be taking "firecracker horseferry" any further. BUT there are searches, and someone is paying $1 CPC for it, so there must be some interest. I certainly would never have thought of that one.
What to do about topics I shouldn't have written about!
That headline is a little facetious, because some of my posts are – in my opinion – pretty good. What a shame Google isn't agreeing with me. 🙁
In fact the thing that finally clinched my purchase of Keyword Canine was one of the reporting modules that lets me analyze my existing sites and see how well they're doing. This is fully explained in the tutorials within the site.
Unfortunately using this was a depressing exercise, leaving me wondering how on earth I've ever sold anything in the past. And until now I didn't know what the specific problems were, or what to work on to fix them. I do now!
Luckily KC also includes a free one-a-day submission to BackLinksIndexer.com which helps boost your unindexed posts without spam. (Even if you're not interested in KC, you may like to grab yourself a free account at BLI or just go there to compare similar services.)
So, yes, Keyword Canine has already helped me:
Revitalized my ideas for posting to my business sites with "easier to rank for" topics after rather a long pause!
Shown me the sites I need to improve (all of them!), and what to do
I haven't forgotten the Social Media Training, which I'm still finding very helpful, in fact I had to do a new post to test some of the training I'd implemented. But Google likes diversity, and of course if I don't actually write some relevant articles there won't be anything for me to share! And as you'll see in the video, the KC reports also show which links will benefit from Social Media linking.
At the time of writing (Feb 2013) Keyword Canine version 2 is on special offer. The price will be rising in a few days. Also there is a very good value lifetime offer, which will close after all the life-time spots have been sold.
It's not a cheap tool, but choosing topics to write about (that are not too competitive) is an important part of my business, and one that's been something of a trial lately.
PS My title for this article was certainly NOT suggested as a KC niche, in case you're unimpressed by it 🙂