The world completely changed  in March 2020, So I am always excited to bring you a ClickFunnels competitor when so many people have lost their jobs and need a way to make money online without spending the earth.
Update July 2021
'Life' got in the way in the 12 months since this post (dated June 2020), and I hardly had chance to look at my blog, never mind this excellent alternative to ClickFunnels.
But a year after first creating my account, it filtered up to the top of my to-do list, and I'm delighted to find that Groove has come on in leaps and bounds.
I do recommend you take a serious look – click here to compare the Free vs Lifetime offer. I think you'll find that you can run your whole online business with the Lite version, before you want to upgrade.
But if you need to back-track….
Funnel Building Software Is Essential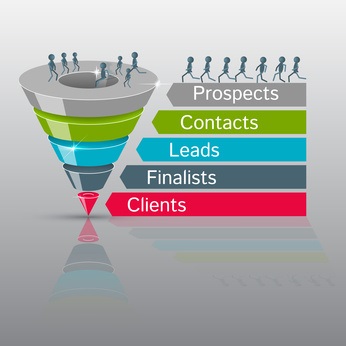 Before you have been in online business too long, someone will tell you (correctly) that you need a "funnel" to convert your visitors into sales. And I'm sure you've heard of software tools designed to help you build websites, sales pages and these online funnels.
It couldn't be better described than in the image shown here.
Because sales funnels are proven to be effective, any such tools can reasonably command high monthly fees to access them.
Unfortunately, this puts them out of reach for many business owners and marketers who are on a budget, especially during uncertain times.
So yes, the advice to get 'funnel software' is excellent advice – but then your mentor will cough politely and tell you that one of the market leaders is ClickFunnels and it will "only' cost you $97 a month – if you choose the "cheap version".
I was going to tell you to check the pricing on their website – but while enthusing about their excellent product, and tempting you with a free trial, they don't even mention the price after the trial – unless I missed it?
However a quick Google search will tell you that there are two price levels: one at $97 per month and one at $297 per month.
Cough splutter.
Something A Little Cheaper, Maybe?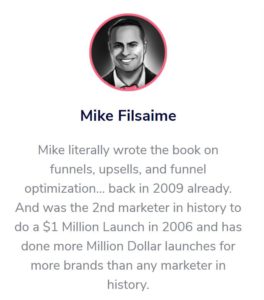 Well I said "No way" to $97 a month, and instead went for something at $197 a year. So I COULD suggest you save money by joining that, and I would earn an affiliate commission.
But I HATE it, and wouldn't wish it on anyone. Every time I use it I end up in despair, but still I struggle on, to resist paying $97 a month for ClickFunnels. Maybe false economy…. but on top of auto-responders, trackers and traffic costs, that's a lot of money to be earned each month before I get into profit.
So when a highly respected blogger I know offered me free access to "GrooveFunnels", a brand new competitor to ClickFunnels, co-founded by Mike Filsaime, one of the top Internet marketing experts in the world, she had my full attention.
If you get on board now, using this product will be 100% free to you for life, AND you can earn from it.
With Mike Filsaime behind it, it's almost destined to become the market leader, and at some time after this launch period it will become a paid product for new users. So take the offer now – there's nothing to lose.
Why Free Now, And How Can I Earn If It's Free?
Two excellent questions, easily answered:
1. It's free in the beta launch period to get as many people onboard by promoting it as much possible, and so that users can feed back problems to the developers. (One year on, July 2021, Groove is in the 'add-on apps' stage, rather than bug-fixing.)
2. When it becomes a paid product, Groove Funnels will already have an army of happy users, and affiliates promoting it to new users. Some of the new users will become paid members, and some of the existing users may upgrade to pay for extra features – so you can earn a commission if you were the affiliate who introduced them.
The GrooveFunnels Compensation Plan?
Breathtakingly simple – a two level affiliate plan paying out by Paypal:
Paying members earn 40% of their first level sales, and 10% on their second level
Free members earn 20% of their first level sales
Lifetime cookie: your referrals are hard coded to you. No worries if a user logs in from a different device, no-one can snaffle your referral later. Those two are HUGE. So many affiliate marketers have no idea they're losing commissions because a prospect saw YOUR website on one device, but took the paid version on another.
Features Of GrooveFunnels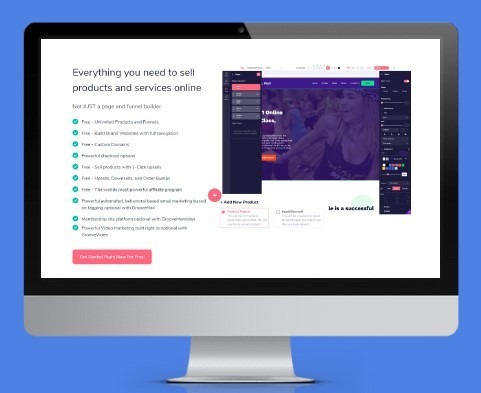 GrooveFunnels is the new, better way to build funnels and sell digital products online.
It's not just one or two simple tools, or solely a "funnel builder," either.
This is your complete digital products and services online sales system.
Co-founded by Mike Filsaime, GrooveFunnels is a suite of products that includes all the tools you need to run your online business.
They have built a complete, all-in-one platform with all the essential tools so you don't need to worry about multiple subscriptions to a variety of services that would easily add up to thousands per month.
Finally, you can get instant access to practically everything you need to sell your products and services online.
… Including:
Full product funnels
Brand websites with full navigation
Custom domain names
1-click upsell capabilities
Upsells, downsells and order bumps
The world's most powerful affiliate program
And so much more…
If you don't yet understand some of those, trust me, you'll need them in time and so will other marketers, so grab them now, find your affiliate promo tools and start promoting.
Yes, this is a game changer. Literally everything an Internet Marketer needs, saving thousands a year in the process. You'll have to see it to believe it, so take a closer look by clicking here (affiliate link), and pick up your free account while you're there.
Let me know what you think.
While you're waiting, don't forget to tell all your contacts about it, to build yourself an army of income-generating affiliates – even when you don't have to pay yourself.
Remember:
Free for LIFE
No games. No fine print.
No credit card needed ever!
$99/month value… Now free.
Grab your account here while you still can!
The future super-affiliate you will become, will thank you for taking advantage of this free offer!