Another Retirement Business Idea: Done for you ForEx Trading
First off, what IS meant by trading on the Foreign Exchange Markets?  Check out what Wikipedia says.
Looking for quick access to the information on the business? >> Click HERE (affiliate link).
My first exposure to trading on the Foreign Exchange Markets was when my younger son,  armed with his degree in 'Investment, Finance and Risk', decided that ForEx Trading was a part-time challenge that he was going to use to earn an extra income, as an alternative to his existing (very stressful) offline business.
He's a smart young man, and pretty risk-averse, so his first step was to set up a practice account and start learning how to trade properly. Last Christmas I bought him a weighty (and expensive) book about trading, that he was very pleased to receive and he studies it when he gets time. But he's been rushed off his feet with his day-time business in 2020 and I think the project is shelved for the moment.
Nevertheless I was intrigued and, with a maths qualification of my own, I decided to see if I could learn ForEx trading myself.
Learning ForEx Trading
Curious, and encouraged by the success of some of my online friends, I decided to open an online account and have a go with about $100 to see what I could earn, following the broker's training. It seemed to be going OK, when suddenly I spotted that the company had REMOVED my Stop Loss – err – and I was losing more than I had invested. I called on my son for help and he was able to get me out with only a minimum loss. We decided that perhaps Forex wasn't for me.
But I was still intrigued that so many others seemed to be reporting ForEx successes, so when, at a free Internet Marketing seminar there was a session on ForEx trading I listened intently. In the height of the excitement of seeing a demonstration where a member of the audience made $100+ profit in an hour, I ALMOST signed up for $2997 worth of training. Then I got cold feet and backed out. Phew!
Instead I bought a 'Simple Trading' training course for about $97. That's an invented product name, for reasons which will become clear.
It was supposed to get total newbies earning enough to pay for the more advanced training. All you allegedly had to be able to do was tell the difference between a red line and a green line – it sounded so simple. I'm sure the training was excellent, but I'm afraid it went right over my head and I was totally bemused. (I'm not completely stupid either, my degree included a maths module!) Perhaps I'm over-thinking it – because other people say they're making a good income trading.
But after my experiences – much as I was looking for a way to make an extra retirement income – it seemed that ForEx Trading was not a retirement business opportunity I would pursue.
Until I found ….
Done For You ForEx Trading
I actually became aware of this business about a year ago, but didn't look at it properly as I was smarting from my own disasters. Also a few people warned me: "It's a scam, it will never last". (Then went on to promote something of their own which, as it turned out, DIDN'T perform very well.)
Instead, over lockdown, I buried my head in the sand and doggedly I pursued my own online marketing ventures. The extra time I was able to spend learning online marketing did pay off, because I have started to make a regular income following some excellent free training. But WOW it was hard work! (As is blogging – no instant incomes here.)
Then a long-time marketing friend asked my opinion on the same 'Done-for-you ForEx Trading' business – and I warned her off it!
But she'd also spoken to some other well respected marketers who had been in the business for several months and had only good things to say about it.
I still wasn't convinced.
So my friend decided to try it for a month, with the minimum investment of $300, and report back completely honestly to me what her findings were. I've known her for years, and we've been together through the thick and thin of online business. Although I've never actually met her, we chat away as genuine friends now.
Here's what we found.
How Does Done For You ForEx Trading Work?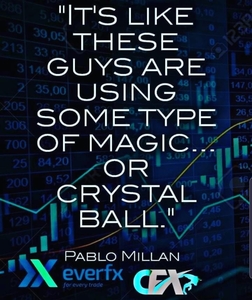 I'm talking here about the minimum investment level of $300 that I started with. Higher value packs are available, but no-one should ever invest more than they are comfortable with.
What happens is that 70% of the $300 investment pot is traded for members by experienced ForEx traders (i.e. $210), and this may return about 5% profit per week.
My returns so far have been a little higher, but I want to keep the profit estimates on the conservative side – and OF COURSE – past performance of investments is no guarantee of future profits.
The remaining 30% is paid out in various introductory commissions to members who decide to promote the business. Promotion is completely optional. If you wish, you can increase your investment pot by adding to it or by reinvesting your profits.
When your profits have accumulated in your back-office to at least $100, you are free to withdraw them, or you can use your profits to increase the amount of money you are trading with – and therefore your weekly returns.
This is a simplified explanation. For full information, please request the company presentation HERE (affiliate link) and take note of all the due diligence that's been done by members who joined 15 months ago.
Long Story Short…
My friend came back to me after the agreed month trial and was excited that she had seen her weekly profits coming in passively, so she encouraged me to dip my toe in the water with a minimum pack of $300. And now, I too, look forward to seeing my profits increase each Saturday.
Although I have only been a member for a month, it's certainly fun to watch my Saturday passive profits come in every week. At the time of writing (October 23rd 2020), in five and a half weeks, I have turned my $300 into $354.74 completely passively. The traders did all the hard work.
Update 18th Nov 2020 – after 9 weeks that $300 is now $408.34 ($210 is in trade, the rest pays for a ForEx course and commissions to those who share the business).
Promoting Done For You ForEx Trading
Now that I have seen for myself that this works, I have decided to promote the business as another income stream for my retirement portfolio.
Many income streams will eventually make a river, and I don't believe in putting all my eggs in one basket.
So I looked at how how easy it would be to promote the business.
I'm part of a very experienced team, and one of the team leaders kindly produced the infographic below to show the profits that passive members have made over the last 10 months. (Members who introduced new members, and invested their commissions earned even more).
She also set up for me a squeeze page and an auto-responder email series – all free of charge. So you can market the business professionally at no extra cost. (If / when you choose to promote.)
The team also has a series of free support groups and training videos, with regular Q&A sessions.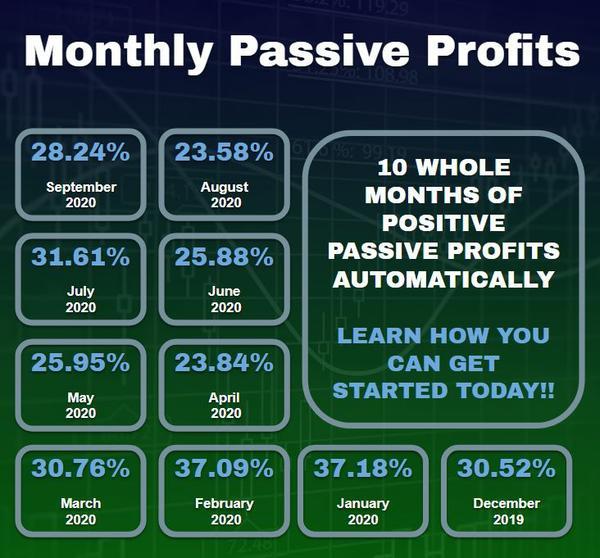 Of course, I'm kicking myself that I didn't get started earlier, but you needn't make my mistake.
Request more information about Done For You ForeX Trading HERE (affiliate link) and start enjoying weekly passive profits like mine. It needn't interfere with anything else you are doing, and no need to introduce others.