Hopefully all my readers are convinced of the importance of building a list of prospects and customers (see Wikipedia on email marketing for definition) but what some Internet Marketers fail to appreciate is the importance of email deliverability.
I will take as understood the concept of permission-based email marketing, see the definition above if you're in any doubt. Today I want to just concentrate on the importance of ensuring that your email marketing campaign stands the best possible chance of being read.
Is Email Marketing Dead?
First off, let's just knock on the head any myth that email marketing may be dead, and I do this by reference to two excellent articles on the subject. I'm indebted to the sources for these two tables.
Firstly MarketingCharts.com (September 2014) finds email marketing the most effective and least difficult digital marketing tactic – email marketers could have hoped for one "best" measure, but being best at both is a real bonus.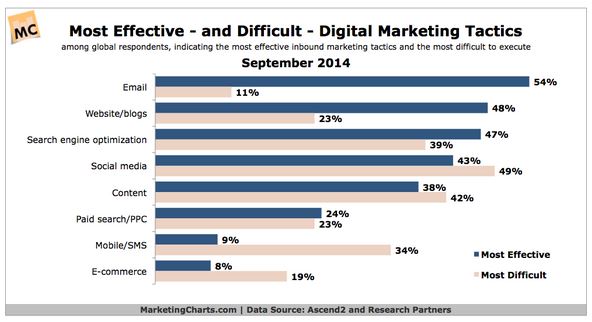 Second: Marketing Sherpa asked consumers to select their preferred ways to receive companies' communications, and these are the results: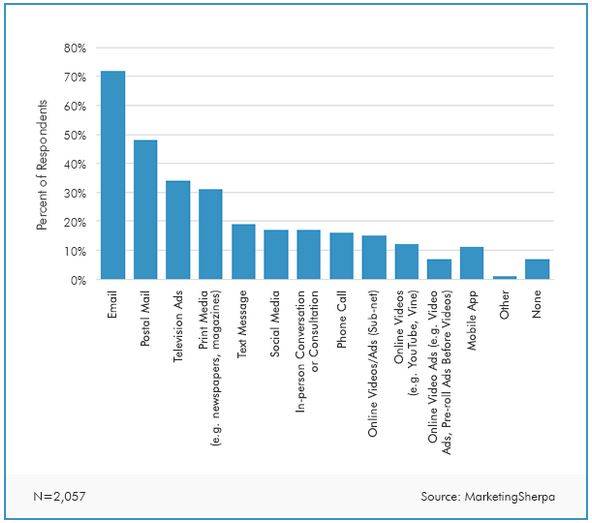 In case you're in any doubt about this, just have a think about your own preferences. Suppose you've either bought, or are thinking of buying, a product XYZ and you've expressed an interest to learn more.
Would you prefer the company to email you about it, so you can read it at a time convenient to yourself, or would you prefer some other way? Here I consider the alternatives that most irritate me. Always assuming that the advertiser would like their message to be welcomed by the consumer.
I HATE being contacted by phone by even the most loved product provider (they just seem to pick the most inconvenient time to ring me). A marketing or surveying phone call is always an unwelcome intrusion.
TV ads I just skip past when recorded (95% of my viewing), or on live TV I use commercial breaks to make a cuppa, fetch something, or fall asleep in them – oops. Yes, I can ignore emails too – but what a cost difference for the advertiser to have their message ignored.
Mailshots I perceive as expensive and adding to the cost I pay for a product.
Texts I really resent. I consider my mobile as "personal to me", not an advertising medium.
However I'm very happy to read and (sometime ignore) attractively presented emails. An email puts the choice to interact back with the consumer. Is it just me being odd, or do you feel the same?
Email Deliverability
All the above is fine and dandy so long as your email provider's emails are actually arriving in the consumer's in-box, and this is one of the most important reasons for using a reputable email service provider.
I was happily using a well-known email provider company, liked their facilities and their support, but I noticed that my "open rate" was pretty abysmal. Then one of my readers proved conclusively to me that my emails – even the company's own "permission to contact" email had gone straight to his junk folder. It was nothing to do with the wording of the emails. They passed a spam checker with no problems.
Further research on my own part showed me that even my work-related emails to regular customers using this company's servers were being classed as spam and not received.
So when choosing an email marketing platform I submit that one of the most important factors to consider is their email deliverability, and poor results from my previous supplier on that aspect of the service decided me to move.
Moving email service providers is no mean feat, and open to loss of subscribers if they have to opt-in again, but having failed to resolve the problem with the ESP the only way was to move on. Luckily (for me) Aweber and GetResponse have relaxed their approach to importing lists from other email providers. This is good, so long as unscrupulous marketers don't abuse the facility.
To choose my new auto-responder I looked at 3 well-known and reputable email service providers (ESPs): MailChimp, Aweber and GetResponse.
All 3 offer great facilities, and I don't propose to compare feature by feature, as there are many reviews that will look at them on that basis.
Instead, I am concentrating on the reason I decided to move from the other (unnamed in here) ESP, which is because I wanted to be sure of good email deliverability.
Delivery By TimeZone
Most of us are aware of the need to avoid "spam triggers" in our emails… superlatives, all capitals, lots of exclamation marks, certain words, and references to large amounts of money.
But one aspect of email deliverability that's not often spoken about is that even if your email arrives into your subscriber's inbox, how likely they are to read it may depend on how deeply buried it is within other emails received. When I send emails I want to be sure that they'll arrive at the best possible time for them to be read.
Deliverability Options
The features offered to keep MailChimp's deliverability high, including "delivery by time zone", are impressive and with a free "Entrepreneur Plan" that will let you send "12,000 emails to 2,000 subscribers for free, no contracts, and no credit card required" this looks a very tempting contender.
But WAIT…. check out this list of features that are only available to paid subscribers, in particular Automation and Delivery by Time-zone.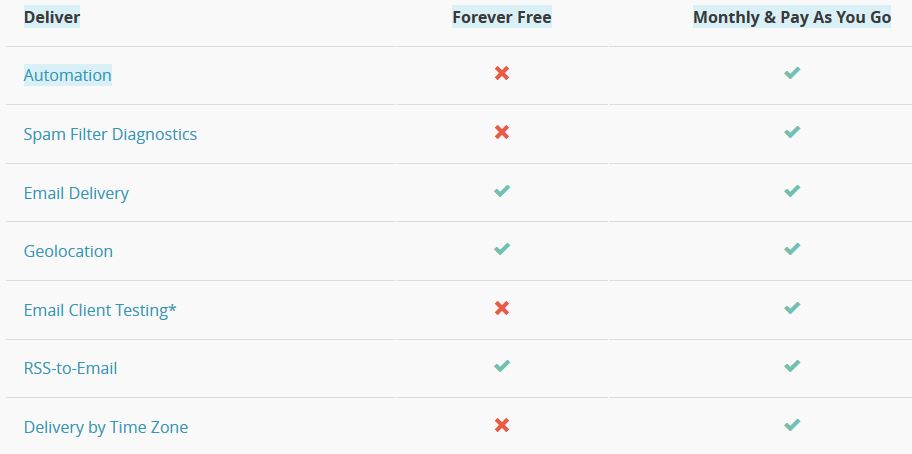 The feature missing from the free account that was a complete "No-no" for me even taking a trial was the fact that "Automation" is only available to paid subscribers. My main reason for wanting an auto-responder is to deliver a set of pre-defined email messages to prospects wanting more information on my products i.e. to deliver my free "lead magnet" and marketing messages in addition to newsletters / broadcasts.
Personally, the only way I could consider MailChimp as my ESP would be as a paid subscriber – which, obviously, is what they want. The free option is their "lead magnet". That said they offer a valuable free service to people who don't need automation and delivery by time zone – maybe a small local business just wanting to send out a newsletter to all customers in the same geographical area.
Free Autoresponder Services
As an aside, it's said that there's no such thing as a free lunch and that may be the case with auto-responders too. Here's another cautionary tale….
One "free auto-responder" I tried several years ago gave a free service, but at the "price" of including adverts targeted in the same niche that I was emailing. It wasn't obvious to prospects that these weren't my promotions, so it was quite easy for me to lose subscribers even on the "Permission based" confirmation page – before they actually made it to my list. OUCH!
I'm not a great fan of "free" business services anyway – especially email service providers. Your mailing list can be your company's most valuable asset and I firmly believe you should value it enough to pay someone to look after it.
Back To Timed Email Deliverability….
You will want to cater for the specific purpose of YOUR email which may be completely different from other customers. So, for example, you would wish to target a business-related email in business hours, but a leisure based email in the evening. And ideally you want this to be the case whatever the time zone of your subscriber.
MailChimp offers paid subscribers "Send Time Optimization" which lets you optimize your email send time, weighting it towards the "most engaged" readers on your list. They can work towards this even if your list is new by checking your subscribers that may be on their other customers' mailing lists.
Aweber offers an option to send follow-up messages based on the subscribers' local time starting with the second follow up message. The option doesn't exist for the first follow up message, because it always goes out automatically as soon as someone subscribes to your list. The option isn't available for broadcast messages.
Time Travel from GetResponse means that you can target your mailings to arrive in the inbox of your recipients, according to their time zone, when they're most likely to be browsing through it.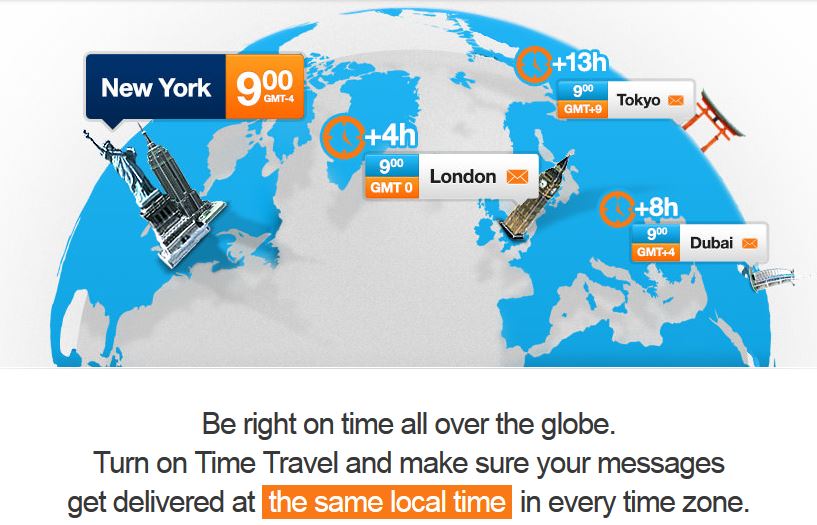 I have been a paid subscriber to both Aweber and GetResponse, at the same time, and as I did my Aweber broadcasts I was always conscious that I couldn't time-target my overseas broadcasts as accurately as I was able to do with GetResponse.
Support From Email Service Providers
Email support at the "learning stage" is hugely important to me and another important feature not available to free MailChimp customers is:
Although I have no reason to doubt the quality of MailChimp's support desk I haven't been able to test it, as it is not available to free subscribers. While I understand their wish not to work unpaid this is a shame, as "in the early stages" is probably when the most support and help is needed.
I have tested the support from both Aweber and GetResponse and found them excellent. It's particularly appealing that they offer a Live Chat facility, which can resolve some questions very speedily.
The support desk at GetResponse is worthy of very special mention, because they solved a tricky problem for me as I was integrating my 3rd party lead page generator with GetResponse.
One landing page wasn't working quite right, so I first contacted the support desk at the 3rd party developer, but they didn't find the problem. Imagine my surprise when I contacted the GetResponse help desk and they pointed out my mistake when setting up the landing page – i.e. they diagnosed a problem in setting up a 3rd-party software tool that the developer had missed! How cool is that?
Landing Pages in GetResponse
As an aside, if you don't have a stand-alone lead pages generator like I have, GetResponse includes over 100 responsive (mobile ready) pages that you can customize and have up and running in a few minutes, providing a very professional look to encourage visitors to become subscribers.


Your basic plan includes 1 published landing page, up to 1000 visitors/month.
Unlimited Landing Pages (including A/B tests and unlimited traffic) are an add-on priced at only £12/month
Choose from pages such as these below.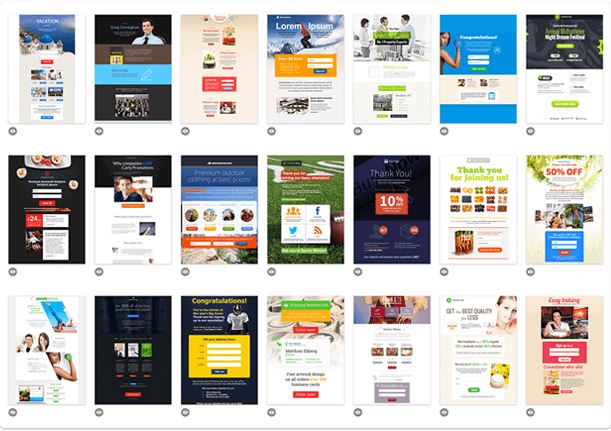 Quick aside: if you have been referred to this page by Paul Lester, the "Elite" service he is providing probably replaces the need for the above landing pages add-on, and Paul's service costs less. 
Finally, given that these 3 auto-responders all offer high quality services, a brief look at cost.
Price Comparisons Of Good Auto-Responders
All prices are taken from the suppliers' websites at the time of writing, August 2015.
Aweber Prices and Free Trial
Aweber is the most expensive of the three ESPs, as detailed in the price list below: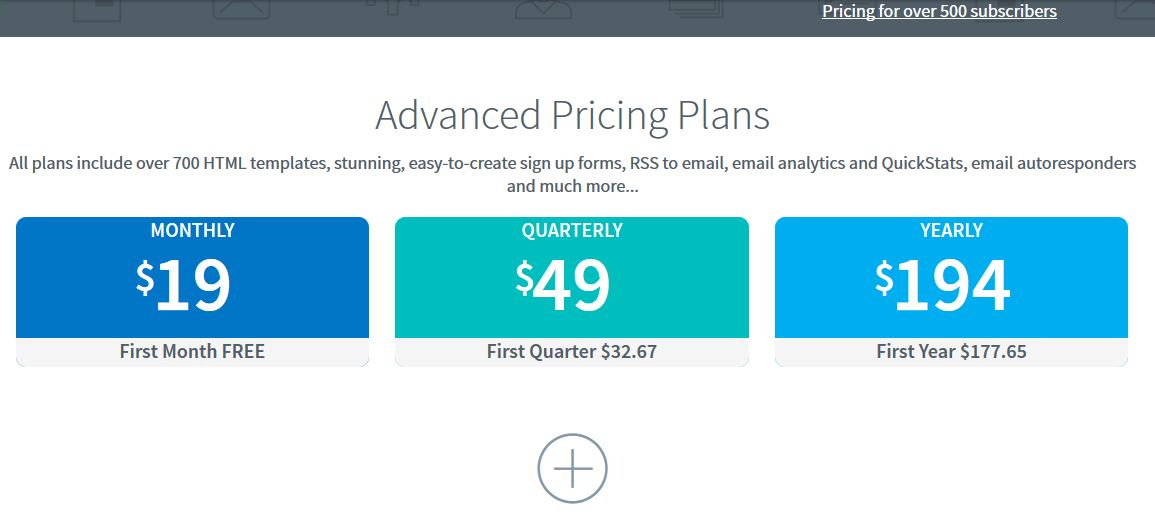 plus the "subscriber cost", so the minimum cost after the free trial is $19 per month for 500 subscribers.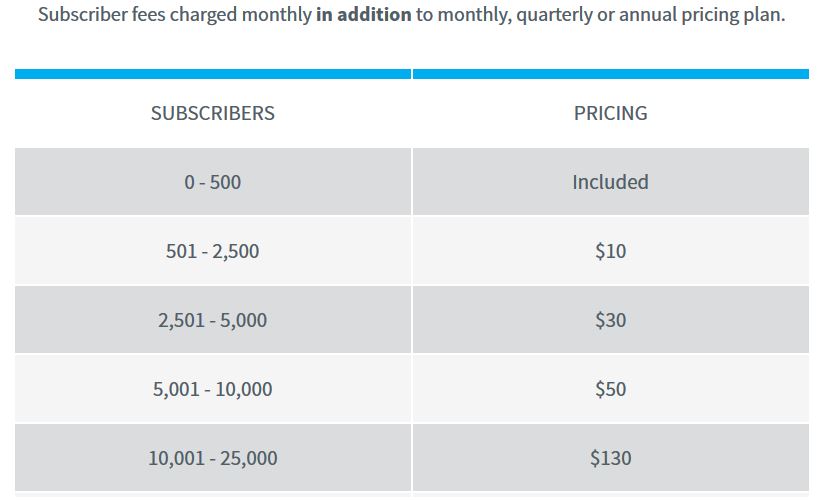 For a free trial of Aweber, click here.
MailChimp Prices and Free Trial
The MailChimp free option is very tempting, but see my comments above about the facilities excluded from the free service.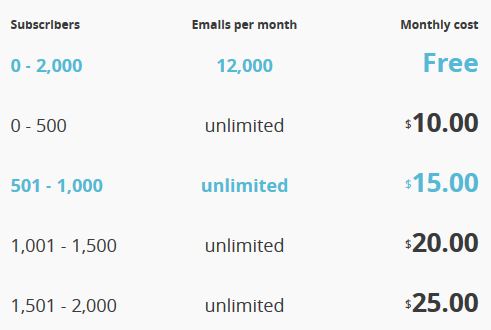 Although MailChimp is slightly cheaper to get started as a paid subscriber, it "draws" with GetResponse at the 1,000 level, and at the $25 level, you will get more subscribers for your $25 with GetResponse than with MailChimp.
For a free trial of MailChimp, click here.
GetResponse Prices and Free Trial
Note the annual discounts which help reduce the pricing even further – but a slight warning, EU customers will have to pay VAT on top of the quoted prices.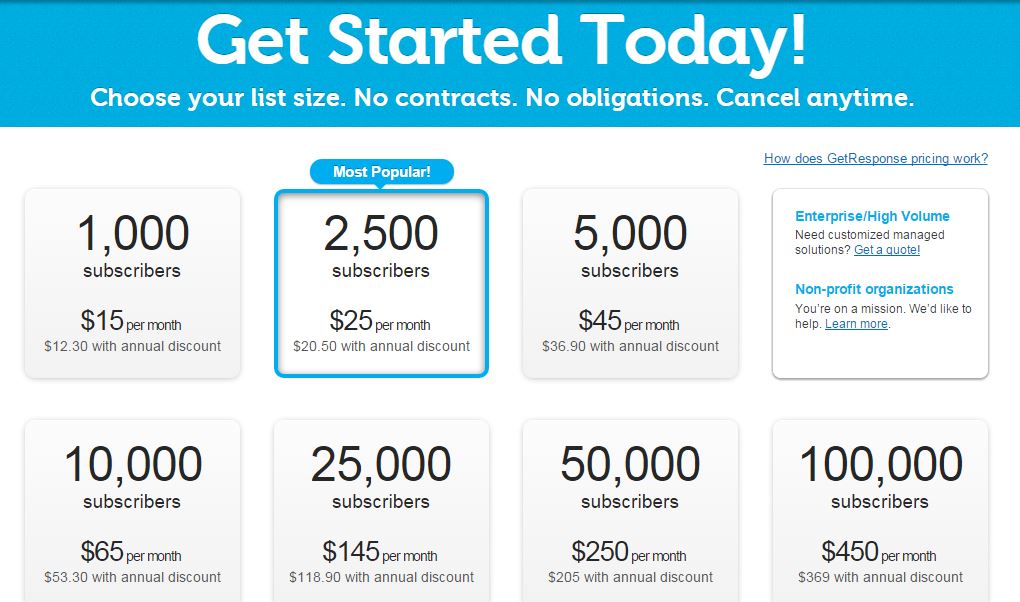 For a free trial of GetResponse, click here.
My Recommended Auto-Responder – GetResponse
As mentioned previously, I paid for both Aweber and GetResponse at the same time, because I had a "list" in one niche with GetResponse, and another list in a completely different niche with Aweber. Paying for two separate services removed the risk of sending the wrong email to the wrong niche! I did that once, by mistake, and it generated many complaints.
When I stopped trading in the niche I had been using GetResponse for I stopped using it – and regretted it. I wish I had stayed with them, BUT now I'm going to correct that and return to the GetResponse fold.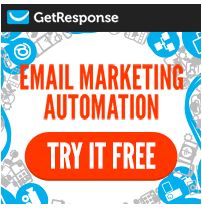 Taking the free trial with GetResponse, and going through the free training course they offer, has shown me that first time round I missed a LOT of valuable features.
Or perhaps they were "beyond me at the time" – or have only recently been added.
So while I have no complaints about the quality of service from Aweber, I have decided, following my free trial with GetResponse to move my lists to GetResponse, and that's largely because of the superb email deliverability options they provide.
Click here, or the banner above to take your free trial of GetResponse.
Over To You…
Are you happy with the open rates of your emails? If not, have you considered that your provider's email deliverability could be a problem?