My Fast Result From Health Blogging
I wrote a couple of weeks ago about the top 5 ways to improve my income from blogging – and I'm delighted to report this fast result from health blogging (shown above) with my new team.
(Stop laughing – I didn't say it was a life-changing income – like the 'gurus' do when they try to suck you into their schemes. Fast – means just that. It came quickly.)
If you saw my recent post about ways to improve my income from blogging, this was number 5 on my list.
Truth is – I'd already tried methods 1 to 4 with pretty mediocre results for the hours spent.
So when I received this commission, so quickly, I'll admit I found it extremely encouraging!
Are you Thinking That's Not Very Exciting?
Now if, to you, $28.40 doesn't seem much to get excited about, let me explain what's got me so excited.
I didn't personally make this sale.
I was busy doing the end of month 'books' for my son's offline business, when suddenly a commission notification dropped into my inbox.
So Here's Why I AM excited….
It's proof of concept because this sales commission had come from the search engine optimisation results of the team (NOT from my personal efforts) – which is exactly what we're aiming for.
While everyone else seems to be able to pluck money out of thin air, $28.40 is the FASTEST result I've personally had from my blog in all the years that I've been blogging. Yes, I've had higher earnings from long term efforts in blogging, but within three weeks – well that's the fastest.
This is month 1. Who knows what this particular lady will do in the future? Repeat orders when she loves the products? Build a team who will also be motivated by the team work efforts?
Several years ago I remember being just as excited about earning 12c from Adsense. That grew, over a few weeks, to the heady heights of $24 – and then they shut my account down. Never found out why LOL
Money For Doing Nothing?
Of course not!
Earlier in the month I had done some work (written articles and watched trainings) to be accepted as part of the team. After that, my offline businesses 'got in the way' for a few days. But this 'unearned' income was a sweet reminder of the potential of this team approach.
I can't expect to be idle and earn commission out of the blue like that all the time. But it does demonstrate that while I'm busy with my offline work, articles I wrote earlier, and articles written by the team, are 'out there' – working for me, like little salespeople that Google finds, and then sends visitors to our site.
What better incentive to keep going than a sales commission sent from the team?
How To Work Within Our Blogging Team
Click here to watch short video that tells you all you need to know about getting started.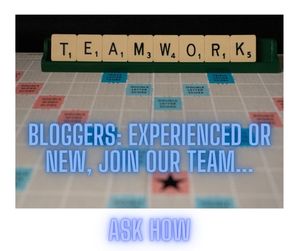 When you join our team you will have access to:
Two retail shops:
Plus….
Extensive state of the art training (free) where you will learn to market on Google, YouTube and Facebook.
Become a writer on an authority blog – WITHOUT all the costs and hassle of looking after your own site.
Marketing through the team's Marketing Channels (the team uses HootSuite to promote our articles.)
Help in our private Facebook group.
Or, you could…..
Learn Blogging About …
Not everyone is 'into' health products, so working within our team isn't for everyone.
If you have another topic you're passionate about, THAT will be the best topic for your blog.
However, I wasted hours / months / years trying to learn everything about blogging by myself. And you can judge my results from the fact that I can get excited by $28.40 commission.
Blogging alone is tough – if not impossible. I'm pretty determined, but I'm not afraid to admit that at times I've been near to quitting, trying to go-it-alone.
How I wish that all those years ago when I was new to blogging I had found the Wealthy Affiliate blog training course.
Click here, or the banner below to learn how you'll benefit.
You'll meet members who have been with this company for 5 years and more. Do you think they'd stay if they weren't making a profit from it?
Click here and scroll down the page to learn more about another way to improve your income from blogging.