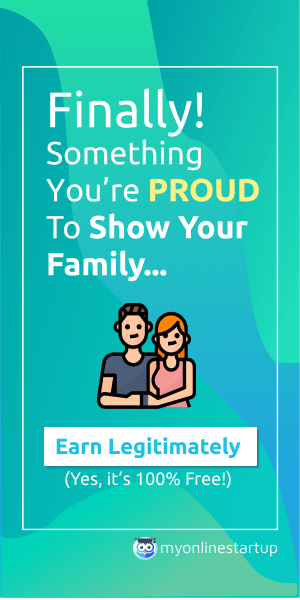 Here's a sad fact about affiliate marketing… and affiliate marketing training courses in particular.
Many people are ashamed of what they promote online.
Maybe because it's full of claims and hype that it doesn't deliver I don't know.
Maybe it's because they don't believe in the offer themselves.
There were times when I have felt like that – and over the past few weeks I have looked at businesses and trainings to recommend to my subscribers and dismissed more than you'll ever know.
However, that all changed when I found MOS – My Online Startup.
As soon as I looked at the free training I found over the weekend I knew, straight away, this is the real thing.
Something I really am proud of. It's a free affiliate marketing training course I can give away to subscribers, as a lead magnet. What's not to like?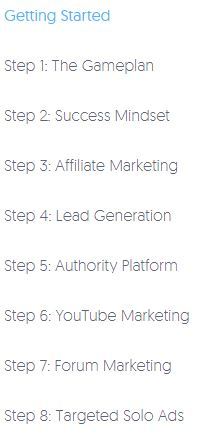 What's In MOS? 
MOS (My Online Startup) is a free affiliate marketing training course, that's 100% focused on GIVING VALUE!
You can see the basic contents on the right hand side – but this masks the fact that each section breaks down into several other sub sections. For example the affiliate marketing section breaks down further into 5 sub-sections.
I've honestly never seen anything like this before, as a free course, but I don't want to do the 'hype' that I so dislike in others, so I just ask you, please, to take a look at the free training that's on offer when you click here.
It won't take you long to register and open up the sub-sections on the left hand-side menu inside MOS.
Yes – they're free! No catch.
Which means affiliate marketers and bloggers can use this as a free lead magnet to genuinely deliver value to their subscribers.
MOS For Free Members
Free subscribers can learn from the course, use the lessons to promote whatever business they already have, and will be shown how to make money from their chosen business.
If they do NOT already have a business to promote, MOS has a very lucrative Partner program they can decide to promote, or they can learn in MOS how to choose a product more to their interests.
MOS For Paid Partners / Marketers
If you decide to upgrade to become a Partner ($197 + your local tax for life-time access) you can give away the free training program and if anyone you have given it to, buys any of the 50+ products within it (entirely optional) you will make a commission.
Partners can earn $100 per sale of the Partner program, and the further income is all on autopilot… because, after about an hour setting everything up, it's 100% automated.
Well – obviously you have to send visitors to the free offer, but you're too smart to imagine it could be otherwise!
There is a higher level, giving MOS the potential of being a high ticket earning program, but at the moment I'm playing safe to see how it goes at the Partner level.
As soon as I saw what's available as a free lead magnet, I jumped on board as a paid partner so that I can give true value to my subscribers, and potentially earn on their purchase.
This is the best lead magnet I have ever come across – I'll freely admit that it beats hands down every one of the eBooks etc that I've written myself and even those I've bought. Using MOS as a lead magnet I can deliver free value, and potentially earn passive income month after month.
Lead Magnet For Wealthy Affiliate Members
Wealth Affiliate is the training program I probably should have taken years ago, but I was too stubborn to admit it and too mean to pay for proper training.  That bad decision cost me years of progress, time, wasted money and stress.
However the fact that Wealthy Affiliate has members who have been members for 5+ years, means they must know more than I do.
This is the perfect lead magnet for Wealthy Affiliate members - new and old. Click To Tweet
For instance, if anyone becomes a new Wealthy Affiliate member, MOS incorporates WA as one of its tried and tested programs, and (even as a free WA member) I can earn on that membership so long as my subscriber stays a paid member of Wealthy Affiliate.
Obviously an original sponsorship into WA is honoured – existing Wealthy Affiliate members just plug their ID in and have a valuable lead magnet to attract new WA members.
My Online Startup Review
Let's get a few niggles over with first….what I dislike about MOS:
I would have preferred that the quite lengthy section on mindset was placed at the end. While I'm a believer in positive mindset, I fear some people (me included) would never get through it all. After a couple of hours I skipped the rest of the mindset training to get to the practical specifics of the affiliate marketing training course.
As of June 2020, MOS is maybe 95% finished. Some of the videos have been imported into MOS from a different training program – but that's a minor quibble because they still deliver value and I'm sure as it matures, specific MOS related videos will replace them.
What I like about My Online Startup – far longer list:
It delivers up-to-date training in a clean modern looking environment
It's linked to a supportive Facebook community
The lessons can be applied to ANY market-place – not just online business – and teaching examples are drawn from various different niches.
In the paid traffic training, although some vendors sell traffic in the MMO niche, others sell targeted traffic for wider market places.
There's plenty of FREE value. Students are encouraged to invest in tried and tested programs to build their business the right way, but can still progress without spending, and learn the principles of affiliate marketing as free students. I made many unwise investments starting out on my own. If I had been guided correctly towards the long-established and well supported programs within MOS, I'm sure my progress would have been faster, and – although I couldn't see it at the time – far less costly (in time, money AND stress).
If you are already a member of any of the programs promoted (for instance Wealthy Affiliate and GetResponse) you can just plug your existing ID into it.
So even as a free member of Wealthy Affiliate I can earn commissions from those who join it.
As a paid MOS member (partner) I can use the course as the most valuable lead magnet I have ever seen. My subscribers can learn from the free course, but IF they happen to buy certain items I will make a commission. If they don't – no problem. I have given them good value and tried to set them on a path I believe in, with minimal effort beyond sharing the link.
HUGE value this one – As a paid partner, I was able to have a squeeze page set up for me, linked into my auto-responder, and a series of 164 GOOD emails preloaded, to promote the program and other useful resources. (I cannot tell you how much I hate producing squeeze pages and email follow-up series!!) Amazingly enough this was done within the promised 48 hours, even when some of those hours included a weekend. (Update after about two weeks – those emails ARE generating interest in the partner program etc.)
My First Results From MOS
Even I wasn't prepared for the fast result of a sale on MONDAY morning. $100 dropped right into my Clickbank account.
My first sale of MOS – and I hadn't even finished going through the course.

So if you become a Partner you can earn $100 per sale, like I did, then earn on 50+ income streams… all on autopilot.
Click here to register for the free affiliate marketing training program. Watch the video about the Partner program and decide which is for you.

Your 4 Choices Now
1. Take the free training and learn all you need to know about running an online business in any niche. (It took me years and cost me a fortune in bad decisions to get as far I have and I'm still learning.)
2. Become a partner, choosing MOS as a business to promote (or others) so that you, too, have this valuable lead magnet and commission earner.
3. Shrug your shoulders and carry on trying to learn alone to market online.
4. Decide that you don't need affiliate marketing as an income stream – many people have a great income already.
Hoping you'll choose (1) or (2) but whatever your choice, please know that you can contact me and I'll be happy to discuss your options with you, no obligation.
If you're 'on the fence' still, register as a free member anyway and learn more from the free affiliate marketing training course (unless you already know it all!)
Click here to check out the best lead magnet I have ever seen.