What Is Tube Domination
Tube Domination is a step-by-step video course on how to get free traffic from YouTube for any business, product, or niche.
You'll learn how to set up 'money decks' for your offers and build a targeted mailing list in the process.
Free Traffic From YouTube
Perhaps you already think you know how to do that?
Or perhaps you're like me, tried, failed, given up!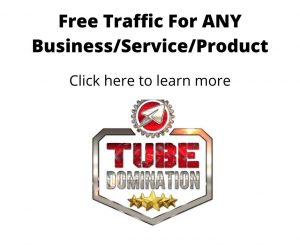 Tube Domination is a step-by-step video course on how to make money from YouTube by simply posting videos that leverage free traffic.
NO

– you don't have to appear on camera:-)

YES

– it works in any niche, NOT just 'work from home'
You may THINK you already know how to promote on YouTube, but this takes what you already know (or don't know!) to a whole new level!
This is a newbie friendly system that shows you how to set up money decks for your affiliate offers and to build a targeted mailing list in the process – without having to appear on camera!
YouTube Training Course Contents
There are 7 chapters:
How to make money on YouTube
Deep market dive
Black Swan – the secret sauce to increase conversions
Your money decks
The setup base
Deploy your Money Magnet
Leverage free traffic
Free bonus training – 'The science of getting rich' to ensure that your mindset is right for attracting success you deserve.
Ranking and SEO
At once time it was easy to get traffic to your offers by ranking blog posts using SEO, backlinks etc, etc.
Paid adverts USED to work well – until competition drove up cost per click beyond the levels that new-comers to online marketing could afford.
Yet still marketers yearn for free organic traffic – well, who wouldn't?
What Works Now?
YouTube is the second largest search engine after Google. Viewers are watching 1bn hours a DAY. I bet you watch some.
Even if you don't sit watching cartoons and films on YouTube, think about the last time you did an online search to learn how to 'do something'. There's every chance you found a YouTube video and watched that as the easiest way to find out what you wanted to know.
Who Should Use Tube Domination?
If you have ever envied marketers building sales and a following from YouTube, this surprisingly affordable training course will reveal secrets you never knew.
Anyone who doesn't want to appear on camera will love this course.
Anyone who likes the idea of doing some work once and getting paid over and over again.
What I really like is that this method works in any niche, for any product (physical or digital) and business (offline or online). NOT JUST the 'make money online' marketplace.
How To Use Tube Domination For Free Traffic From YouTube
Suppose you made just one short video per day…. after 90 days you'd have 90 videos promoting your product / service.
Use it to promote 'evergreen' services and products.
Learn how to get free traffic from YouTube, then offer a service to clients, making videos and ranking them.
If your current business is in lockdown due to Coronavirus, making promotional videos is a productive use of your time to be ready and waiting when you can re-open.
Optional Add-on Software
Anyone experienced with SEO will already know the value of long-tailed keywords, but whether this is a new topic to you or not, you can benefit from an additional offer of a keyword tool that makes it a breeze to select 'buyer intent' keywords on Amazon, Etsy, eBay etc. (Note. This software is an optional add-on resource, to keep the price of the training low, because some marketers already have their own keyword tool. But do watch the sales video just to see how your existing tool compares. If yours is better – nothing lost by reminding yourself of that.
Newly Launched At Special Discount
Brand new training in April 2020. Get your copy here ( Tube Domination affiliate link).