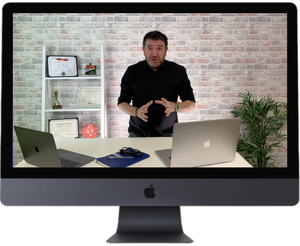 Have you ever wanted to create a digital information product, but wondered:
Could it work?
Is it too complicated?
Do I need technical skills?
How to get started?
The answer to question 1 is emphatically YES.
And if you're in a hurry to find out how to do it …. here's a free webinar 
(Note – this has been updated to be bigger and better in April 2021.)
Still curious about the logic?
See below for….
Example Of A Digital Information Product
Sadly it's not mine, and I have no affiliation with it, but I DID buy from it.
Not just because I wanted to get a bit fitter in lockdown (I do!), but also because it was well marketed.
I'd seen it over and over again, but…..
Forgot about it, then noticed it again
Not sure
Couldn't find my credit card
The phone rang
The meal was ready to serve….
In short, I kept putting it off, and certainly didn't buy the first time I noticed it.
Then finally all the ducks were in a row and I had the five minutes necessary to get out my credit card and buy it.
A practical application of the fact that I'd probably seen it seven times before I got round to buying it.
Which is why you build a list!
In fact I think they are using a different marketing method, retargeting Pixels. The principle is the same – just a bit more complicated than list building. You'd learn it in the product creation course I recommend below.
It's not the most flashily presented online product I've seen, but that just shows that a glitzy presentation isn't the whole story.
A solid product for a hungry audience IS!
Click here to see Better5.com
It's nothing to do with 'making money online', other than that it IS making money online.
At the time of writing, 1018 people have purchased the first course ($17) and there are several other courses available to buy inside the membership area, so they have a list of over 1000 happy customers, plus a library of further offerings.
The course solves a problem (lockdown has left me feeling a little stiff and out of condition), with a simple one-off course, followed up by emails offering me other courses now I'm on their email list.
How can this help YOU?
What Type Of Digital Information Product
If you can solve any common or garden problem, I know a man who can help you turn that solution into a money-making product.
I'm not talking about 'make money online' problems – there are so many of those already that if you're not a super expert I doubt you'd produce a product good enough to compete with what's already there. So I don't want to set you up for failure going down that line. You'd do far better being an affiliate for an existing product. Click here for free affiliate marketing training.
I'm talking about any 'real world' problem you have an interest in.
For instance, the product that I have just bought solved the problem that I've been rather inactive during lockdown and feeling in need of a gentle, structured 'improve fitness regime'.  (Yes, I know there are free videos on YouTube, I have 3 of them open in my browser, but without the prod of having spent some money and a reminder, somehow the days just slip past.)
So I bought the low cost product, mentioned above, that I'd seen marketed online.
When I Created A Digital Information Product – I Did It Wrong!
It's not easy….. I tried it once (before I knew this guy).
I already had the product written; that had been the easy part for me!
The difficulty started because I wanted to sell it online. I spent $4k on a coaching program that was supposed to get me marketing and selling it online. Long sad story – I worked my guts off and learned a lot, made a few sales, but never covered the cost of the course – because I had been totally oversold on 'how easy' it was.  In short, it wasn't.
So – I've no plans to repeat the experience.
Too burned out
It seems there are better affiliate products than mine, so I can market those instead
I have no skill to solve a specific  problem
As a 'generalist' I already have other successful online businesses where much of the marketing is 'Done For Me'
But if YOU have an area of expertise where you can share your experience, I know just the man to help you do that, far more efficiently (and less expensively) than my attempt – which was many years ago.
The Correct Way To Create A Digital Information Product
He has a successful track record of helping others take their 'solutions' to market and he'll help you short-cut the work involved and get to market much faster than you'd do it alone.
If you have been following the various training programs I offer, you have the basic tools to market your own problem solving problem.  (If you're new here and not received them, contact me.)
A landing page generator / funnel builder
To create a digital information product that will compete properly in today's online world, you need a whole host of skills:
Web design / blogging
Creating professional looking images and marketing material
YouTube marketing
Other Social Media Marketing
Other methods of online marketing – such as PPC
And a whole host of further skills I've probably forgotten to include
If you don't have these skills, or proven contacts who can offer them to you at a reasonable price, I know from experience that you'll struggle. I'd love to tell you it's easy, but it's not.
But don't give up before you get started…. because there IS a proven way …..
You Can Create A Digital Information Product
What you need is the help and support of someone with the experience of training hundreds of students to produce and market your 'problem solving' digital information product.
I can't give you that, but I know a man who can!
Here's a free webinar where he explains his methods. He will advise you of the best places to find your clients.