23
Using Internet Marketing Training Course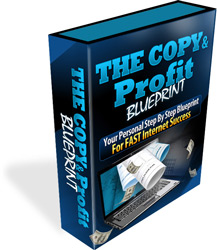 Bit of a rant today, but the positive message is how I used some training to fix something that made me cross!
As an aside: We've probably all bought online courses before. It's one thing to buy them, but USING Internet Marketing Training Courses we've bought often gets forgotten after the first flush of enthusiasm. And there's little wonder if you don't have success with a course you haven't applied!
Regular readers may remember that I am working with Neil Stafford as my coach, and one of the courses we have access to in our training is Copy and Profit Blueprint.
Here is my review of Copy and Profit Blueprint.
Another "Challenge" Hits Me!
I'm enjoying working with Neil in the limited time I have available, however, as always seems to happen to me, life gave me a business side-swipe again last week:-(
I have been very proud of the fact that I one of the first online systems I set up makes me regular sales, world-wide, in the complementary health market-place. Most of my clients are outside the UK.
I've done my best to provide a good service and have had regular repeat clients, especially from certain countries.
Banned From Worldwide Trading
So imagine my irritation to find that I am now banned from selling this service in those countries. Why? Because, despite selling at RRP (Recommended Retail Price) my price is lower than suppliers in other countries, so clients in those countries were buying from me, instead of from the more expensive suppliers in their own country. Well, you would, wouldn't you?
Is that my fault / problem?
Well, apparently it is and "they're bigger than I am", so I have to "roll over and conform" or lose my supplier. So much for free trade and eCommerce!
I was tempted to just change my supplier and sell a different product, but the one I sell is the one I believe is the best on the market.
Yet with a single email "head office" has wiped out the value of my customer list – I'm no longer allowed to sell to most of them. And they rendered useless, work I have been doing for three or four years now.
Giving Up?
I was so upset that my first reaction was just to shut down the website or put it up for sale.
I took the problem to Neil, my coach, and he suggested I change my site to sell an affiliate product instead, rather than waste the traffic and work. This sounded like a good idea, but when I hunted round for affiliate programs for the same service I hit the problems below:
Those selling the same product ALSO had the same country specific ban
One affiliate program selling a similar product by a different supplier didn't pay commission on this product, only on supplements
They also didn't guarantee other products (e.g. supplements) would be delivered world-wide for the price on the site because of import duties etc
Reviewing the Original Online Business Model
If I'm honest, the original business model has a bit of a problem…. it's not entirely automated and relies on me being available to receive a physical sample from a client and send it to a laboratory in the USA. This isn't always convenient, and if I'm away I have to pay an assistant to check for the arrival of samples and post them off.
This isn't worth the cost for the few orders I get from the reduced number of countries I am now permitted to trade in. Most of my clients are in the "banned countries".
Also, the "back-end" sales (of supplements recommended by this service) have dropped off because clients now order direct from head-office and rarely bother to include my name to receive commissions. There is no "proper" affiliate program running for this company.
So there was SOME merit to the giving up option.
But it annoyed me enormously that all the work I have done would be wasted, or someone else would get the benefit of it, and probably offer me a derisory amount of money for the site.
A Better Solution
What I needed was to sell an information-only product that could be delivered with no intervention from me. But it was SUCH an unusual service that I haven't come across an information product, so that seemed another non-starter.
Until I remembered that I had actually written one of my own 🙂
The pre-ban-service gave away a free eBook (26 pages long) which encouraged people to buy the test and got them onto my "list".
Originally I was selling this eBook for a few dollars, and then, a couple of years ago, I was "taught" to give it away free so that it would do the job of selling people on the service.
What if I were to start charging for the eBook again…..?
It's a lower price for people to pay than ordering the test outright, so they may be more likely to send a small sum of money as a test purchase
In the eBook I can explain the country ban and direct people to their local (more expensive!) suppliers. I try not to be too scathing!
If eBook purchasers are in countries I AM permitted to sell to, I reduce the cost of the test by the price of the eBook that clients have already bought
As an aside, I have altered my sales pages to make absolutely sure anyone (who reads them) knows they have ordered a downloadable PDF eBook rather than a physical book, as one irate customer recently thought.
Using Internet Marketing Training Course
So I applied the information in the Copy and Profit Blueprint course to do all this, and have now changed my sites to SELL the 26 page book that I used to give away free, and I give away a shorter "Report" that "pre-sells" the eBook.
The single paragraph above, of course, doesn't actually do justice to the whole process, which is explained in great detail in the course, with brain-storming tips and marketing ideas.
So USING this Internet Marketing Training Course (plus an afternoon's work) has saved me from "giving away" a site and product I had worked hard on for several years.
Check out my review of Copy and Profit Blueprint.