Learning Forex Trading In 2019
The New Year is a time of change and resolutions – mine being Learning Forex Trading.
Regular readers will know I have been largely absent from the online market because of my move from London (UK) to the fine city of Norwich. And I couldn't be happier to live here.
However, having settled in nicely it's time to take stock of my online activities, which have been left rather in the background. Although they're all still solid businesses it's always good to look at something new to add to my existing portfolio.
For some time I have been interested in "Forex" and cryptocurrency trading – but been too nervous to get started. If Forex is new to you, learn about the Foreign Exchange Market here on Wikipedia.
New Business Learning Forex Trading
WOAH – I hear you say. Forex Trading is risky and hard to learn. And you are right. See the warning below:
DISCLAIMER AND RISK WARNING: Forex and cryptocurrency trading carry a high level of risk and may not be suitable for everyone. Before you trade, educate yourself and consider your risk tolerance and your experience. You could lose some or all of your capital. Never trade with funds that you cannot afford to lose. Past performance should not be used to predict future performance.
I know only too well that it's hard because my very smart son, the one with the "Investment, Finance and Risk" degree, has been studying Forex training and practicing with a demo account for months and still hasn't made a "paper profit" yet.
So when a good friend told me about a Forex information and trading service I was keen to learn more, but still not sure it was for me because of the difficulty and risk.
Then my friend explained that one way I can participate is by sharing in the profits made by a team of experienced traders, rather than making my own trades (although I can if I want to). So I asked to know more.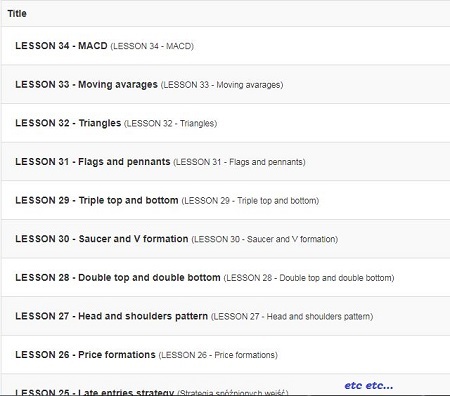 The average daily profit from their trading activities has been between 0.5% and 1.5% (of course that's NOT a guarantee)
You can get involved for as little as $100 (which the traders will trade with to give you passive earnings). Each $100 package expires after 120 days having generated (on average) $120.
Educational training products start from as little as $25 – see image on the right for just SOME of the current titles
You can earn commissions from making introductions / selling the training packages, but that's optional. Fine to be completely passive.
What Is Exp Asset
The platform itself is one of the most professional sites I have seen. It just shouts "professional" and well-established.
You can open a free account to look round by clicking on my ForEx trading Information affiliate link here, or the image below.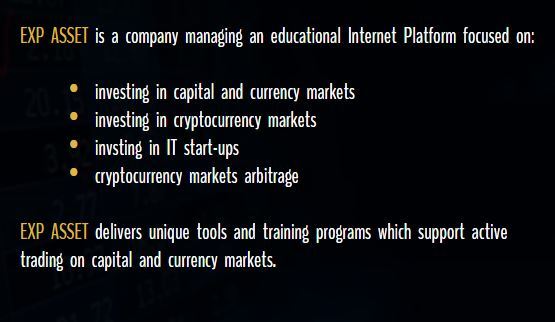 Need More Money? It's Not Too Late
There is an increasing number of baby-boomers (like me) looking for an extra part-time income stream to supplement poor pension provisions.
But the need for more part-time cash isn't confined just to baby-boomers, it's also for the young who feel they don't have enough income to save for a pension – even though their employers are contributing (that applies to the UK).
Although there is an opportunity to build an income from team-building with this business, and a variety of other products, what appeals to me – and to many I know – is that team-building is optional.
But you DON'T have to dive in right away with an investment pot – you can just open a free account  (affiliate link) to learn more. When you've done that, contact me and I'll add you into our support group where others share their results, and where you can ask questions.
Safety Factors For The Forex Information Service
So how is the risk of learning Forex and cryptocurrency trading reduced by using Exp Asset?
You can start with as little as $100
No monthly subscription
If you wish, full instructions and training can be purchased at different levels (starting from $25 with lifetime access)
The higher level products and trade ideas are also optional
You will be part of our Facebook team to help you along the way.
No long term contracts
Withdraw your profits or compound them (minimum withdrawal $50)
The company is registered in the UK
And So Into 2019….
I rather pushed the boat out on furniture etc for my lovely new house in 2018, but I'm all set up here now.
So it's time to roll my sleeves up again for some extra online income and this is a business promoting a product (Forex and Cryptocurrency Training and Trading) that is valuable in its own right. Isn't that better than trying to sell pills and potions etc that people can buy at their local supermarket at a much lower price than via your business?
It's too late for me to put money into a pension fund, but not too late to look at a new skill – Forex Trading. I recommend you to take a look here (affiliate link) too.