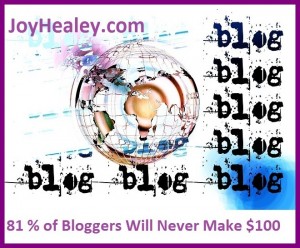 List building from your blog is essential.
When you see a great affiliate offer  you want to be on board as soon as possible promoting it… ideally to a list of regular readers. So list building from your blog is a vital part of your online business.
The vast majority of bloggers will never even make $100.
So what sets the profitable bloggers apart from those who never make a bean?
Chances are it's their skill at list building and sending useful content to that list – together with information that will help them make their business more profitable, and make their lives easier by saving them time.
You Blog's Role In List Building
No matter what niche you're blogging in, one of the most important things you can do is capture your visitors onto your own email list.
Because think about it for a moment…
Social media, search engine optimization, and other traffic sources are great… but you don't own the platforms. You have zero control. If those platforms change their rules, your traffic is toast.
If those platforms disappear off the face of the internet, they're going to take all their traffic with them. But if you have captured as much of this traffic as possible onto your mailing list, then you're going to be just fine if your favorite traffic sources disappear.
And you know what else? You can't trust people to come back to your blog on their own. You need to remind them. And the best way to do that is by persuading them to join your list.
Even people who absolutely love your blog and bookmark it, they won't necessarily return. I don't know about you, but I have dozens of sites bookmarked that I've never re-visited.
You probably do too. And so do your prospects. They might bookmark your site, but life gets in the way and they forget to return. That's why it's so important for you to get as many of your blog visitors directly onto your mailing list as possible.
List Building The Classic Way
List building isn't as easy as "they" would have you believe.
Read this external link to a guide on using lead capture pages which offers excellent tips and a service that will do everything for you for (at time of writing) $99 per month.
If you were to do everything yourself you would need:
A lead capture page
A Lead Magnet to attract people to sign-up to your list
A method of delivering  your content
Link to your autoresponder
There are tools and WordPress themes that can help you with much of this – but you still have to create that lead magnet – a piece of valuable content that people value enough to download in exchange for their email address.
As a blogger you probably already spend a lot of time creating killer blog content. So the idea of setting up an email capture system may seem a little daunting. Tedious. Time-consuming.
Maybe you can relate…
Most marketers and bloggers dislike creating lead magnets. Heck, you create content – what more do readers want?
Yet you know how important it is to create a great lead magnet. Because if you don't have any enticing 'bait' to get people on your list, then you're not going to be able to capture your visitors.
So think about this for a moment…
What if you didn't need to create lead magnets anymore?
That would save you a lot of time, money and hassle, right?
Of course it would… and now with the clever Post Gopher WordPress plugin (affiliate link), it's totally possible. That's because Post Gopher turns each and every one of your blog posts into a potential lead magnet.
How?
It's pretty simple…
The plugin takes any blog post, turns it into nicely formatted PDF, and then offers this downloadable file to your guests in exchange for their email address.
You don't need to do any extra work to create your lead magnets, because now every post on your blog is a potential lead magnet. (Even ones you created years ago!)
You don't need to create landing pages, because the Post Gopher WordPress plugin generates beautiful opt-in forms.
It's the hands-free way to create high-converting lead magnets and build a responsive list, without creating additional content.
Make the Most of Your Blog Content
As a blogger, you know how much time you spend creating content and your business revolves around this content.
So you're constantly looking for ways to maximize the benefits you get from every word you create.
Have you overlooked these top ways to make the most of your content?
Cross Post On Social Media
If something is popular on your blog, then your social media visitors will probably love it too. You can post links on social media to your blog content as a way to drive traffic to your site. Or you can excerpt out the best parts of your blog articles and post those excerpts on Facebook, Twitter, and your other social media platforms.
Optimize For Search Engines
Another way to make the most of popular content is to optimize it for search engines. Use a keyword tool to discover words your customer is searching for in the search engines, and then include those keywords in your content.
Expand On Popular Content
You post an article and it's an instant hit on your blog or even on social media. Now capitalize on this popularity by expanding on your article and turning it into an anchor post. Be sure to put social media share buttons alongside the content to encourage visitors to share it with their friends.
Turn Popular Content Into a Lead Magnet
Yet another way to make the most out of your best content is to turn a popular blog post into a lead magnet.
This used to be a tedious process. You had to format the post so that it was suitable for a PDF, convert the document to a PDF, set up a lead capture page… and so on. So most people don't bother doing this because it ends up being a lot of work to turn blog posts (old and new) into lead magnets.
Until now… and that's because the Post Gopher WordPress plugin (affiliate link) completely automates the process.
Learn how to turn every single blog post into a lead magnet with this WordPress Plugin - automatically!
Click To Tweet
You don't need to format or convert anything, because the app does it all for you. I'm completely non-technical and I had it set up and my posts "magnetized" in less that half and hour.
3 Great Ways to Boost Your Opt-ins…
Who else wants a bigger mailing list?  Totally silly question.
If you're a marketer and you still have a pulse, then of course you want a bigger mailing list.
So one way to grow your list is to simply start driving more traffic to your lead pages. But I'm betting you're already working on that. So the other thing you can do is increase your conversion rate. In other words, the goal is to get more of your existing traffic to join your list.
Check out these three great ways to do it…
Capture exit traffic
Most folks leaving your site didn't see something they wanted this time. They didn't buy anything, they didn't join your list. But before they leave, you need to dangle something in front of their noses to get them back. You need to get them on your list, because if they leave they probably won't be back.
The solution: pull out your best lead magnet and offer it to anyone who's leaving your site. Make them a free offer they can't refuse.
Brush up your sales copy
If prospects aren't opting into your list, you need to up your game. And that means polishing that sales copy on your lead page.
Ask yourself:
Did you create an attention-getting headline?
Did you provide a bulleted list of benefits telling prospects why they should join your list?
Did you offer a call to action with a reason why prospects should join now?
You'll want to test and track your sales copy to really optimize those conversions.
And finally…
Give people something they really want.
Here's a big problem…
Visitors are reading a blog post. They're interested in the topic. But then they see an offer for a totally unrelated lead magnet.
You know what happens?
They have ZERO desire to join your list. Zero. Because their head is someplace else (namely, on the blog post they're reading).
Point is, if you want to boost opt ins, you need to give people something they want. It needs to be directly related to what they're looking at right now.
The solution? A content upgrade – give them a neatly formatted downloadable version of the blog post they're reading.
And the best news of all…
You can do this without any extra work. Just use the Post Gopher WordPress plugin (aff.link) to automatically convert all your blog posts to PDFs. It's a super-easy way to boost opt-ins and grow your list!
Secrets of Building a Responsive List
Big lists are great. But big, RESPONSIVE lists are even better. An engaged audience is where the money is at. And if you're looking to boost your list profits, then you need to engage your audience and get them clicking on your links.
Let's share with you the two golden rules…
Give People What They Want.
Here are four ways to figure out what they want:
Do your market research. Find out what content and solutions are popular in your niche, and then give your subscribers something similar.
Ask your subscribers what they want. That's right, survey them to learn more about what they want and need.
Boost conversions by segmenting your audience based on their answers!
Track engagement. People don't exactly lie when taking surveys, but sometimes there is a gulf between what they say they want and what they actually read and buy. So start tracking and testing your emails to see which ones your audience responds to the best.
Give People What They Expect.
You set expectations with your audience the second they joined your list.
You confirmed those expectations with the first few emails you sent out. And so your audience figured out what sort of content you send and how often you send it.
Tell you what – if you go against people's expectations, they're going to stop clicking. They're going to stop reading. They may even unsubscribe.
Think about it…
If you tell people that your list is all about giving them product reviews, and then you don't send any product reviews… what do you think will happen? Yep, you're going to have some hacked off (UN)subscribers.
So …. it doesn't matter what type of content you send or how often you send it…as long as you're giving people exactly what they want and what they expect.
Here's a hint: be consistent across your platforms. For example, post the same kind of content on your blog as you send to your newsletter list. So when someone reads your blog, they'll get a good feel as to what your newsletter is like.
Want an easy way to be consistent right from the start? Turn your blog posts into lead magnets. This gives  prospects who may have found your blog by searching, a highly desirable lead magnet – what they are reading now –  and it helps set the right kind of expectations.
Best of all, you convert all your blog posts to lead magnets without doing any of the hard work yourself. Use the Post Gopher WordPress plugin to completely automate the process and build your list. I found that hard to believe – but it's true. (If you have posts you don't want to turn into lead magnets you can turn the PDFs off and you can even choose which list people subscribe to.)
List Building From Your Blog Made Easy
List building can be a hassle. I mean think about it. Generally you need to string together multiple moving parts and even services to make it work…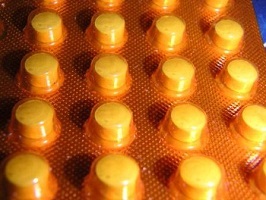 You need a lead magnet. You need an autoresponder. You need a lead page and some snazzy sales copy.
And you need aspirin, because doing this over and over every week or so is going to give you a big headache. When I first heard of this method I set out with the best of intentions…. I did it twice. Then life got in the way and I forgot about it. Duh.
So imagine for a moment if you had a tool that did it automatically. How much time would that save? You could build a big, highly responsive list on autopilot. No need to fuss with creating lead magnets. No need to worry about fancy lead-pages or creating forms.
Sounds good, right?
This best news is that this tool already exists. Check out >> PostGopher Plugin (affiliate link)
What is Post Gopher?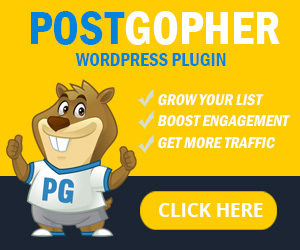 Post Gopher is a WordPress plugin that automatically turns all your blog posts into beautifully formatted PDFs, and then it offers them as lead magnets to your readers in exchange for their email address, which is added to your chosen "list". You can choose the list depending on the topic of your blog post.
This really is list building made easy. Post Gopher turns a complicated, time-consuming process into a super-easy, passive way to build a big mailing list!
No more creating lead magnets. No more fiddling with formatting or lead pages. Because Post Gopher does it all for you on autopilot. Just set up the plugin (half an hour max), and Post Gopher goes to work.
The plugin…
Turns all your pages and posts into lead magnets (PDF giveaways).
Generates beautiful lead-capture forms.
Delivers your lead magnet.
Tracks activity so you can gauge performance.
This is the easiest way to build your mailing list! But don't take my word for it – see Post Gopher in action below:
>> PostGopher Plugin (affiliate link) 
List building has never been easier or faster! 🙂
The #1 Key to Successful Lead Magnets…
One of the big keys to a successful lead magnet is to create something that your prospects will refer to again and again. That way they keep seeing your links and calls to action repeatedly.
End result? More clicks, higher conversions, more sales.
Now if you're using the Post Gopher WordPress plugin to turn your blog posts into lead magnets, then you need to think about what kind of articles people will reference repeatedly. The bonus here is that this strategy gets people bookmarking and re-visiting your blog posts too. It's a win-win.
Let's share with you some of the best kinds of posts and lead magnets you can create to get people clicking on your links…
Gear Lists: These are lists of tools or resources that people in your niche need to complete a task. For example, you might share your favorite social media tools.
Checklists: This is a great tool when there are a lot of steps to a task or things to remember. For example, you might offer travelers a packing checklist.
Work Sheets: Think of these as tools to help people take action. For example, you can give those in debt a budget management worksheet.
Templates: These are tools to save your audience time and money. For example, you can give marketers a sales letter template.
Infographics: A host of useful information packaged in an easy to read pictorial form.
Tools and Accessories: These include anything that help your prospects achieve a goal. For example, you might offer dieters meal plans and recipes.
In-Depth Info: If you can give readers in-depth instruction on how to complete some process or achieve their goals, you can bet they'll reference your content again and again.
So you get the point – if you create content that your readers will reference repeatedly, then you'll be rewarded with more clicks and sales.
As mentioned, you should be doing this with both your blog posts and your lead magnets. And to make this strategy super easy, you can turn your blog posts into lead magnets using Post Gopher. It's a great way to re-purpose your best content and build your list.
Click the link to get the  PostGopher Plugin (affiliate link) working for you 24/7.
Does This Really Make List Building Easy?
Everyone's raving about the Post Gopher WordPress plugin. And that's because it's the easiest way to turn all your blog posts into list-building lead magnets.
Just set up the plugin, and it does everything for you, including:
Creating your lead magnets,
Generating opt-in forms,
Integrates with many auto-responders,
Delivering the lead magnets, and
Tracking performance.
You'll be up and running in less than an hour, it really is that simple. Heck, this plugin practically does everything except count your money!
Take a look: >> PostGopher Plugin (affiliate link)
No wonder everyone is buzzing about it. And no wonder so many people have jumped on board to start using this plugin to build their lists!
Now if you haven't jumped on this offer yet, it's probably because you have some questions.
FAQs About Post Gopher
Q) How does it work?
A) It's simple. Once you activate and set-up the WordPress plugin, Post Gopher turns your pages and posts into "content upgrade" lead magnets. You don't have to lift a finger. It formats your content, converts it a gorgeous PDF, and delivers it to your prospect.
Now you have highly targeted lead magnets going out to your audience. And that means you're building a high-response list of engaged prospects!
Q) Do I need any special tech skills?
A) Nope! If you can find your way around a WordPress dashboard, then you can use Post Gopher. You don't need to know anything about coding or any other technical mumbo jumbo. This really is point and click easy!
Q) Do I need to use a special theme?
A) Again, nope! Post Gopher is a powerful, flexible WordPress plugin that works on any theme. All you need is a self-hosted WordPress site Version 4.4 (or higher). If you have that, then you too can start building your list the easy way!
Q) Why do I need Post Gopher?
A) That's the same question as, "Why do you need a list?"
Q) I have more than one blog…. do I need to buy multiple copies?
A) You can install it on unlimited blogs that you own – and there are ZERO limits on downloads and signups.
Q) What if I don't like it?
A) There's a 60 day money back guarantee period in which you can try it out.
So here's the thing…
Social media could die (MySpace, anyone?). Facebook could shut down your page. Google could drop you. Your paid advertising budget could dry up. And every other source of traffic you now rely on could zero out.
And you know what? You'd be okay as long as you had your own list. Because as long you have a list, you have a waiting audience to read your blog posts, click on your links, and buy your products.
Your list is your #1 asset – which is why you want to grow it as big and as quickly as you can. That's what Post Gopher helps you do.
Go get yours now  >> PostGopher Plugin (affiliate link)
Test it by clicking below to request a download of this post now!