It's good to start May with a review of the Speedy Social Sales product newly launched by my good friends Sue and Dan Worthington.
Who Are Sue And Dan Worthington?
Sue and Dan are a mother and son team from Manchester (UK) whose training I have followed for well over a year now, and they never f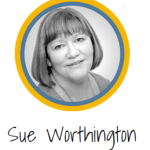 ail to deliver top quality products at an affordable price.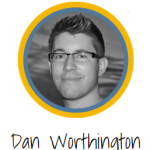 But just because I refer to them as friends, don't imagine I would give them a favorable review if I didn't like their latest product 🙂
However I do approach their products with confidence, because everything I have bought from them in the past has delivered solid valuable content. OVER-delivered, in fact!
About Speedy Social Sales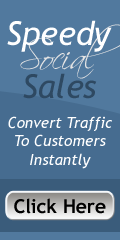 The main product is the Speedy Social Sales system. As you can see from the banner on the left, the purpose of the training is to convert traffic to buyers fast, walking you through a "sales funnel".
Because of Sue and Dan's "social" background there is some emphasis on "social network" traffic, but bloggers are specially well-catered for, because Sue and Dan teach that your blog is the center of your business.
The course consists of seven modules, broken down into bite-sized trainings and supported by videos, PDF transcripts and eBooks, MP3 and MP4 down-loads and appropriate web resources.
Sue and Dan make no bones about the fact that if you THINK are running a business you should TREAT it as a business and be prepared to make a small investment into tools that will make your life easier and get you into profit faster.
However, they remember their own early days when funds were tight, and include free resources where possible. They have also negotiated valuable customer discounts with the suppliers of some of the tools they recommend.
Let's look at the seven modules:
1. Getting Started
This module starts with an introductory mind-map to show how the course links together, expanding on the need for a free offer as the first stage of your sales funnel and with ideas beyond the usual "eBook" pdf, and alternative ways to deliver the offer. It addresses the thorny problem of what to do if you don't HAVE a free offer.
2. Squeeze Pages
The next stage of the funnel is the squeeze page, and Sue goes through the compelling reasons why you need one, then follows it up with a couple of ways to create one.
Free: WordPress devotees will be aware that there are many free plugins available – but free plugins are not supported and are of varying quality, as I have found out to my cost on many occasions. With WordPress plugins there's no shortage of choice, the important thing to know is which one is the best! Sue has saved you doing the painstaking research to eliminate the ones that caused problems, and she teaches you how to use the one she found with the best free facilities.
Paid: Alternatively, you can get really stunning results with a paid product. This is the product I use myself and I'm building up to doing a review of it when I get time. But in the meantime Sue has negotiated a discount for her customers. Dan gives a 5 minute demo of this product to whet your appetite, but there's much more training when you buy the product. Incidentally – thanks Dan – you made clear a feature of this product that had escaped me when I bought it myself 🙂
3. Your Auto-Responder
There are four sections here:
Why you need an auto-responder
Creating an opt-in list in your auto-responder
Creating an opt-in form in your auto-responder
When and why to use a simple opt-in form
Sue focuses on Aweber for her training, although she touches on how to use other auto-responders and obviously any fully-functioned A/R will be fine if you know it well enough to slot it in instead.
Yes, I know you can use free / cheaper auto-responders, and before I finally settled on using Aweber, I messed about for over a couple of years penny-pinching on A/Rs. I'm STILL paying the price and regretting it, because I have half my list with Aweber and half elsewhere.
If you're in any doubt about paying for a decent auto-responder, don't be. You may like to ponder why the most successful marketers I know are using paid auto-responders.
As an aside – because I've been using Aweber for quite some time now I was tempted to skip this video, but Sue introduced me to a tip I hadn't known about before, so I'm glad I watched it 🙂
4. Get The Sale Without Selling!
Well, for those of us who are already doing the first 3 stages, this is the real crux of the training and it certainly pointed out to me a glaring mistake I've been making (and so are most people i see!)
So if you're used to thinking that getting leads to build your list is something that COSTS, Sue and Dan show you how to turn it into a profitable exercise from the outset. Then of course you will earn more by following up with more offers to the leads. Again there are different ways to approach this, which are discussed – from the "free" to the "paid" version.
5. Following-up
Having made a profit on the front-end lead building section, "the fortune is in the follow-up". The course includes a very good follow-up template and a nifty signature tool that was new to me, to encourage social engagement.
6. The Facebook Traffic Machine
Only when you have the above sections of the sales funnel in place are you ready to consider how to drive traffic to your sales funnel and onto your list. Sue and Dan address this with a 25 page eBook to walk you through advertising on Facebook.
7. Putting The Pieces Together
In the concluding video of the course Sue walks us through her numbers when she applied this strategy to one of her earlier products that is still selling. She introduces us to the thorny question of what happens to visitors who "drop out of" the funnel at various stages. All is not lost though, as that is covered in the upgrade to the course.
The Upgrades
The 7 modules of the course are self-contained and you do NOT need the upgrade to gain a benefit from the training course.
However, you will have the opportunity to purchase the 30 day Triple 'S' solution, which includes more detailed tutorial videos of The Facebook Ads Machine where you will learn in greater depth how to get leads at a profit, analyze your results, build your list and follow up efficiently yet elegantly.
30 Days Of Training
I'll be honest and say I haven't had time to watch all the 30 days of training – which is a great testimonial in itself, because they are so substantial!
I picked one day that I thought would be of particular interest to readers here: Day 25, Your Blog For Lead Generation, which broke down into 3 smaller subsections. Yes – it did introduce me to a resource I'd never heard of before, that showed me how to put my campaigns onto sites I don't even own! Neat 🙂
That's just on one of the thirty days, so no doubt I'll learn much more when I go through the rest of them.
Also included in the upgrade offer is a complete set of ready to go squeeze pages and thank you page templates plus a huge pack of Facebook Ad and background images for producing stunning landing pages using the free or paid methods described in the main course.
There's also a unique opportunity for students to be guided by Dan and Sue in creating a customized funnel of products.
Buyers also get a live webinar with Q&A for their opportunity to ask those burning questions.
What Is Wrong With Speedy Social Sales?
OK, so no-one's perfect and I found one or two minor glitches.
I had a little difficulty with the presentation because I wasn't clicking all the resources! There were images rather than video screens or "Click Here" buttons, and near the end of the course I found myself wondering why Sue hadn't covered some topics. Then when I went back and started doing more clicking I found that extra training resources opened up! Once I got the hang of it all was well.
Using Firefox there were some unexplained silences in the videos. However, they played fine for me when I switched to Chrome, so that could just as easily be my machine. Personally I prefer to work from printed transcripts and make notes on them as I go along, so as the transcripts and MP3/4 downloads are supplied it's not a problem.
One PDF resource didn't contain quite as many resources as the title offered. Hardly a show-stopper!
At first I wondered why the email follow-up template was in PDF form, rather than text, which would have been easier to use – but then I decided that's a GOOD thing…. everyone should put their own personality into their follow-up emails.
I pointed out to Sue and Dan the few problems I found and there's every chance that by the time you read this they'll be fixed.
And knowing Sue and Dan, if you find glitches I missed, they'll be working like crazy to fix them, because that's just how they are!
Who Is This Course For?
This course is a "must-have" for any-one (complete beginner to moderately experienced) who wants to short-cut the route to building a profitable sales funnel.
In one day, with the option of 30 more days of more advanced training, it covered topics I spent months learning when I started blogging. I don't know if courses of this quality were available at such a low cost when I was brand new to Internet Marketing, but I would be so much further on in my online career if they'd been available – AND if I had had the common-sense to invest a few dollars in training.
Who Should NOT Buy The Course?
If you're already building sales funnels with ease, filling your list daily and profiting from every marketing campaign you do, then you could decide you don't need this course.
Of course, successful entrepreneurs MAY decide that it's worth re-investing just a few dollars of their profits into bang-up-to-date training to learn about techniques and resources they hadn't come across before. I always feel that if you're not learning new things you're starting to slip backwards – especially in Internet Marketing.
Investing in the course is also a low cost way to refresh landing pages and adverts with new templates and images that would otherwise cost time or money to find.
I don't consider myself a complete beginner, but I still learned plenty of new things from the basic course – even picking up some extra tips about tools I'm already using.
And I still have 29 days of the upgrade training to work through.
Oh – the other class of people who should NOT buy the course are those who won't take action. It's definitely a course where you need to follow the instructions and implement the training.
Conclusion About Speedy Social Sales
Highly recommended for anyone with any interest in building an on-line business in the most efficient and cost effective way.
Buy Speedy Social Sales now: Click HERE, or on the banner below.