2
Royaltie Review
This Royaltie review introduces a platform that shows how to simplify your blog and online marketing by putting all these complicated online marketing tasks in one place:
Blogging – much easier way to develop a blog
Online advertising driving traffic to your blog
SEO – keyword targeting
Sourcing content for Social Media (a HUGE time saving)
Funnels
Analytics
Autoresponder and email marketing
The list goes on….
Royaltie's new promo video explains what the platform offers far better than I can. It's a very short video – so please have a watch,
Royaltie Review
When you're trying to run a business and promote it online, you'll quickly find that learning online marketing can be a complicated minefield with little to show in the way of results.
I have found that Royaltie cuts out many of the problems I have found that held me back because I just wasn't technical enough – and couldn't afford the subscriptions to so many different platforms that would have simplified the tasks for me. There are more videos on my own Royaltie information page here. It's created with Royaltie, to give you an example of what can be achieved using the platform.
To look at the company's information page (affiliate link) click here
I will confess that on my initial trial (before their AI upgrade) I wasn't sure whether Royaltie was for me.
Then in a recent upgrade (November 2019) Royaltie switched on their Artificial Intelligence option, which uses data gathered from your use of the platform to learn more about your business and optimise performance, giving you more of what you like and less of what you don't like. The initial learning process takes 30 days, and then continues to improve.
I'm not even half way through that 30 day learning period, but I can already start to see improvements.
Free Trial of Royaltie
When I first bought the software there was a free trial of Royaltie but this is no longer an offer because the AI learning is over a period of 30 days so you wouldn't see the full benefits for at least a month.
In any case, my own experience of taking the Royaltie free trial (before AI was enabled) was that it wasn't long enough to get to appreciate the platform completely. So anyone who is serious about simplifying their business should invest the time and money to give Royaltie a decent trial with the full package.
Problems With Royaltie
My Royaltie review is an honest one, so I will confess that at first I found the system more confusing than the video above implies!
But that was because, when I opened my account,  the AI option hadn't been switched on, and the start-up process you saw above wasn't implemented. Since the implementation of the AI option, and with it the improved start-up process, the platform is far easier to make a start with.
In fairness to Royaltie, the problems I found were more due to my lack of understanding than anything else and now I've taken time to listen to the training and the explanation, the reasons things are done that way has become clearer.
I've only been using Royaltie about three weeks, and even in that time I have seen enormous improvements in the software, with the inevitable bug fixes of such a large release being fixed fast.
Support From Royaltie
Support is excellent.
Each week there are two live Q&A sessions with the founder – these are recorded in case they don't fit in with your schedule.
Response from the email support line is timely. If I send in a question before I go to bed, it's answered by the next day.
You can contact the support staff immediately on a Zoom call to get hands-on help with any problems.
To get you set up correctly there's a series of on-boarding videos that walk you through the initial process AND in your first seven days of membership if you have a ten minute Zoom call to let support staff check through the setup with you, there's a $10 deduction from your next monthly fee.
Justin, the founder, has an amazing technology brain and a vision to make this company offer superb value
I have to admit I hope the training videos will improve with the new AI platform, as I found them overlong and short on explanations, but with the other support avenues I still got myself up and running. It's understandable that as AI took over from the original manual system there wasn't much point in spending time on training videos for an obsolete system.
Who Can Benefit From Royaltie?
I see this platform mainly being of benefit to small High Street businesses who know they need to get involved in digital marketing but find it too complicated and time-consuming. The video that really convinced me to join was of a guy with a specialist car engine tuning company who had set up his own online marketing using Royaltie and had seen his business soar as a result of their targeted marketing over a comparatively short time.
Caveat – he had USED the tools available. It's no use sitting back and hoping Royaltie can learn from your inaction. It's not mind-reading software!
As I have had more time to review Royaltie and my use of it I am thinking that those of us who offer support to small businesses would do well to promote Royaltie to them rather than recommending them to start a blog (which would have been my position just a few weeks ago).
Why?
Technical support is handled by Royaltie, so no more frantic 'blog customer' calls at 1am (Yes – that honestly happened to me)
There's an optional affiliate program we can benefit from, while offering real value from a program that encompasses everything in one platform
I don't keep having to explain to customers that they now need to buy another service (auto-responder, paid advertising, content marketing or PLR subscription, funnel builder etc)
Who Will Not Benefit From Royaltie?
If you already have an online system such as a blog that is earning you money and going great guns – stick with that.
Otherwise, consider Royaltie.
It's not for anyone who isn't prepared to pay for promoting their business. But I've long since learned that nothing is free – you either pay for it with time or with money.
So if I have to waste time and get stressed struggling to learn different advertising methods and take paid advertising on Facebook, Google etc, I may as well pay a monthly fee and let someone more knowledgeable than I am do it for me.
It's not for anyone who won't take an hour or so to get set up, go through an on-boarding chat with support, and then spend the short amount of time each day to help the AI learn about your business.
From January 1st 2020 the lowest monthly subscription is $87 – which is far lower than even one of the solo ad mailings that I have been paying for over recent months, and which have given me very little in the way of results.
My Progress With Royaltie
I'm still in Royaltie's AI learning phase – and as my pages weren't set up for me automatically by the AI upgrade, they're not as professional as they could be. (I could ask for them to be replaced with an industry specific one, but as I've tailored them to my own needs I'm sticking with what I have for the moment).
Here are my three fledgling landing pages and their respective blogs (the content on all three blogs is posted after being sourced and suggested to me as part of my subscription).
I hope you will agree that for an easily set up content based blog, they look pretty attractive. I spent a lot less time setting these up than setting up JoyHealey.com
And here's the process that does my content marketing via Royaltie.
Content Marketing With Royaltie – Done
In the middle of writing this post, I got my daily phone alert to say that Royaltie had prepared my suggested content marketing posts for the day.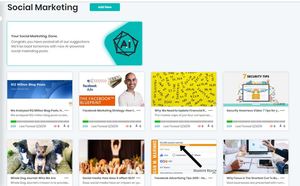 Time 13:21.
So I popped over to the platform and, for each of the 3 landing pages I'm promoting (see above), Royaltie did the following, with my approval:
Posted two suggested posts (to any or all of Facebook, Twitter and LinkedIn). You can discard / change if you don't like what is suggested to you
Added that content to my Royaltie blogs
Mailed updates out to the followers of those blogs (who had been found and subscribed by Royaltie landing pages / adverts).
Content Marketing Done – Time 13:41.
Wow – that beats trawling round to source interesting information to post about. And if I didn't like the suggestions there's a whole raft of images and videos in different categories (see next section) that I could have chosen for myself.
Of course I wasn't able to do this on day 1 (or even day 10) of my first month with Royaltie, but now it's set up, it literally is as fast as that. My next exploration is to start adding my own content.
Saving Time With Royaltie
I've shown (above) how Royaltie is saving me time with my Content Marketing. Below is a screenshot of the top level category alternative content articles, videos and images. Each category has many individual sub-categories and even more items within the sub-categories. These are all available for me to use for additional blog and social media posts.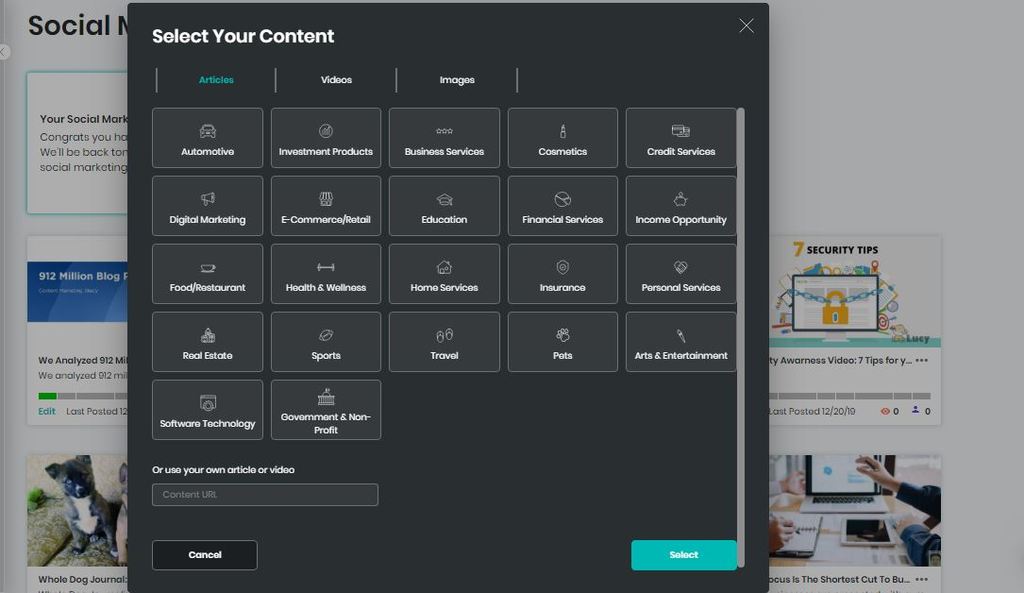 So I save time sourcing and posting interesting content.
But even more important to me has been the time saved setting up landing pages, funnels and placing adverts (included in the subscription – see their pricing page).
Sending an email to subscribers via my autoresponder doesn't take me a lot of time – but it's so much easier to do it with just an extra click after doing my content posting to social media rather than changing platform to my auto-responder.
I'm honestly not lazy – I'm just frantically busy running my offline business, and that takes precedence over online marketing, even though it shouldn't.
Saving Money With Royaltie
Saving time is important, but until now I have spent quite a lot of money to save time and it's not always paid off. But Royaltie offers a way to bring everything together under one platform, at a fixed cost, so that I can save money too.
For instance, with the array of topics available, I'm thinking I'll be able to cancel my paid subscription for content marketing in just one of my niches and replace it with the blogs above, all from Royaltie.
Also set for the axe are my subscriptions to auto-posting software. Sadly I took out an annual subscription, so it'll still be around for a while.
What about my auto-responder subscription? I can import my subscribers into Royaltie and mail them from there.
I'm still pondering…. but I can already see several savings I can make by combining all these functions into the one Royaltie subscription.
What Royaltie Does Not Do
Royaltie are very up-front that they don't get involved in any sales process / ecommerce. That's down to you.
They are a marketing company, where marketing is about raising awareness of yourself by sharing useful content within your industry. No-one wants to read about 'product x' everyday, although they might be interested in reading articles about how 'product x' has helped sufferers of 'condition y', and other information about 'condition y'.
It's up to you to add the selling process yourself – for example, as I am doing on my Learn Internet Marketing page by directing my audience to the selling site which is an affiliate promotion – but it didn't come with a lead magnet supplied, so I have used Royaltie to provide a funnel.
Often my selling process will remain as my blog, here. But for other people it could be their network marketing "Join now" page, their Facebook page, or any other page where you make sales.
Is My Blog Now Redundant?
Because I still need a selling site, my blog is safe for the foreseeable future.
Also I'm always hesitant about putting all my eggs in one basket (in this case Royaltie) so my blog will remain for the moment, and – as with this post – it will be a place where I can add guest posts and sales related content such as this Royaltie review. I've put too much work into my blog to just cast it aside, tempted as I have often been!
Marketing has always been my weak point and I haven't found my blog has helped much with that, so my time spent will be directed towards giving Royaltie a longer trial and comparing how their marketing competes with mine. (Let's face it, it can't be much worse!)
Decision Time
I hope my Royaltie review has been helpful, but in a nutshell…
If your existing (blog powered) marketing is successful, carry on with what you're doing.
Otherwise, learn more about Royaltie here. (Affiliate link)