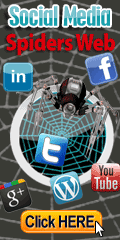 I'm writing about an addition or alternative to the book Social Media Marketing for Dummies, that you might find as helpful as I have.
It goes without saying that the Social Media Marketing for Dummies book is excellent, they always are.
However, what I really needed to get me going in Social Media was something more interactive than the book.
So here are my experiences with the training course I signed up for earlier  this week. Hint – the course can cost less than the book!
I've thought for a long time that if "we" could get together a group of friends all helping promote each others' sites, we might stand a chance. But there was no way I could get something like that together myself, because with Social Media, I AM the dummy!
My favorite tool is email marketing, as most of you know, but before I can market to people on my list – I have to attract them there. So where can I find them?
Everyone tells us that Social Media – Facebook, Pinterest, Twitter etc, are the best places to find prospects. And looking at the paid ads that pop up to greet me every time I log into Facebook – many advertisers agree, and put their money where their mouths are.
However if, like me, you imagined you could use Social Media to build your business fast, I'm willing to bet you very quickly became disillusioned, finding it harder than you'd expected.
I started out with high hopes, put hours into it and just kept hitting a brick wall, over and over again.
Tweet, post, update, pin, like, G+, subscribe, link, share, comment – then just as you get the hang of one platform, another pops up on the scene.
My problems were:
Where could I possibly find enough time in my already over-busy schedule?
How to learn all the different techniques necessary to make Social Media work?
How to prevent the overwhelming feeling of not being able to use all these Social Media platforms in the best and most  effective way?
Who to talk to when I hit the next brick wall?
Who would help me promote all these wretched posts even when I had made them? They were just floating past, with about 4 viewers.
So I was more than pleased to spend just a few $$ on the Social Media Spiders Web course that I wrote about earlier in the week, and having made it to video 11, I feel qualified to share my continuing experiences with it in this review.
It is a video based training product which steps you through the whole process from understanding why a strong social media presence is crucial for your business, right through to solid techniques to build a community on each platform.
It focuses on how to optimize, integrate and automate your Social Media marketing on the 6 main platforms:-
Twitter,
Facebook,
LinkedIn,
Pinterest,
Google Plus,
YouTube
… with WordPress at the centre of your Spider's web.
Although there's a lot of content, it's split into small, manageable chunks, which is good for me as I find it hard to set hours aside at one time. The videos and PDFs can be downloaded or accessed online.
I'm working my way through the course to check that – with such a low price – it gives real value for money. (Which it does!) Even a few dollars paid for rubbish is more than we want to waste!
In fact there's so much value in there, including practical help in a closed Facebook group, that I signed up for a monthly membership too, where you get additional training and support. (This is NOT needed to get full value from the training course.)
Once again, I was amazed at what the trainer, Sue, is offering each month. (To be honest, I think that when she realizes how under-priced this is, the price will be going up for new members – so I'm glad I took an early membership.)
How am I doing? Well, I've got those profiles set up and you may have spotted a few changes already made on this blog and my health blogs.
I have to confess I'm finding it tough going. But that's good – it means I'm learning.
If you need practical help with your Social Marketing (including help from others in the groups) you can't do better than shell out a few dollars for this.