8
Social Media Training Course

I've been looking for a good and affordable Social Media Training course for a long time now, because current marketing trends seem to favor those with skills in this area.
It's one of those topics that you feel you should know about, just because you've got a Facebook page and Twitter account!
But somehow it's always remained something of a mystery to me. Then I read about this.
I saw a review of Sue Worthington's Social Media Spider's Web course that she was using and I was impressed enough to buy it. Although I keep promising myself not to buy any more courses until I've fully implemented the last one, this filled such a need for me – and the price was so affordable – that I had to have it.
So last night (or morning!) I was burning the midnight oil until 3:30am – which is late even for me. I don't know about everyone else, but I find it far easier to work at night and sleep in the morning 🙂
Anyway, I've started implementing some of the lessons on this blog and one of my health ones. I'm not giving a link to the health blog because something I did has conflicted with the theme I was using so I've left it looking like a dog's dinner at the moment. (It wasn't anything in the course, I'd been having problems with the theme before I even started on the course.)
I worked on my health blog first, because I'm already making sales in that market-place; just need to ramp them up.
The first few training videos have been about preparing a WordPress blog for social media integration. Some of it I had already done, and some was new to me. I'll confess I found some of it challenging – but nowhere near as challenging as trying to do it alone. And of course you can always pause and rewind the videos if you get stuck.
When I started implementing the same steps in this, my second, blog it was much easier. I have another couple of blogs I need to add the integrations to, which should go even faster. It will be good to have a more uniform approach. It's been rather piece-meal up to now.
One excellent feature of the course is that it includes membership of a normally closed Facebook group where you can get your questions answered. I bet I'll be making plenty of use of that!
Hopefully over the next few days and weeks I'll start to see the benefits, once I've put in the initial set-up stages. So if you're in need of a Social Media Training Course, Sue's is the best value course I have done online for a long time.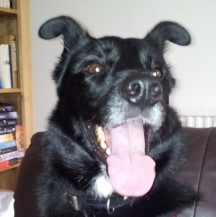 (Now – talking of dog's dinners, my son and his dog are coming over for a meal this evening, so off I go to cook!)