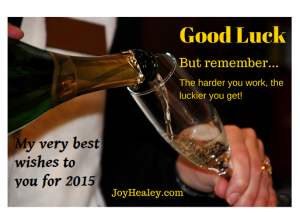 My Posts In December 2014
I finally got back to one post a week.
In the past I've tried doing more – evenly daily at one point – but it didn't work for me on several levels. I find that one post a week is achievable – and probably all that I can cope with – so that is good standard to set myself as my goal for 2015.
Here's a quick summary of the posts I made this last month in case anyone missed them:
I wrote the first draft of my book, as discussed in my post Build a Business by Building a Blog
Special thanks to James McAllister for a great review of my new eBook: From Social Media Beginner To Expert. James is an affiliate for my product, and a great blogger, so do pop over and hear what he has to say. If you decide to buy the eBook, please buy it via James as a thank-you for all his hard work.
After the effort of the eBooks I needed a quick post and a great Sales Funnel image from Yaro came along at just the right time to link in with Why Have a Blog For Your Business?
Christmas 2014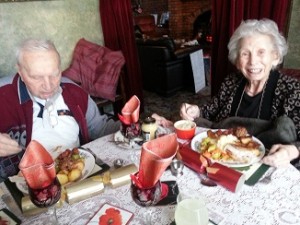 Well – what better Christmas gift could I have had than the bonus we didn't expect? That was sitting at the table for Christmas lunch with my Mum after she had been so ill this year.
Yes – she managed to eat most of the gorgeous Christmas lunch my daughter-in-law Elke cooked for us all and she was the first to ask for Christmas Pudding too!
My Dad – as you'll see from the picture – had had enough of photographs and just wanted to "Tuck in". Not bad for being in their 90s! Thanks to all my blogging friends for their good wishes to Mum and Dad.
Goals for 2015
December 2014 saw my earlier goal to publish an Internet Marketing eBook come to fruition – finally. I hope many Beginners To Social Media will be helped by reading the eBook, and by joining the community it will introduce you to.
My goal for 2015 is to build on that success with more eBooks and resources promoting the importance of a blog to any online business. What is your goal for 2015? Please share in the Comments below.
Thanks To My Comment Authors For December 2014
Last but most certainly not least, I will end 2014 with huge thanks to my readers who have helped me and encouraged me to keep going when things got tough in 2014.
Comments on this blog in December 2014
Hi, My name is Adrienne.
I made 6 awesome comments.
Hello, My name is Harleena Singh.
I dropped 5 awesome comments.
Hi, My name is Edward Thorpe.
I made 4 awesome comments.
Hi, My name is ikechi.
I made 3 awesome comments.
Click The Page Number Below To Continue