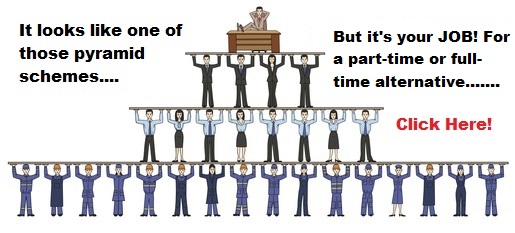 Over the years I have had most online success with Network Marketing. But what is usually lacking is a credible and affordable system to build a network marketing business.
Take the business here for example…
Unless you have a team of fans hanging on your every word, the story is usually the same – you join either because you love the products – or more likely – you get tempted by the thoughts of the income.
But then you find that no-one else shares your enthusiasm, the people you do recruit leave – and it all falls apart.
Been there done that, in fact…..
I Thought I Was "DONE" With Network Marketing
Nevertheless because a friend was really raving about this company I joined a Health and Wealth business – but then came the tedious business of explaining it to people who frankly couldn't care less, and I was quickly starting to flag.
Some people – including me – don't have the time or budget to keep finding affiliates. Let alone explain the business and train new distributors to do the same.
If you feel like this, our system to build a network marketing business is for you.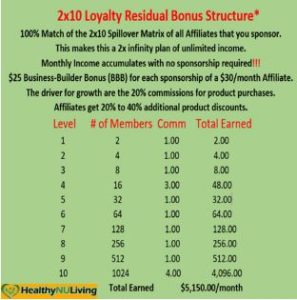 The main MLM business is here, and you might at first sight just dismiss it – if you don't STUDY the extremely lucrative compensation plan. My sponsor has already made profits from the loyalty bonus structure shown here. I already have a team of 54 paid up affiliates 'under me' – mostly from overspill and efforts of those already in my team.
Why would affiliates leave when they have a team under them which will pay them in month 2 from the affiliate fee?
In fact I've been sitting on the 'main business' in this system for two months now, watching it and pondering because I wasn't sure how easy it would be for inexperienced business builders to promote.
Confession – I hadn't fully understood what my sponsor was raving about until I had watched the training in the  system. And I mean thoroughly watched it. January is my busiest time in my offline business, so I had just skimmed my sponsor's videos and completely missed the key benefits.
Savvy business people may already have joined and made the same income as my sponsor and others in my team. If that's the case, you can STILL use this free system with your existing referral link – no need to join again.
So before you dismiss it as 'just another MLM' I want you to understand the power of this compensation plan. It's very different from most others I have seen.
You become an affiliate for the main business, then you find other customers / affiliates.
There are 3 ways to earn as an affiliate:
Instant $25 cash paid to you when you introduce a new affiliate, using their first month's $30 affiliate fee.
Residual passive income paid from subsequent affiliate fees via the 2 x 10 affiliates' matrix shown above. This means you earn from a team where you may receive overspill from above (with 50% or 100% matching bonus easily achieved on personal referrals).
Retail profits if anyone you introduce buys products (product purchase is

NOT essential

for affiliates)
How Much Does The Main Business Cost?
It costs $30 a month to be an affiliate – BUT before you run away, that $30 funds the loyalty bonus for affiliates in the matrix. The system is designed so that anyone who gets busy with the business building system should be earning that $30 each month from the matrix. I have already introduced someone who has done this, so I know it's possible. And, come renewal time, I will be earning a matching bonus on what he earns, on top of my own earnings.
So after the first month, the $30 affiliate fee can be covered by your income. I have 54 in my team already, most are from overspill, so my next monthly fee is comfortably covered, even without any of the $25 fast cash bonuses for introducing new affiliates.
Yes, exciting…..
But How Do I Market It?
This is the whole purpose of the business building system. A big marketer has put together a free system and training that helps anyone find customers / affiliates. It includes templates to set up attractive lead magnets using a free Squeeze Page generator so you are building your own list. It also suggests places for you to advertise, and of course you can advertise anywhere you like.
(Err – yes, you do need to look for other affiliates / customers. That's how businesses make profits.)
However, the business building system and training is free and you can use it anywhere you would normally look for customers, paid adverts OR on any traffic exchange and list mailers.
Many people will already be a member of some of the suggested advertising sites. The team leader has chosen the best compilation to help you get started online.
I was already a member of many, and if you are not a member, you can join free – or NOT join (but then I will get any credit from people joining the sites you miss – so at least join free and decide later if you want to upgrade).
I have only upgraded in three of the sites – and I was already a member of all three. Upgrading is optional.
NOTE – you do need to take action to introduce affiliates – but the qualifications are among the lowest I've ever seen in the industry. If all your efforts fail, there's a company ad co-op you can join.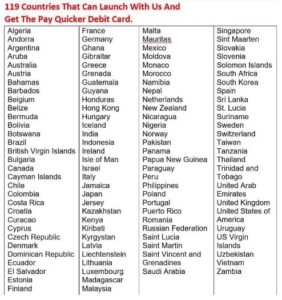 Your payments will be made on a Pay Quicker debit card that's accepted in these 119 countries.
Whatever you do, get involved with this business that is sweeping the online world, thanks to the successful marketer who has seen the potential for 'small-time' MLMers and put together this complete system to build a superb business. The building system only started in Feb 2022 so you still have early mover advantage.
Do not get left behind for the sake of the cost of a family pizza meal each month.
Team NuLiving…
….is a social networking and training platform for upgraded affiliates.
When you have opened your free account above, contact me, and I will also send you the social networking platform we use that's packed with tutorials and training videos to get you and your team up-to-speed as soon as possible.
Here's a taster for what you'll have access to.