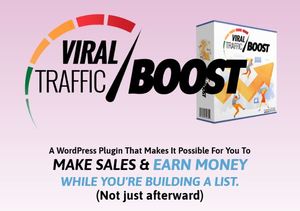 Here I'm going to explain why you need Viral Traffic Boost – but instead of trying to describe is feature fully here, (the information page at the end does a far better job than I will) I'm going to come straight out and tell you that there are some prerequisites you need. I don't want to waste anyone's time buying it, then finding out that they don't satisfy the criteria for being able to implement it.
That said – I fully believe that if you are a serious marketer you need Viral Traffic Boost – but you should be aware of the prerequisites.
To explain to you why, correctly in my opinion, Viral Traffic Boost (VTB) has these prerequisites, I hope you'll bear with me as I try to distil years of experience (and many mistakes) into one article.
Use the headers to skip the bits you're already convinced about!
The Number One Business Killer
Well, I'm guessing you don't need me to tell you what that is….
Forgive me for reminding anyone who is new to Internet Marketing and List-building – but:
The number one business killer is 'lack of traffic / visitors' to your site. If no-one sees your offer, how will they know how good it is?
The number two business killer is not building a list of contacts who have visited your website so that you can keep in touch with them.
Err…. that implies a number zero business killer…. which is not having your own website.
Social Media Instead?
Many people think they can run their online businesses relying completely on a social media platform such as Facebook. Why wouldn't you take advantage of a 'free' platform where so many of the population spend their time?
I was beginning to believe that would be fine, and I had even been persuaded that I would have to succumb to paying for ads to my business page (because, make no mistake, that's what Facebook expects you to do with a business page).
So I started advertising (ONLY on Facebook – anywhere else is 99% probability a scam) for followers, and sure enough they delivered some.
Then – Disaster….
One day Facebook just unpublished my business page! OUCH.
At the time I had no idea why – I think I know now, but I'm not publishing it here in case I'm wrong.
So I asked their support for help and appealed the decision. All they sent was a long list of T&Cs that I had apparently, and unknowingly breached. You know what it's like when you get these long lists of technical gibberish – I'm not technical so I just gave in and deleted that page, having lost all the followers I had paid Facebook to send me.
Which also lost me the information I had painstakingly posted on there. Yes… I had been creating content for Facebook instead of for my own blog! Double ouch.
From that moment on, I increased concentration on my own website / blog. NOT on trying to rank it in the search engines, I gave up on that years ago. But as a 'place' to store my content that couldn't be taken away from me. (You may note how many of the resources I suggest are 'stored' here on my website, using the plugin Pretty Links.)
Don't Have Your Own Website?
Business professionals really need one. Sorry to be blunt, but I'd rather be honest. I can offer, and will continue to do so, other options for anyone who really cannot invest in their business – but they're not as effective, because you have to put time into them instead.
Why would I still offer them? In the hope of reaching someone who can be converted from a freebie-seeker into a serious business person – after all big confession, I too started out as a freebie seeker – until I realised how much time it was wasting me.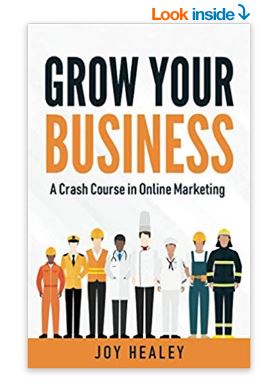 To start your own website I recommend WordPress SELF-HOSTED.
There are many reasons why, and many ways to set up your own site. Either do your own research, or my own Amazon book on the subject is on special offer at the moment to help newcomers get started.
Click here to see my book that helps you get started with your own website. Perhaps it's a project you can usefully take on if you're currently in lock-down?
THEN You Need An Autoresponder
That is software that lets visitors to your website opt-in for more information, so you can follow-up with the original interest they expressed by giving their email address.
Most successful marketers privately say "The money is in the list", because it's easier to provide a service to a (happy) existing customer, than to keep finding new ones.
There are many different autoresponders, and the choice is outside the scope of this article – but if you don't already have one, GetResponse usually offer a free trial here.
Then You Need Visitors To Your Site And Contacts On Your List
Phew – I'm sorry it's taken me so long to get here, but if you're taking any business seriously (as opposed to a hobby) that's the ideal. Which is why this tool, assumes that any serious Internet Marketer will have a website and an auto-responder. (As an aside, it needs to be a website with an SSL certificate, another essential for serious marketers. Your hosting company will tell you how to go about this if you haven't already done so.)
Now, having had a moan about Facebook, I AM learning that it's still a great source of leads!
So below is a tool that combines the 3 essentials into one strategy.
Building Your List From Facebook
Yes! I have now found a tool that lets you get opt-ins to your list / autoresponder direct from Facebook. It really is the holy grail for list-builders.
If you haven't got (or have no intention of getting) a WordPress blog and an auto-responder, I'll save you the trouble of reading this information page and watching the demo because this isn't for you.
But, if you have / intend to have those essentials, click to learn here how to build your list, virally, from Facebook (affiliate link). (You'll see in the examples of the info page that this technique works in ANY type of market-place, it's not just for IMers.)
Build A Profitable Service Business with Viral Traffic Boost
In fact, as well as building your own mailing list, there's a business opportunity for any Facebook Marketers who would like to offer this as a service to their clients. You will need the agency upgrade that lets you implement the tool on 100 websites.
My Experiences With Viral Tool Boost
OK, I confess, I'm finding it a little more challenging to connect to my auto-responder that it should have been. This was actually caused by an error on my blog that had nothing to do with VTB, their support team kindly pointed out the problem – above and beyond the call of duty! Once my blog was fixed, the VTB instructions worked perfectly.
Their instructions are very clearly laid out so that, even if (like me), you're not familiar with the workings of Facebook Apps, you'll be able to do it. They lay out the instructions screen by screen by screen with arrows to point to every step.
The very experienced marketer who introduced it to me used it to add 2,000 prospects to his list last month. As always, the disclaimers apply – that what he (and his team!) achieved last month, doesn't promise that you and I can do the same. But if we don't try, we won't know (and there's a money back guarantee if you're unhappy).
Click here to learn why you need Viral Traffic Boost (affiliate link).