WordPress Training Online
WordPress is a skill that it's essential to learn unless you have mega-bucks to invest in someone developing and maintaining a website for you.
Learn WordPress and you'll be able to quickly add your own content and make changes without being at the mercy of a website developer who can be on holiday, too busy, in hospital, or just putting up his/her costs as you become more and more dependent on their services.
Yes, of course this was one of the many mistakes I made when starting out online. My first web-designer did my site for me – including a mistake in the telephone number – then promptly had to spend 6 weeks in hospital leaving me high and dry because I had NO IDEA about looking after my own site. My second web designer insisted I knew the basics – thank goodness – and he inspired me to learn to put up my own sites.
Yes, you CAN learn WordPress yourself through trial and error, as I did. But you'll save yourself a lot of grief and time by just investing a few dollars into some good training. The course I recommend is one newly released by John Trayhorn, a good friend who has often helped me out when I got "stuck".
John is an acknowledged expert in WordPress so I have no hesitation in recommending this course to you.
I wish I'd had the sense to lay down a few dollars for something like this when I started learning WordPress. I'd have saved HOURS! In my own defense, prices were much steeper then. John's course is just a few dollars. Remember – time is money!
No doubt you'll have mastered the basics of WordPress, but look at what you can learn in John's Advanced WordPress Course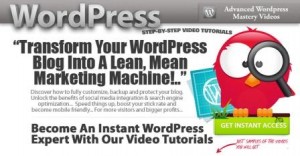 Here are just a few of the 50 videos included in the course:
How to create a custom WordPress 404 page
How to remove WordPress branding like a pro
How to protect your email from email spam harvesters
How to quickly make your site mobile friendly
How to create search engine friendly XML sitemaps
How to get better search engine rankings
All about breadcrumbs
Understanding permalinks
Simple tweaks to make your WordPress blog amazing
How to track statistics with Google analytics
Understanding RSS part 1
Understanding RSS part 2
All about authority sites
Learn video SEO
How to install an exit pop-up
How to install a share bar
How to discover the WordPress keyword plan
And much much more, to refer to over and over again ……
Click for WordPress Training Online. The time you will save by this tiny investment in your business will repay you long after you've forgotten the frippery you could have bought with it.

By the way – John is looking for more affiliates to promote his Advanced WordPress Course. It's brand new, so if you'd like to promote it, click here >> Affiliate Sign Up