The best part of being my own boss is that I can take my holidays when I want, without having to ask anyone's permission.
The worst, of course, is that the work that needs doing over that period won't be done by anyone else. So I have three options:
Leave it undone
Pay someone else to do it
Schedule it in advance
Having spent a lot of time establishing a consistent and regular routine I couldn't bring myself to adopt option 1, so I used a mixture of 2 and 3. Also a business colleague and I have a mutual self-help arrangement to do some daily task for each other when one of us is on holiday.
So, after all the planning and the extra work of preparing to go away, I finally switched off for a my first EVER two week break. (No-one ever believes me on that, but it's true!)
Back From Holiday – How Did It Go?
And now here I am again – back from a beautiful cruise holiday. Two weeks cruising the Baltic on my favorite P&O ship Arcadia. Pictured here is the scene from our "Sail-away" to return home to Southampton after visiting:
Stockholm
Helsinki including a delightful visit to Unique Lapland, complete with husky ride
St Petersburg (with an overnight stay when we went to see Swan Lake)
Warnemunde (in the former East Germany)
Copenhagen
Skagen (Norway)
The scenery was fantastic. I had no idea Russia had so many beautiful buildings and treasures. The weather was just unbelievable. I took heavy jumpers and cardigans and a raincoat and umbrella – all came back untouched.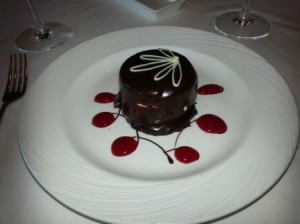 Here's a picture of just one of the yummy desserts we enjoyed. We weren't FORCED to eat them, of course, but it would have been rude not to!
And finally, there's me – relaxing outside the Vordgaard Castle in Denmark having NOT seen their resident ghost!
It was great to get away from the keyboard – although Matt reckoned I was getting keyboard-withdrawal symptoms because I was sending him more texts than usual!
Relaxation Enforced!
So why the enforced keyboard absence? Well the one draw-back of the otherwise excellent facilities on the Arcadia is that Internet access was about 50p per minute. OUCH. In this day and age? And having tried it on a previous voyage, all I can say is that it was so slow it cost me about £8 to download a day's worth of spam emails.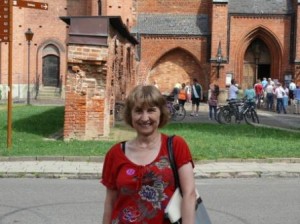 It shows how much I must like P&O's Arcadia if I will deprive myself of Internet for a two weeks. My travel companions were pleased I managed to stay away…. I don't THINK they were stalking me to check up!
So how did I manage to tear myself away? Plain and simple – a good spell of preparation beforehand.
Blog posts written in advance and scheduled for forward posting (I cheated and used some videos so I had less to write)
Broadcasts scheduled for sending to my email lists by my auto-responder
Tweets – I use Tweet Old Post (a free WordPress plugin) that tweets old blog posts at pre-defined intervals.
All the above went to plan.
Facebook Post Scheduling
You may have noticed that I haven't mentioned posts to my Facebook pages. That was the only part of the plan that fell apart. I've previously tried a couple of approaches to automating these and never really struck the right balance.
The traditional school of thought is that you shouldn't automate Facebook posts, and in an ideal world that's right. However, like most sole-entrepreneurs I live a busy life and occasionally like to take a holiday, so I prefer to have some background posts going out and supplement these with manual posts I share from other people's pages / profiles.
Facebook Scheduling Software
Here are some of the tools I've used in the past. Where prices are quoted, these are correct at the time of writing, and I have selected the most affordable level for a home business.
I bought a software package that was supposed to schedule to pages but it just clean didn't work (for me – I guess it must have worked for some people!) At the owner's suggestion I upgraded to the higher paid level and still couldn't get it to work so the owner finally lost patience with me – not that he'd ever shown much patience, and I'd waited almost the 7 day guarantee period to get a response to my support email. I note there have been updates since then, and I'm running on a new PC, so I may try and resurrect that one again, having paid for it!
My best success was RSS Graffiti. Again, the free version served me well for a time and then "things unraveled". However, at $5 per page per month for the pro version, this is a front-runner in the candidates for my business.
Another candidate I like the look of is Postradamus – and although that's an affiliate link, it's not mine! There are simple ways to monetize your posts (e.g. via Amazon), but at $29 per month I'm not yet sure….
Last but not least, I shall be re-evaluating HootSuite – maybe the best known of all the Facebook scheduling tools. I remember when I first looked at HootSuite I thought it was expensive at $14.99 per month – but I've long since given up my "free blogging" aspirations so $14.99 is "looking good".
Now – over to you!
Do YOU use any automated solution for posting to Facebook pages? Do you use any of the above, or any others?
If so, please tell me what you think to them. I'd love to hear your experiences before I make my final choice.