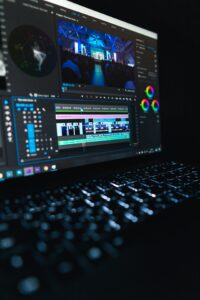 Video marketing is here to stay, and so is AI, so why not combine them with these 11 AI video generators?
If you're a marketer or creator looking to make videos but don't have much experience, then help is here. AI video-generating platforms use artificial intelligence to create videos based on your input. Here are some of the best available as of 2023.
HeyGen – offers various tools to help you create videos in minutes. It has over 300 voices available in 40 languages. You can even use your own voice by uploading recordings. HeyGen provides video tutorials to guide you through its features. It's free for 1 minute daily, with prices starting at $48 per month for longer use.
Pictory – a great option for beginners. All you need to do is provide a script or article, and Pictory will create a video for you. It even has a feature to edit videos quickly using text. Pictory can also add captions and summaries to your videos. Prices start at $19 per month.
Synthesia – generates videos in over 120 languages and accents. You can create custom AI avatars or choose from a wide selection of stock avatars. It also has text-to-speech capabilities, allowing you to type in your texts and convert them into professional voiceovers. Prices start at $22.50 per month on the annual plan.
Deepbrain AI – allows you to create videos by uploading your script and using its text-to-speech feature. The platform can generate a video in five minutes or less and you can select a custom-made avatar that suits your brand. Prices start at $30 per month.
Synthesys – a popular choice for brands. It uses its Text-to-Video technology to turn scripts into engaging videos. You can create video content without needing a camera or crew. Simply choose an avatar and type in your script. Synthesys supports over 140 languages and prices start at $35 per month.
InVideo – a user-friendly platform that offers professionally designed templates. Just input your text, select or customize a template, and download your finished video. It's free to use, with plans starting at $15 per month for watermark-free content.
Veed.io – allows you to create unique videos using custom text, colors, fonts, and music. It has an Auto Transcribe feature that can transcribe your videos automatically. The platform is easy to use, and you don't need to download any software. Veed.io is free for videos under 10 minutes, with prices starting at $18 per month for more features.
Elai.io – a simple platform that requires no video editing skills. You can copy and paste a blog post URL or text, choose a template, and let the generator do the rest. It supports over 60 languages and offers 25 avatars to choose from. Use Elai.io for free with a 1-minute credit or choose a plan starting at $23 per month.
Colossyan – provides a variety of avatars that can recite your script in different accents and languages. You can customize your avatar's outfit and enhance your messages through screen recording. Prices start at $28 per month.
Wave Video – popular among content creators, it provides tools for image and video editing, text overlay effects, audio, and captions. It supports various video formats for different platforms. Wave Video is free, with monthly plans starting at $16.
Choose the AI video generator that suits your needs and create amazing videos easier and faster than ever before.
Here is more detailed information on a couple of them:
AI Video Creator Synthesia – Say Goodbye to Cameras, Microphones and Actors
Synthesia is a popular AI video creator that can help you make surprising realistic videos featuring a spokesperson who is completely and totally AI. That's right, some call this deep fake, and while it doesn't look 100% real, it does come close… shockingly close.
This artificial intelligence-powered service lets you create professional looking and engaging videos by using simple text and image templates. Whether you want to create explainer videos or presentations, this AI system makes video creation easy.
Here's how it works: First, you create a slide deck with the content you want to include in your video. Then, you choose the style of video you prefer. You can add animations, background music, text, video clips, and images to make your video more interesting.
If you have PowerPoint slides, you can upload them to Synthesia to create high-quality videos. Sometimes, it's helpful to add speaker notes to your slides, and Synthesia allows you to do that, too. You can make an avatar – which is like a digital character – say what you wrote on the slide in the video. This feature is great for product marketing videos because you don't have to show your face.
Customizing your avatar is also fun. You can choose different looks, like different hairstyles or clothing options, to make your avatar unique to your brand.
Synthesia is a user friendly and cost-effective way to make marketing videos, product demos, and corporate presentations. You can create ads for platforms like Facebook, Instagram Stories, and YouTube and you don't need any prior knowledge or experience in video creation.
Here are a few ways you might use Synthesia in your marketing:
Course Creating: You can quickly make customized and engaging classes for your students.
YouTube Videos: If you're starting a YouTube channel, Synthesia can help you make professional-looking videos that stand out. You can add animations, background music, text, and images to make your videos more eye-catching.
Blogging: Synthesia can create professional-looking video content to include in your posts. It's a great way to attract viewers and keep them engaged.
Freelancing: As a freelancer, creating eye-catching videos can help you stand out and attract more clients.
Online Stores: If you're starting an ecommerce business and have an online store, you can create short and engaging videos that beautifully showcase your products.
Now, let's look at how to use Synthesia step by step:
Select Your Video Template: Synthesia offers a variety of customizable templates for creating professional videos. You can choose a template that suits your project and add video footage from different sources to make it visually stunning.
Edit Your Video Script: Having the right script is essential for creating successful videos. With Synthesia's video script editor, you can create engaging and informative scripts that resonate with your audience. Editing is an important step, and Synthesia makes it easy.
Choose Your Avatar: Using avatars in your videos is a great way to make them unique. Synthesia allows you to choose from various characters and feature them in your videos. You can even have your own avatar included if you want. The avatars created by Synthesia look and sound incredibly realistic because of artificial intelligence.
Publish Your Video: With Synthesia's AI presenter, you can easily publish your video.
Synthesia Features
Synthesia has several key features that make it a powerful tool for creating videos.
140 AI avatars – These virtual characters can be customized and used to enhance customer onboarding, customer support, and social media posts.
Create Your Own Avatar – This can be your digital twin who never has a bad hair day.
120 languages – Imagine reaching entirely new markets with your content and offers.
60 customizable video templates – Helping you to create professional-looking videos quickly and easily.
Screen Recorder – Capture your screen activity and create engaging presentations based on your movements.
Music – You get a library of royalty-free background music to add an emotional touch to your videos.
Synthesia also provides tools for maintaining brand identity. With the corporate plan, you can upload logos, colors, and other brand assets, ensuring that viewers recognize and connect with your brand.
The platform includes a free media library with a wide range of visuals for various projects. This resource is especially helpful for onboarding employees and generating marketing materials.
To add visual flair to your videos, Synthesia offers dozens of design elements that align with your brand's message and vision.
Once your video is ready, you can download it as an MP4 file for further sharing and editing.
Synthesia starts at $30 per month; less if you pay by the year. If you want advanced features such as unlimited videos and a custom avatar, it will cost more. In my opinion, it's worth it. (This is NOT an affiliate promotion.)
Descript: Transcription, Voice Synthesis, and Video Podcasting
Descript is a podcast-maker app that stands out because of its text-based editing and pre-recorded AI voices. It allows you to edit text and create new words in your own voice using the Overdub feature. This is especially helpful for people who don't enjoy speaking but still want to make a podcast, or for those like me who want to fix the occasional flub.
Descript has expanded its features over time and now includes audio and video editing capabilities, along with templates and stock scenes.
Personally, I'm loving its user-friendly interface and the ability to remove filler words like "um" and "uh." The Pro level even allows you to remove up to eighteen filler or repeated words. And you can transcribe your audio during recording or when you upload it to the app.
Descript is designed for people who are new to podcasting or want to save time. It offers a simpler alternative to complex audio editing software like Audacity or Logic. While these advanced tools provide more control, they have a steeper learning curve and require trial and error to master. Descript is a great option for those who prefer a more straightforward approach.
What can you do with Descript?
Initially, Descript focused on recording, transcribing, and editing audio files in English. However, it has expanded its capabilities. With Descript, you can:
Use automatic transcription in over 23 languages to enhance podcasts or videos.
Record, edit, and polish audio or video content.
Create videos with aspect ratios suitable for social media or YouTube using templates.
Include high-quality stock video footage.
Apply video effects and green screen layers.
Utilize various voices to bring your content to life.
Train an Overdub voice to match your own, allowing you to create podcast episodes using just text.
Descript has evolved through user feedback and community engagement. It provides a convenient solution for podcasters by offering transcription, voice synthesis, and video editing features.
You can try making one video or podcast per month for free. If you like it, you can upgrade to either the $15 or $30 per month plans with a 20% discount if you pay annually.