Finding Emails Service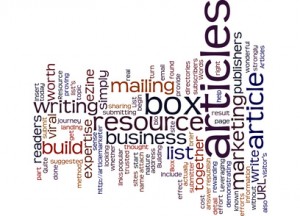 When I was asked to include an article on finding emails for cold email contacts, I initially thought "Hell, no!" That's spam and I hate it.
Then, I got to thinking – well, so many people are doing it (as evidenced by my ever-full in-box of unsolicited emails) that perhaps I should find out more about it.
So I accepted Kishen Sreehari's request for a guest post – while warning that my readers may have strong opinions.
Over to Kishen…..
Cold-emailing – Is It Bad Practice? Discuss!
Many readers of this blog, including the owner, do not believe in cold emailing and consider it spam. But, cold communication has been a way of doing business for a very long time. If you have to wait to build a relationship with everybody before you pitch them, it'll take you a long time to grow your business.
Also, with regard to marketing emails, there is no point in sending a thousand emails in one shot. It's better to research your prospects, understand their needs and mail them a very personalized email about how your business can benefit their business with a call to action. It's not about reaching everybody, it's about reaching a few people and impacting their businesses for the better.
This works more often than you may think.
The Email Finding Business
The business of finding emails is tricky. Although there are many players in the market, finding emails is still not easy. Many companies out there guess emails and guess email patterns and show that information to their users. This puts sales people and marketers in a bind; they aren't sure of their email list's authenticity and whether they are sending their message to the right people in a company.
About Find That Email
This is where Find That Email steps in. Find That Email doesn't guess emails or use publicly available data that you can get for free. Its database is fed with new sources which come from various datasets and these are cross-checked multiple times to arrive at the right email address.
This is the reason why Find That Email logged a 92% accuracy rate in finding emails according to a test conducted by Ahrefs. It performed much better than other tools out there including Hunter, which is the market leader.
Find That Email is working on a verification service which marketers and list-builders can use to verify the authenticity of their email addresses before they send it out. This helps in keeping their lists clean and protecting their sender reputation which, if not monitored, can lead to your domain being blacklisted.
What Can You Do With Find That Email?
Find That Email is used by Salespeople, Marketers, Head-hunters, Freelancers and Founders of small startups across Industries. Companies that are listed in the stock market use Find That Email, as well as one man companies. There are various ways to use Find That Email.
Let's take a look as to how different folk find Email addresses.
Salespeople
Bloggers, some of whom are still looking to make sales at the end of the day, are more accustomed to "Building our lists" or building relationships on Social Media.
Readers of this blog probably use free Lead Magnets to attract people onto their email lists
Some promote special offers and free trials of services on Social Media
Some buy "ready made lists" – VERY risky if you're not 100% sure of your source
Some pay for solo-ads, i.e.: existing list owners mail your offer to their own lists, marginally better IF the list-owner is trustworthy, but wouldn't it be good to have a way to check the quality?
Salespeople can instead, or also, use Find That Email in various ways and find email addresses for cold outreach.
LinkedIn Users
The Linkedin way of finding email addresses is quick and accurate. All you have to do is search for the title of the people you are looking for. An example is "Business Development". Make sure the "People" tab is selected. Once that's done filter your search by Location or Industry or others and then you will be displayed a list of profiles that meet your requirements.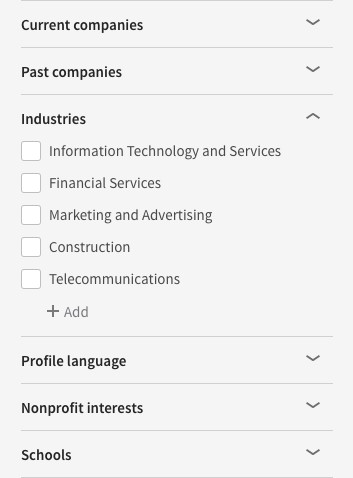 Here is a step by step instruction on how to find email addresses from the Chrome Extension after you've filtered down your search results.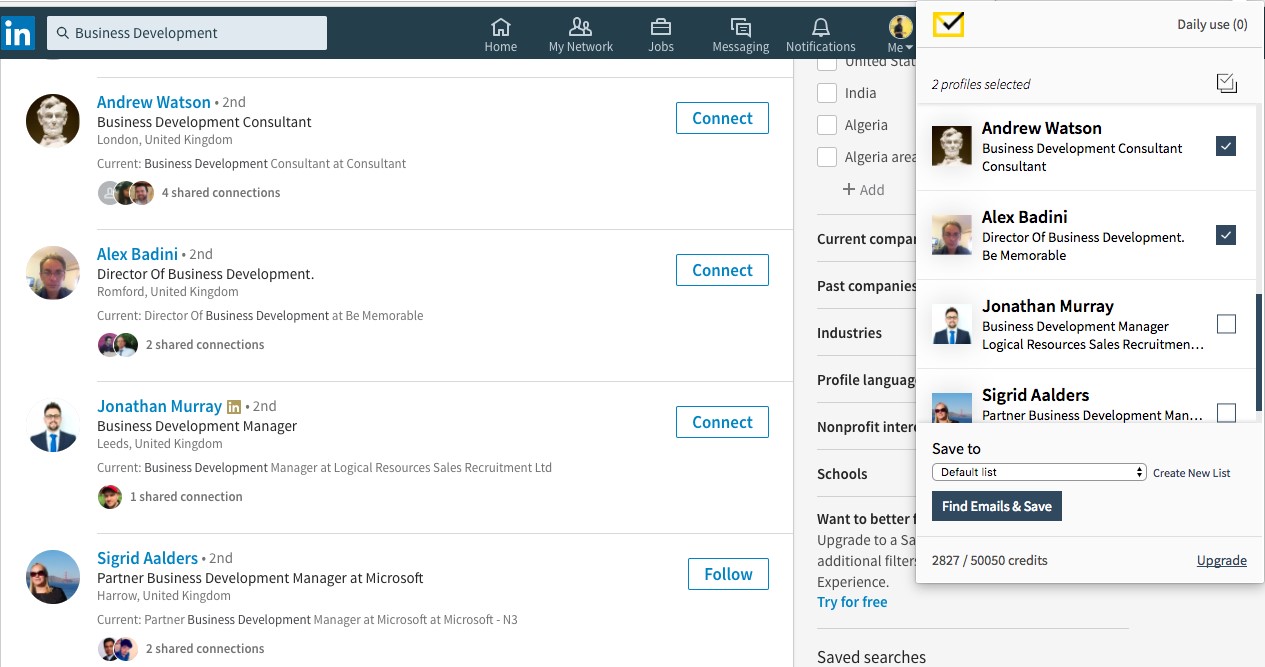 Click on the Extension and the List gets populated
You can either choose to select all email addresses, or just select the ones you want
Add the prospects to a list; if you don't have a list, you can create a new one
Click on Search
If you don't want to wait while the search is being conducted, click on the Search in Background button. The emails will be found and stored in your list in the web application
This way, you can easily find hundreds of relevant and accurate email address within minutes
It's possible that Joy's "full inbox of unsolicited emails" has come from people finding her email address from LinkedIn.
Using The Bulk Finding Emails Tool
The other way of finding emails to write to in bulk is by uploading a csv.
But firstly, you'll need to create a list of relevant people and find their first names and last names and their company domain. This may seem like a hard task and not a lot of you would like to do this.
There's one thing you can do. You can hire a virtual assistant to do this job for $2.50/ Hr. If your instructions are clear, you'll have tens and thousands of relevant people and their email addresses in a week and a half.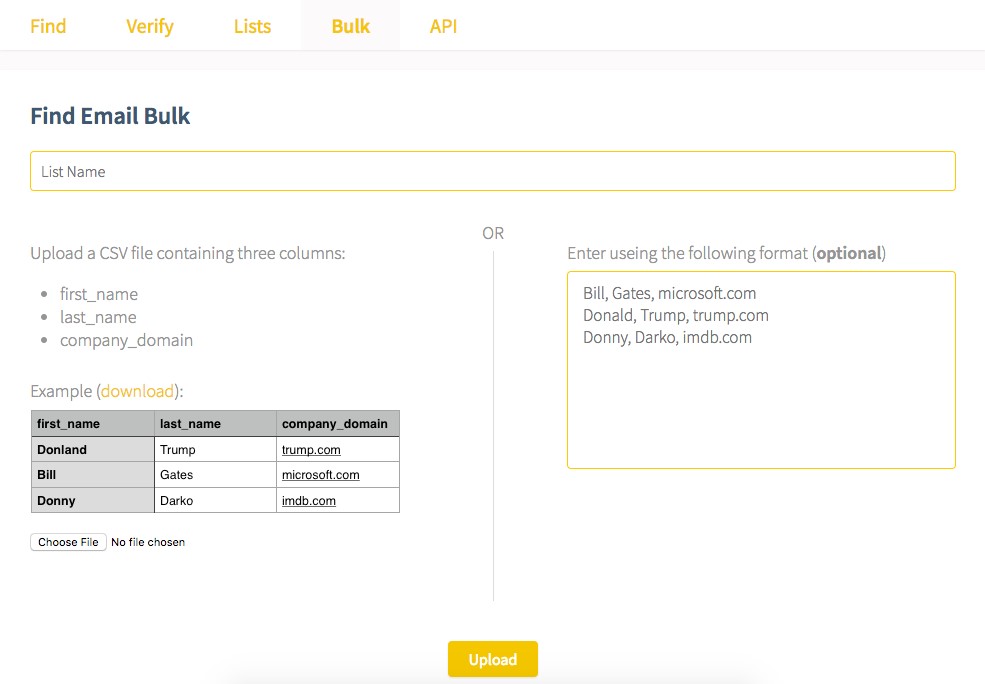 Once you have the list, you can go to the Bulk section in the Find That Email Website and upload a CSV with the following details.
First_name
Last_name
Company_Domain
And you'll have your list ready in a jiffy.
Marketers
Whatever method you have used to build your list, one thing marketers need to do is clean their lists every once in a while. Find That Email is working on a Verify function which will be ready to test shortly.
Headhunters
Headhunters use Find That Email to reach out to people they hope to hire. They generally do that to avoid being just another recruiter reaching out on Linkedin.
Another reason is, if you don't have a LinkedIn premium account, you cannot message a person you aren't connected with. It helps to email them, as email is a bit more personal.
Also a lot of people don't use Linkedin on a daily basis and a good way to reach them is through email which is likely to be more accessed by the prospect.
Working With Confidence Scores
Find That Email has something called Confidence Scores. These are numbers that signify how confident the system is with the validity of the email address that's found.
Anything below 70% is risky to send and anything between 70% to 85% is a maybe. Anything above 85% can be confidently sent.
Conclusion
The rules for sending emails have become stricter. If a lot of junk cold emailing happens, the domain gets blacklisted and a person won't be send any emails from that domain again.
With the information in hand, the decision is up to you. There is a difference between a spammer and a cold emailer. A spammer gets blacklisted, a cold emailer closes business.
About The Author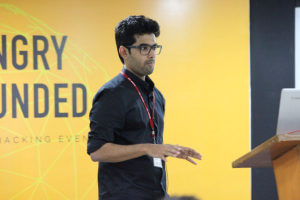 Kishen Sreehari is a serial entrepreneur.
His main expertise is in SAAS and E-commerce.
He heads Marketing for Find That Email and is the Co-founder of Stillersafe.com.
He loves investing in the Stock Market and is also very passionate about playing the piano – which he hasn't touched, ever.
Your Views Please….
I'd love to hear what you think about this method of finding emails – either for bulk cold emailing, or for "one-off" marketing contact. Would you use Find That Email in your own business, and if so, how?