When Life Gives You Lemons….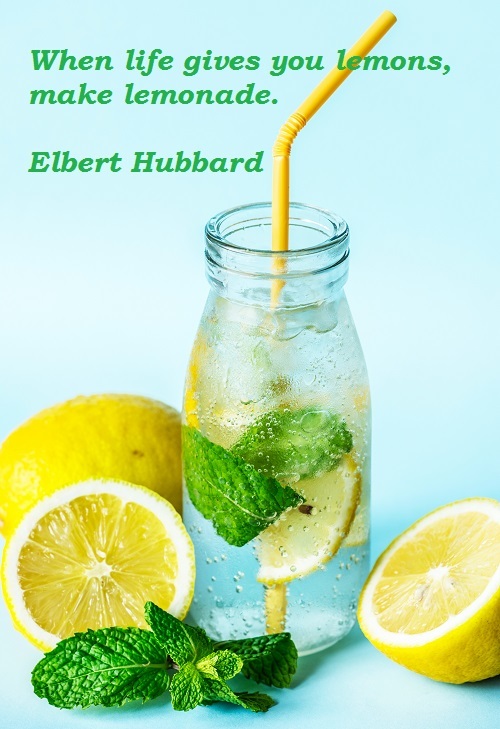 "Life is what happens when you're busy making other plans". Especially in business. Online or offline.
After several years struggling, I've started making an income online, but it saddens me that so few of the people on my mailing list have taken action and succeeded with the offers I have sent them.
Skepticism stops people even getting started, but if you doubt everything, you'll get nothing!
Any business is a risk, online or offline. Probably a bigger risk offline, because the start-up costs are usually higher.
Of course I don't want anyone on my list making high losses if my advice goes wrong. It's one thing to lose money yourself, but a whole different ball-game when you lose money for other people.
No-one should risk money they are relying on to keep a roof over their head or food on the table. (Unless it's a monthly take-away meal – you'd be better spending that on one of the low risk online businesses I suggest.)
So I stick to low risk online businesses when I recommend anything. I want to sleep at night.
Having only recently enthused about a Team Build proposal, sadly that rug has been pulled from under my feet.
My recommendation was to pay $4.95 for an affiliate slot where you locked your position into a well established program and a Leader was running a Team Build to help everyone get three people under them in a 3 x 12 matrix.
The Lemons
He invited others with marketing experience to join him in Building the Team, for a financial reward, when they placed a person in someone's team. He wasn't taking any payment himself, just coordinating it.
It was an ambitious aspiration and the Team Leader had hoped more team members would join him to build the team.
Sadly most people didn't want to help – which, in fairness, was a choice they were given – so the Team Leader has withdrawn his offer to build our teams.
I can't say I blame him….
It was a nigh on impossible task he'd taken on, given the lack of help he received.
It sounded good, but I knew it was a tough task, so as an 'average' promoter I also did my 'own thing' quietly and ended up with 9 in my team, some spilled over from my sponsor who was also promoting.
Was $4.95 Too Big A Risk?
Well – amazingly for most aspiring entrepreneurs it WAS.
Fear not…. if you took advantage of the $4.95 offer in that business (which is still available) your position is locked. My direct sponsor (not the original Team Build Leader) and I still strongly believe in the long-term potential of the well-established parent company. It has a new improved website, an in-demand service and will still grow. Your $4.95 was a wise investment that should see return in time.
Especially if you do some promotion yourself instead of just waiting.
Onwards and Upwards!
My sponsor and I spent a long time trying to find a really simple way for people to build that business themselves but we didn't find anything easy enough to implement for those completely new to online marketing.
So we can no longer promote the team build because the 'done-for-you' service is no longer on offer.
But …. we can….
… Make Lemonade
Having spent a long time setting up promotions, and building a small list, for that offer I was gutted to have the rug pulled from under me.
But sometimes fate is kind and my direct sponsor found the perfect solution to offer to people who want a way to earn online without spending anything.
It's a new business, but owned by two successful and well known on-line marketers who already have one long established business. This second one is pitched at helping people who have had no success before. As an optional add-on their original business will help promote this new one.
So it really is Win, Win, Win.
Low Risk Online Businesses
Here you have two low risk online businesses for less than the price I've paid usually for one. (And, yes, earn completely free is available too.)
Apps in the new business give you savings and cashback in the areas below.
The best savings are in the USA, but even if your flag isn't in the list shown you, can still build a global business as a free member. Or, a surprisingly affordable monthly fee ($21.95 a month plus a one-off $10 setup fee) brings you better discounts and higher commissions.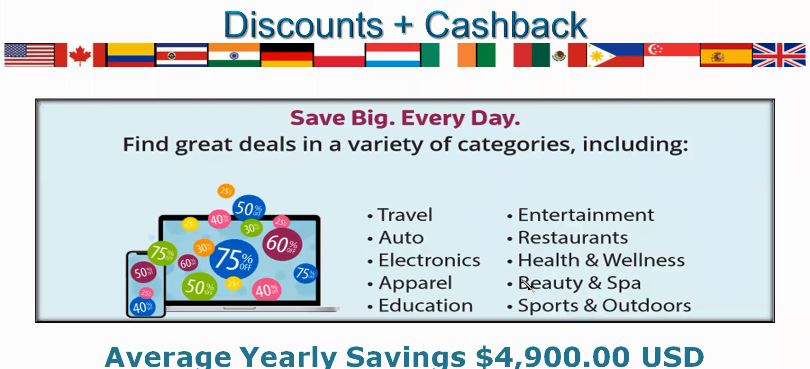 At a time when most people are looking for a way to cut costs and save money, as well as earn extra money, here is the perfect solution….
Click: https://JoyHealey.com/Simple
Full details of a very compensation plan available on request. Message me at Facebook please.
My Objection Handled Up Front…
When I first saw this I wasn't sure and said it was all USA stuff and I'm in the UK.
But the bigger picture is that there are more people in the USA than in the UK and, as it's an international business, I can target business builders and people looking to cut costs in the USA, Canada and other countries.
There are savings and rewards in the UK as well as internationally. My sponsor (UK-based) sent me this story:
I decided to treat myself to a holiday and looked at all the websites I could find in Google etc and searched high and low to get the best price. OK, so I thought, let's try the apps in the new program. You guessed it! £120 cheaper – same hotel and airline as I had previously found myself and 8% cashback. I have seen proof "I believe".  We can truly tell people in the UK there are savings to be made.
A more appealing proposition..
We are both still learning about everything on offer here but are certain that promoting "Ways to earn by saving money" is a more inviting message for people who want extra cash but without the hard work of building a business.
I hope you will decide to have a look at what's on offer, follow the getting started instructions, and start earning cashback rewards.
It's a simpler way of making money online with zero start-up cost.
Let's make lemonade together 🙂 Click: https://JoyHealey.com/Simple
Can You Help Me Please?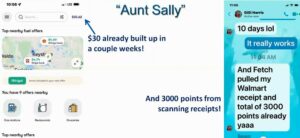 Because I'm in the UK I don't have access to the big savings available to USA members. So my focus is on team building.
On the right is an example of the savings made by a lady in the USA – known to us as "Aunt Sally" – to show that people with no marketing experience can do this, the ultimate in low risk online businesses?
You can have zero start-up cost, and be earning for free.
If any USA reader is willing to join my team as a free member, test out the savings and send me a proof of savings / earnings image with your link, I will promote YOUR link with your saving.