Why Use TikTok For Business
When the affiliate marketing training course I promote suggested I should learn how to set up a TikTok business I was totally dismissive of the idea, believing that it just wasn't the place where my target market might be found.
Then I had a rethink and realised that I'm supposed to be teaching people how to start an online business, and the first rule of any business is 'Find a hungry marketplace'.  NOT sell to yourself.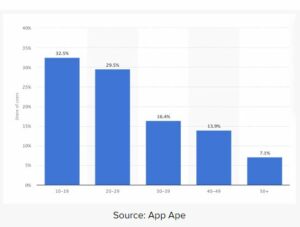 So I investigated the statistics and found, among many other fascinating TikTok stats, this information:
The percentage of U.S.-based TikTok users by age: 10-19: 32.5%, 20-29: 29.5%, 30-39: 16.4%, 40-49: 13.9%, 50+ : 7.1%. This means the TikTok user base is aging up,so get on it now! All data via Comscore. Source here acknowledged with thanks.
The End Of Facebook Marketing?
Facebook marketing – once the darling of the start an online business crowd – has become totally overcrowded. I can't go on there without someone in my messenger asking me: "What's the weather like there, dear?" wanting a real friendship, then within 2 messages suggesting they're the answer to all my business struggles. (They never are – my only struggle is finding enough time to follow the excellent training I have already purchased.)
I guess Facebook Marketing will continue for a while more, but I've 'had it' with it, and ready to look for another way of finding contacts – and it mustn't be as time-consuming and brain-numbingly boring as Facebook marketing. Who wants to spend their days trying to strike up 'conversations' with other marketers just as determined NOT to buy anything?
So, my aim is to find a different place to do my marketing. And TikTok has a lot in common with the wild-west of online marketing in 2012, before the many changes of algorithms took it out of the reach of solopreneurs.
But….
What To Sell On TikTok?
There's a surprising variety of merchandise being promoted on TikTok, for instance:
Footwear
Clothing
Games
Cosmetics
Cars
Zoos
Wine
Candy
While, as a start-up TikTok business, you might struggle in one of those large marketplaces, there's nothing to stop you finding a course, for instance on the Clickbank marketplace, on a topic that interests you and promoting that to the email list that you build (explanation later). Examples:
Sleep better (followed up by 'sleep soundly' products and books)
Overcome social anxiety
How to attract a life partner
Weight loss for… (pick a subgroup)
Overcome stuttering
Confidence building
How to start an online business
Houseplants that like….. (sunlight, shade)
The lady who completely attracted my attention on TikTok was Miss Excel – who makes 6-figures a day selling Excel courses on TikTok – read her story of earning on TikTok here.
The topic of what to promote on TikTok is limited only by your imagination and your own interests.  You can get more ideas on your chosen topic at Answer The Public.
Email Marketing From TikTok?
Of course – the REAL purpose of all these attention grabbing (20 second-ish) videos is to get people away from the blare of TikTok, and clicking the link in your bio from where you will take them onto your mailing list. Once they're on your list you can send them follow-up emails offering solutions to the problem that grabbed their interest for 20 seconds.
From your email list, away from TikTok, you have a better chance of capturing their attention with information totally focused on the product / service you want to sell them.
The theory sounds good – but don't auto-responders (emailing programs) cost a monthly fee, at a time when your business hasn't started generating any cash?
That is often the case. There are free trials, but for the market-leaders the pricing model kicks in at about 500 subscribers. While that may seem a lot of subscribers when you're starting out with none, you'll soon find that 500 is NOT a big contact list, and the price rises quickly once you're locked in.
This problem is solved (below) with an auto-responder that is free for the first 2,500 subscribers and 10,000 emails a month.
But let's not get ahead of ourselves – first you'll need to know…
How To Set Up A TikTok Business
While you could probably figure out for yourself how to start a TikTok business, bitter experience has taught me to take professional advice from people who have already done it.
You'll save time, money and stress – trust me.
Not the least because if you follow many sources you can end up paying a monthly fee for the auto-responder that's the essential key to making ANY business profitable.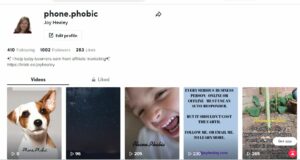 So I found training (for a one-off $7) that amazingly built me a complete online business, with a free auto-responder (that e-mailing program) and even a list of 100 leads to get my TikTok business started.
Crucially it helped me get my first 1,000 followers on TikTok, in 7 days, without paid advertising.
When I told one of my smartest online colleagues I'd done that she told me that she normally charges her clients $200 for finding their first 1,000 followers!
Don't want to go on camera? I certainly didn't! My first videos were absolutely awful and I hated doing them, but then the course showed me how to avoid stuttering and stammering my way through it all, by producing 'faceless videos' with their free 'done-for-you' samples and a free tool I was already using.
This package is truly amazing value and I can't imagine anywhere else to get so much done for you setting everything up FOR you.  Even if you don't use the TikTok route, the rest of the package is worth far more than $7.
This done-for-you service, setting up your online business is only $7 at the time of writing (Sept 2022). It also includes training on how to get the best from the tools you've been given.
Learn how to get started on TikTok – click here.
Going forward, TikTok is just one more stream of traffic to my main business. BUT as that program lets me earn commissions on a two-tier affiliate plan, someone who joins my team may fly with TikTok increasing my earnings there.