Here are the latest editions of my Internet Marketing Newsletter for your enjoyment. All I ask is that you share with a friend 🙂
They do contain affiliate links, but that's how I fund my blog. If this upsets you, please enjoy the newsletters anyway, but just don't click the links 🙂
NOTE: Just reading these newsletters will make you more knowledgable, but savvy bloggers and marketers, will want to know how to produce, and earn from, your own Internet Marketing Newsletter just like these. So click here.

Recent Internet Marketing Newsletters
Joy Healey's Internet Newsletters Now Available To Download
Click To Tweet
Newsletter 104
To download issue 104 click here:
Articles include:
The dark side of Internet Marketing
9 Social Media Marketing Pro Tips You Missed
7 Oddball Tips To Grow Your YouTube Channel
What Does Bounce Rate Mean to your Business, and what can you do to improve it?
Interview with Nick James
Knockin' on Heaven's Door
Google Quietly Rolls Out….. you'll have to read to find out 🙂
Controversial Advice for Podcasters
Chatbots: The Future of Marketing, a Beginner's Guide
Trending content ideas
London in the snow
Newsletter 103
To download issue 103 click here:
Articles include:
Are sneaky advertorials still super profitable today?
Beware of p***ing off your loyal followers
25 Red hot facebook group hacks
How to double email profits in 6 weeks
Interview with Matt Bacak
Why Olympian Nastia Liukin never quits
How to hack your brain for success
3 No B.S. passive online income methods
Simple trick to triple your output
How to earn multiple income streams from today's fastest growing social media platform. Download newsletter to learn which that one is (I'd never heard of it!)
A better mousetrap?
Newsletter 102
To download issue 102 click here: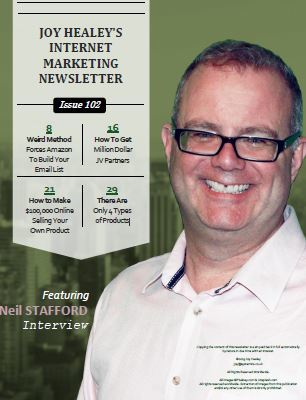 Articles include:
Weird method forces Amazon to build your email list
How to get million dollar JC partners
Make $100,000 online selling your own product
There are only 4 types of product
Niching your market isn't what you think
What to do if ClickBank tells you to cut your prices
Recent updates from Facebook, Google and Twitter
Interview with Neil Stafford
It's not sales, it's your MISSION
Product launch checklist
Life in the forest
PayPal's shocking refund decision
Schwarzenegger's Brain – how it can help YOU
Newsletter 101

To download issue 101 click here
Articles include:
Hot tips and news you may have missed
How to turn your book into 13 different income streams
Your customers are hard-wired to buy THIS product
5 steps to converting blog posts to audio
Are benefits hurting your sales?
Beware this pitfall of solo ads
Interview with Laura Casselman, CEO of JVZoo
How to build a responsive list that opens your emails
Freaky podcast statistics – and hard to start a podcast
How to increase conversions on pop-ups and squeeze pages
The only 2 things you need to make a fortune in online marketing
And more….
Newsletter 100

To download issue 100 click here
As you'll see, some of the articles include:
Snippets and IM news you may have missed
How to get rich selling $9 products
Journaling to become a millionaire?
How to reduce refund requests with one email
Is this why you're not making $10k per month?
Facebook launches new monetization tools to attract top content creators
Become a software mogul – no experience needed
What is the best time to post on social media?
How to make money online with NO history or reputation
Make extra cash on Etsy
A market guide to popups
And more…..
Newsletter 99
To download issue 99 click here
Here are just some of the articles / tips included:
Don't be the last to find out the latest IM news and tips
Trend surfing for cash
Sell the ideal, and people will buy
Instagram mistakes that keep your brand from growing
The state of Instagram marketing in 2019
Goal setting that actually works
$3,600 a month in passive income
Case study: $16,500 a month retargeting to different niches
Where the money is hidden
Dark and Dangerous up-selling… a warning
How to turn a $7 sale into a $1,000 sale
And more….