10
Save Time By Getting Organized
This is the second in my series of time management tips to help you work more efficiently in your business. Here are the others.
De-Cluttering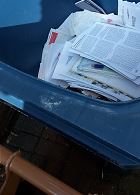 Take it from one who knows… there's nothing more demotivating than working amidst clutter. Why spend time hunting through piles of paper for some vital piece of info, when with a bit of planning and organisation you can have everything at your fingertips. I'm not too bad on this one… my son says that while my office looks cluttered, he's pretty confident that I can find any piece of paper or computer file within 20 seconds 🙂 But that clutter can get too much, and every so often – and this afternoon was actually one of those times – I have a good old clear up, and I feel so much better for it.
Time To Clear The Clutter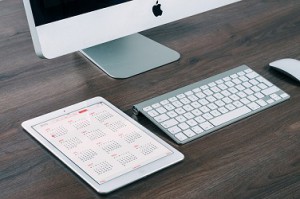 If it has been a while since the top of your desk looked like this, it's time to clear the clutter. Note to self: The floor is NOT an acceptable substitute! How long it takes to clean it will depend on the size of your desk, how much time has passed since your last cleaning and just how high that paper mountain was allowed to grow.
Getting Organized
Here are six easy steps to help keep your desk organized:
1. Construct a filing system.
Throw out old magazines, newspapers, brochures, postcards and outdated catalogs. The only items to keep are current projects, important documents and up-to-date reference materials.
2. Establish a color system.
Use colors to separate your files such as green for customers, blue for vendor accounts and orange for important documents. The color change is much better on the eyes and has a greater distinction when you are searching for a particular folder item.
3. Use dividers and other organizing products.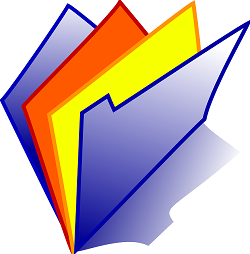 Store previous years of paperwork into plastic containers. Shopping outlets such as Office Max or Staples carry them for just a few dollars each. The file boxes stack as a nice space-saving feature and will help protect important documents. Use multiple colors on the container lids to coordinate with your colored filing system to make recovery time much quicker and easier.
Store office supplies (pens, pencils, erasers, ruler, etc.) inside a desk drawer.
Separate your tools with a divider tray to keep them organized. If your desk doesn't have any drawers, purchase a caddy organizer that you can place on top of your desk or a nearby credenza. This will help keep office supplies organized and easier to find when you need them.
Acquire stacking paper bins and place them underneath the printer to help divide cover sheets, letterhead, single sheets and purchase orders.
Set up an IN basket for your incoming projects and an OUT basket for outgoing projects. Try to be as efficient as possible and empty each basket by the end of the workday. If your desk is limited for space, purchase a group of plastic wall pockets and mount them nearby for easy access.
Stash smaller file cabinets underneath tables. This provides more room inside the office and helps make the area look spacious.
For those work-at-home entrepreneurs with limited room, this is a great way to utilize space.
4. Cut the paperwork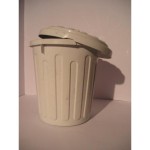 Do you NEED to keep all those papers? Computer storage and cloud backups are very cheap these days. Consider scanning your papers and then shredding them. Whatever you choose to do with your paperwork, aim to handle each piece of paper just once. Either file it correctly straight away, scan and discard, or just discard. Some paperwork needs studying, but much of it can be handled very quickly.
5. Clean your workstation daily.
Get into the habit of cleaning your desk at the end of each workday. The following morning will be much more inviting with a clean desk. Schedule at least 20 minutes at the end of your workday to tidy up your work area and don't leave the office until you do.
6. Follow a routine.
Staying organized is much easier once you've established a system and strive to follow it as part of a daily routine. Allowing yourself to deviate from an organized approach will result in cluttered chaos and the inability to function at your optimum level. Establishing an organized system is essential to your success. Becoming organized saves you time, alleviates mistakes and increase productivity.
What are YOUR best time management tips? Please share in the comments below.
6 tips to save you time by getting organized