12
Lead Generation Process Infographic
Before I introduce this lead generation infographic from my guest author today, just a quick personal note.
Back From Holiday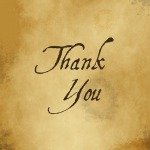 It seems forever since I was actually writing on my blog here, because I have had a holiday in the USA, followed by a cruise, followed by a stay in Bridlington for my Dad's 94th birthday.
Much as I have enjoyed myself, the juxtaposition of all these events was awful for me trying and run a weekly blog and Facebook page alongside my trips away. However I managed it by pre-scheduling Facebook posts and a series of blog articles, quite appropriately, on Time Management.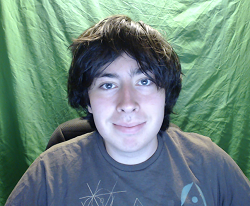 I'll write more about my holiday and how I managed it "soon" because I'm still in catch-up mode.
But first I owe a big "THANK YOU" to James McAllister of HelpStartMySite who kept a watchful eye on my blog while I was in the grips of No-Affordable-Internet (aka Atlantic).
I hope James wasn't too overworked "binning" the spam / meaningless comments I seem to be attracting these days, but I was very grateful to leave him in charge, and I came back home to a very healthy looking blog and he did a great job of approving the good comments I received.
I really appreciated James taking time from his busy schedule to help me over this period and I hope I can repay the favor some day.
Thanks also to those loyal readers who still visited even when I was "swanning it" on holiday!
Introducing Brad Shorr of Straight North
And now for the promised lead generation information…..
Straight North is a Chicago based SEO Services company that has been creating and implementing expert SEO campaigns for Chicago clients since 1997.
I am pleased to present to you a lead generation infographic produced by Straight North's Director of Content Strategy, Brad Shorr. This serves as a great blueprint for creating an integrated internet marketing strategy to generate more leads and sales.
Free Lead Generation Blueprint here
Lead Generation – Points To Ponder
As Internet Marketers, the most important part of our marketing process is finding leads.
The Internet marketing "Lead Generation Ecosystem" infographic created by Brad Shorr of SEO Chicago firm Straight North and shown below (with permission) helps you identify weaknesses — and opportunities — in your marketing efforts. An infographic is quite helpful in this regard, since the mechanics of a lead generation campaign are rather complicated.
A few things you may want to take note of and ponder:
Are we conducting the right campaigns? Some companies lock themselves into a mindset that SEO or email marketing is going to be the "magic bullet." But without testing other approaches, such as social media and display advertising, you'll never know for sure whether that bullet is aimed at the competition or your own head.
Are we capturing the right information? For the most part, online leads are made of phone calls and form submissions prompted by your Internet marketing campaign(s). But do you know which campaigns are producing the leads, and are you aware of all the leads you are receiving? Many companies fail to track phone leads, which are often the best leads. In addition, companies frequently fail to track leads granularly enough to determine which campaigns, keywords, times of day, etc., are driving results. As a consequence, they cannot effectively improve their campaigns.
Are we maximizing the lead generation power of our website? These days, effective website content has to be more than just text accompanied by overused stock photography — users are too sophisticated and too accustomed to visual content. Infographics, video, customized imagery, embedded slide presentations and other creative content forms may help you take your lead generation results to a whole new level of excellence.
Lead Generation Infographic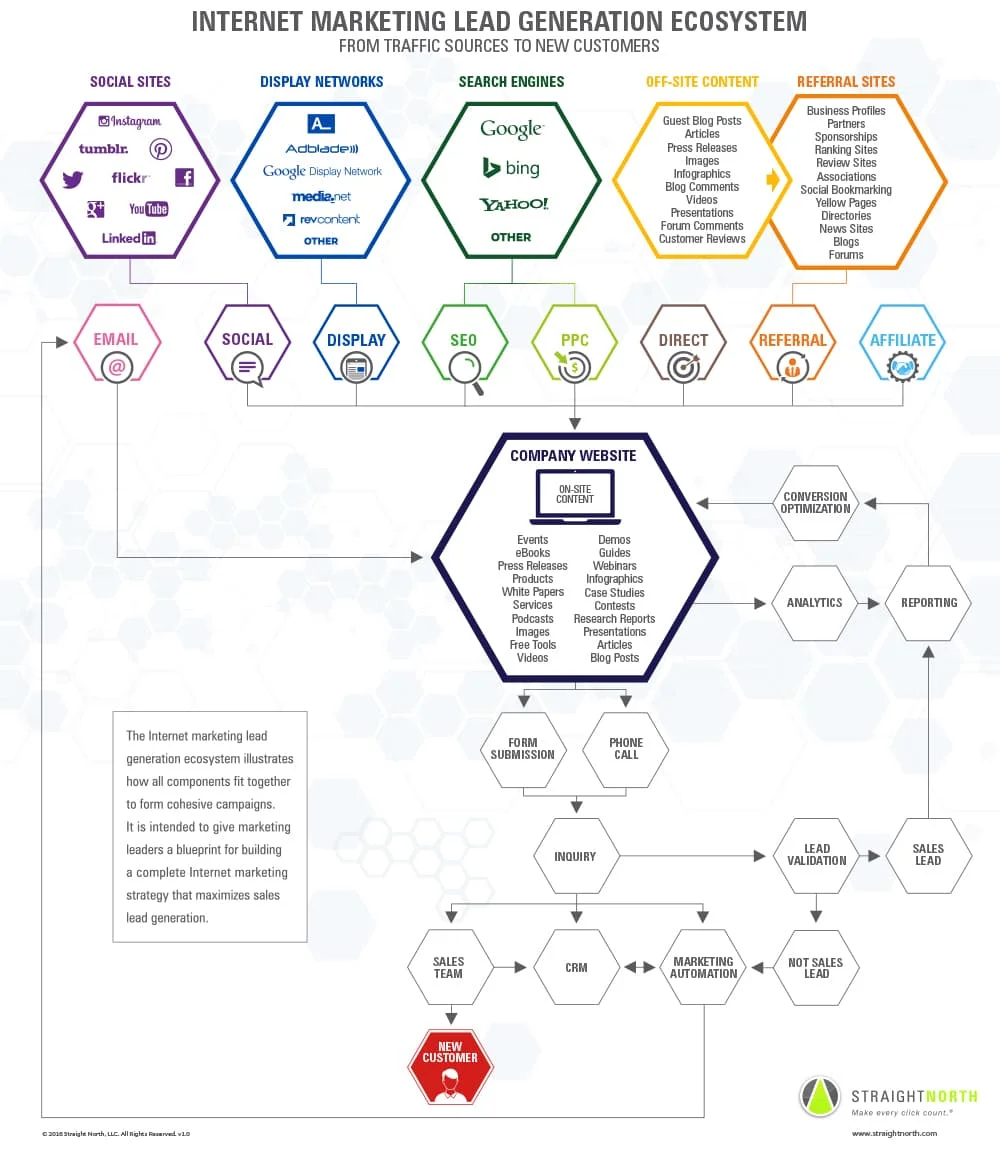 Lead Generation Process
So you can see from the graphic that your leads can come from several sources:
Social Sites
Display Networks
Search Engines
Off-site Content
Referral Sites
These should all lead to your company website or blog, where prospective clients expect to find:
Articles / blog posts
eBooks
Free information
Case studies
Webinars
Contests
If your content is sufficiently interesting and relevant, your visitor may make an inquiry by phone, or by completing an online form – a direct enquiry, or opting in to receive follow-up information from your auto-responder.
Through following this lead generation process your visitor may be converted to a customer either by automated email marketing, or by telephone interaction with one of your sales team.
Stated baldly like that it sounds simple. If only!
How Does Your Lead Generation Process Compare?
The lead generation process described above is ideal. Many of my readers are solopreneurs.
Some, like me, are part-time – not even full-time in their online business. However, this is an ideal blueprint that you can work towards.
Take a few minutes to look in depth at all the different ways of collecting leads and supplying relevant content for your site.
If you're not covering all of them, treat this as a learning opportunity. Pick one new strategy and work on it. When you're happy with that, pick the next and implement it. 
Note that your company website / blog is the central point of the conversion process, as is the auto-responder which will help you to keep in touch with a prospective client who isn't quite ready to buy yet.
Looking at this ideal process, I can see that – while I have the basics in place – there are many other things I need to work on.
But the beauty of having a blog and an auto-responder are that you can start small and add on extra items as your skills increase.
Professional SEO Services
Although small businesses often try to cut costs and "go-it-alone" with their marketing, sometimes this is false economy and the time and stress you save by hiring a professional can reward you in faster profits.
If you're ready to take the important step of contacting an SEO services company, please contact Straight North and request a quote. I have no business relationship with Straight North, other than appreciation for this lead generation blueprint that I hope you will find instructive.
Over To You
Having seen the lead generation process that professional SEO companies recommend, what do you feel is your top priority?
Please share your thoughts in the comments below.